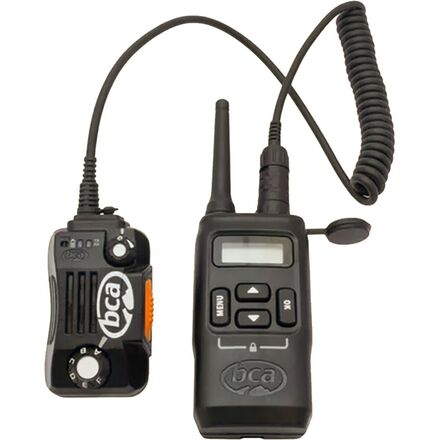 Colors

Detail Images
Safer backcountry travel through real-time communication.
As an experienced backcountry traveler, you know the importance of having a plan, being equipped with the proper gear, and staying in contact with your group at all times. Apart from changing conditions and gear malfunctions, one of biggest variables you'll encounter in the backcountry is group communication—help boost communication with the BCA BC Link Group Communication System. This lightweight microphone and radio/battery pack keeps the lines of communication open whether you're making an on-mountain change of course while backpacking, warning of an on-going slide when you're backcountry skiing, or coordinating search and rescue efforts in the event of an emergency.
Designed to fit neatly with BCA's Stash series of packs, this two-way radio will grab onto any ol' pack you have. Both units are designed to be water- and dust-resistant to deal with snow and storage. Equipped with 22 FRS and GMRS channels and 121 sub-channels, the BC Link delivers near-constant clarity when conveying critical information. You'll be able to stay in touch with others not lucky enough to have this little number since it is compatible with all standard FRS/GMRS radios. The base unit can clip to your belt or pack, or you can stash it inside a pack pocket. You also get a 2.5-mile line-of-sight range and up to 140 hours of battery life. The 3.7-Volt lithium ion battery can be recharged, so you've no excuse for not being fully prepared for any excursion in the wilderness, be it snow-covered or summertime.
Group Communication System with Smart Mic and base unit
Water- and dust-resistant to IP56 standards
Compatible with all standard FRS/GMRS radios
2.5-mile line-of-sight range ensures adequate coverage
140 hour maximum battery life keeps unit running all day
Temperature operating range between -4F to 158F
Smart Mic is compatible with 3.5mm TS or TRS earphone plug
Battery charger included
Unanswered Question
Me and my dad have bought several Motorola walkie-talkies for skiing and there finally worn and wanted to buy a pair the Backcountry Access BC Link walkie, but I live in Europe and want to know if they will work fine or do I have to get a different version?
thanks!
saba kutelia
A safety must
Familiarity:

I've put it through the wringer
I can't say enough good things about these radios. Inside the pack body with external hand unit is well thought out. It integrates well with my bca pack. It does okay with my non-BCA packs. Range is great. Overall, very dependable and will save your bacon in communication meltdowns.
Brian C.
BC Link radio
Familiarity:

I've used it several times
Works great, good range , bought 3 for snowmobiling. Help with communication when in trees and you can't see each other, or to notify others of conditions ahead. Battery life good for 2 full days, haven't tested a third, recharged before that.
Robert D.
worth it
Familiarity:

I've used it several times
Reliable, easy to use. good range. the multi channel toggle is really easy to program and switch between stations. great quality.
Matt Myers
This is a great tool
Familiarity:

I've put it through the wringer
This is a great tool. The radio is easy to use, and I appreciate the battery life which can be up to 2 all day outings in cold weather.
The range is great, 2+ miles through non-libe of sight backcountry (what?!?) And the shoulder clip is genius.

It's a 5 star tool when it's fuctiona, however I have ran into some reliability issues.
1- connector will sometimes unlock itself die to rough radio management of the base unit.
2 - at lower battery levels, often the unit won't transmit.
Brian C.
Safety is ALWAYS worth it.
Familiarity:

I've used it several times
New purchase. I recently picked a set up as a Christmas present for a friend and myself. We have already been able to get tons of use out of the new purchase. Easy to use, great battery life, and great range.
Clay Puglisi
Great for skiing but also hunting!
Familiarity:

I've put it through the wringer
These radios are awesome! Very user friendly. They stand the test of cold like non other and they have a strong single. The battery life is also really solid. If you are in the market for radios then look no further.
Jack Hall
Best backcountry radios out there
Familiarity:

I've used it several times
When I was shopping around for radios I was initially going to go with a much cheaper option from Amazon, but I'm so glad I didn't. These are worth every penny, and I can't believe I ever skied without them!

We all know that electronics become less reliable in cold temperatures, but BCA has done a really good job of anticipating that issue and making these puppies super functional, even in very cold weather (I've used these in the low teens so far with no issues). The range is really impressive so far. I recently used them on a backcountry hut trip in a heavily treed area, and was able to communicate with members of my group that were at least two miles away with no issues. I've also been really pleased with how well they hold a charge. I used mine for three full days before having to throw it in the charger, and it still had about 1/3 battery.
Karsyn Ansari
Unanswered Question
How are these better than a good family radio ? I have family radios with a 35 miles range that suck. In the mountains your lucky if they reach a mile. They also cost half the price of this and got two radios. This having a 2.5 mile range I see as being useless.
John G.
The Gold Standard
Familiarity:

I've put it through the wringer
After way too many incidents with inferior walkie talkies in the backcountry such as poor range, freezing up and lack of convenience, I finally pulled the trigger on a pair of BC Link radios and will never look back. Everyone in my group uses these religiously when we are skinning in the backcountry and have found that we communicate more frequently and effectively when we have radios that are as easy and convenient to use as these. Beacon, probe, shovel and BC Link radio. Every. Single. Trip.
ncurt22-0
We use these radios when skinning and back country skiing. The connector between the base radio and the mic has now broken on two of our radios. The plastic connection between the two components of this radio is the week link and needs a new design with a non plastic socket.
Brian Fratzke
Safety First
Familiarity:

I've used it once or twice and have initial impressions
New purchase with only a couple uses so far. It seems to work really well. Easy to use, battery life seems to work well in the cold, and the range seems good!
johngchrist
communication is key
Familiarity:

I've used it once or twice and have initial impressions
I have used these only a few times but when you're in the backcountry being able to effectively communicate with your group is so important and these babies make it easy!
Christina E.
Communication is key
Familiarity:

I've used it once or twice and have initial impressions
These are great to have around and help you keep in touch with your touring party.
Scott D.
Unanswered Question
I'm an avid deer hunter. My dad and I have bought SEVERAL walkie talkies and we were in a river bottom about 500-600yards away nothing but trees between us and not a single set we bought would be clear. We finally gave up and decided not to try another set. Any deer hunters out there bought these, and any other buyers have any input?
Shaine Corder
Great Communication = Better Safety
Over the years I have used many radios for communication. The little handheld walkie talkies from Costco, Garmin and now the BackCountry Access BC Link. There are many reasons I prefer the Link over the previous radios I have used. First I really like the capability to tuck the radio unit into my pack and feed the cord to attach the mic to my backpack. This works really well enabling communication without taking your helmet off. You are also able to hear your buddies communicating with you while riding. I have also found the range to be much further than other radios I have used. It's a durable radio as well. I highly recommend this radio to add to your essential items for the backcountry.
Stephanie Santeford
Stay Connected
Familiarity:

I've put it through the wringer
Good communication is key to a successful day in the backcountry. BCA knows this and the proof is their excellent BC Link system. It is designed to be used in the snow and therefore is water resistant and is easy to use when wearing gloves. Store the radio in a pocket or your pack, then attach the mic to the shoulder strap of your pack. You have a huge selection of channels and you can store presets for your group on the mic so you can change channels with a gloved hand instantly. The range is impressive as well and I've picked up clear signals from ski patrol at a resort that was behind a ridge at least a mile away. The battery life is awesome, even in cold temps it will easily last a full day. If you've been considering a radio for touring, which you should be, definitely pick up the BC Link.
Jimmy Moore
Communication is key in the backcountry
Familiarity:

I've put it through the wringer
Using a radio to communicate in the backcountry has been such a positive experience for me. It's not only helpful for big terrain, but equally as helpful for when the weather turns sour or when that next pitch in the trees goes just out of sight. I don't go anywhere without bringing my radio. Now, I just need to get another to make sure that the one friend who never has one, has one! This product from BCA is definitely well designed and serves its purpose well. It is SO convenient to be able to clip it to a backpack strap or wherever and talk with mittens still on.
Drew
Great product, incredible range
Familiarity:

I've put it through the wringer
I used this product often in bounds and in the backcountry. The clarity is incredible, and the range is surprising. I was able to communicate from a few miles outside of Whistler village to the backside of the mountain with perfect clarity.
Pierce McCrerey