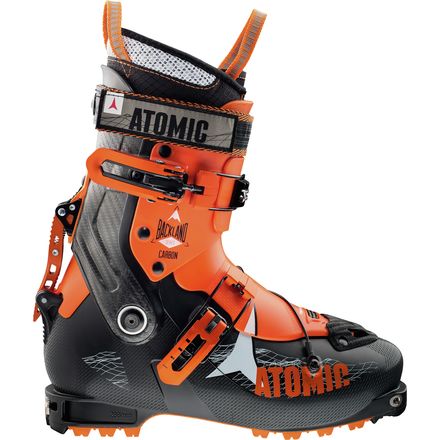 Colors
Take the plunge.
While some companies dip a toe into the shallow end of the ski-touring pool to see how they like the temperature, Atomic's gone and tossed a giant diving-board cannonball into the deep end with the Backland Carbon Alpine Touring Boot. This is no alpine boot outfitted with tech fittings; it's a seriously lightweight (under three pounds per boot), seriously mobile (74 staggering degrees of cuff rotation), and seriously comfortable (with a heat-moldable shell and liner) touring boot that can more than hold its own against the skimo grandfathers from more traditional backcountry companies.

Starting from the inside out, Atomic designed the Backland to be fully customizable to reduce blisters and irritation, offer a more precise fit, and make long days easier and more enjoyable. The Backland Platinum heat-moldable liner weighs just eight ounces, courtesy of warm Ultralon foam, and has support zones in the calf, ankle, and tongue to improve downhill performance. It also employs a flex zone by the Achilles tendon for a smoother uphill stride and has a lace-up closure so you can unbuckle your boots without slopping around in the liner. Outside of the liner, Atomic integrated a Quick Click interchangeable tongue system, (the Backland comes with the stiffer tongue, but a softer one is available), so you can easily snap the tongue off for the ascent and back on for more support when it's time to ski.

Like the liner, the stiff and light carbon-reinforced Grilamid Memory Fit shell is heat-moldable, so you can dial up a precise, comfortable fit that increases comfort on the way up and confidence on the way down. The shell and cuff are joined on the sides with Atomic's Frictionless Pivot system for smooth rotation (the pivot is also threaded for easy replacement and service), and in the back with the carbon spine, which locks into rocks-solid place with the Free/Lock 2.0 ski.hike lever to eliminte fore and aft movement. When your foot's in the boot, lock down the two aluminum buckles and cinch up the toe Cross Lace for a snug and secure fit and tighten the 30mm Super Light power strap to close the cuff tightly around your leg. Finally, Atomic topped the Backland off with a rockered Skywalk rubber sole for a smooth stride and grip when you're hiking up rocky and icy ridges on the way to that line you've been eyeing up for years.

Memory Fit heat-moldable carbon-reinforced Grilamid shell
Free/Lock 2.0 ski and hike switch
Backland Platinum heat-moldable liner
Carbon spine
Frictionless Pivot
Cross Lace system
Quick Click interchangeable tongue system
Rockered Skywalk rubber sole
So far these are great. I have the Fischer Travers also but wanted something I could add a tongue to on steeper descents with variable snow. Overall very happy with these. Swapped the liners out for a lighter liner, the Palau Tour Lite and very happy so far. Tongue is a bit fiddly to get in and out vs the TLT-6, but once you get the hang of it it's not a problem.
Jason True
Is it possible to adjust the forward lean of these boots? If so, how is this done?
Adam L.
Hi Adam, You can adjust the forward lean on these boots from 13 -15 degrees. You do this by adjusting the Free Lock lever on the back of the boot. If you have any other questions, please feel free to reach out to me directly. - Matthew Pizza - Expert Gearhead
Matthew Pizza
So far, so good
Familiarity:

I've put it through the wringer
I just picked these boots up and am loving them. I skied a Vulcan last season and began to think I only occasionally used the full power offered by the boot and that the TLT6/Backland category may still end up having sufficient power.
I was surprised by the stiffness of this boot in the shop but it was certainly tight. I knew I would be heat molding the shells so I decided to go with the same size as my alpine boots (25.5) instead of sizing up like I usually do. I went for a quick tour to figure out where my pressure points were and my mind was blown on the difference these made in the skin track. I took the tongues out for a skin and really saw a benefit in the flats. When ascending, I did not see much benefit to having the tongues out and found it more convenient in transitions to leave them in and just flip the top buckle and cuff lock.
I will say that the boot does not feel quite as robust when on the downhill but that is to be expected when jumping from the Vulcan category to the Backland category. You will need to be a bit more conscious and precise when you flex the boot but any experienced skier should get the hang of it in a couple laps.
The boot did not have as many pressure points as I had expected but it was a bit tight on my instep and in the toe box. I padded those areas when molding the shells (see a boot fitter who has experience with Atomic Memoryfit or Salomon Custom Shell) and was shocked by how much the plastic expanded and how comfortable the liner and shells became. I was previously unable to put my foot in with aftermarket footbeds but after molding the shells, I was able to slip them in for the perfect fit. I am relieved to finally have a perfect fitting pair of touring boots.

UPDATE:
After a full season of skiing these boots, I am ultimately unable to ski in them as I had hoped. I added a booster strap which helped marginally but I ultimately feel that the boot has too low of a cuff for skiing. It feels closer to a hockey skate. If you ski with finesse and at a leisurely pace, you will likely be fine with this boot's downhill performance. I prefer a boot that is a bit closer to an Alpine boot. When I went to flex in the Backland, it felt like there was a small sweet spot in the tongue that had to be pressed. If I pressure more from the outside or inside of my shin, I do not get the same feedback or power that I do when I flex directly into the middle of the tongue. It is tough to describe but is definitely noticeable if you make a point to look for it when flexing in a shop.
Overall, this boot is a great boot but not the right boot for me. I will be switching back to the heavier and more powerful segment of the market for next year.
Evan
Lightweight, comfy chargers
Familiarity:

I've used it several times
I just started touring and these are my first pair of touring boots, but have been skiing my whole life. I wanted something lightweight that was not going to turn to mush when it came time to descend. Comfort was also a huge priority. I have been out with these 3 times so far



I havent heat molded the boot or made any sort of modifications, just skied them right out of the box and here are my thoughts.



First impression, holy crap these are lightweight. Feels like youre walking around with a pair of sneakers on. The walk mode is very simple and easy just flip a metal lever up or down, seems very fail proof.



Removable tongue is nice for added mobility on the way up (dont forget them in your car!) and the range of motion on the boot is very nice, i have yet to max that out.



At first I had a few hotspots around the shin ankle area but the liners are starting to break in now and they are getting pretty darn comfortable.



On the descent I was happy that I didnt completely crush this boot, they handled hard aggressive skiing pretty well (but I only weigh 135, keep that in mind)



Overall I am very happy with my purchase of these boots, and their capability far exceeds mine in the backcountry. This is a piece of gear that will not hold me back as I get more experience. I would buy again.
Colton Rice
What is the BSL of this boot in a 29.5?
And, if I am a true Men's 11, Narrow, will the 29.5 be good for me?
I plan to use this boot on the hill as a ski coach and not for my own performance.
BJ H.
Hi BJH,

The BSl is a 318mm for a 29.5 shell. As for coaching in them, it depends what you're looking for. They'll be easy to walk around in but not the warmest. Contact me directly at the phone/email above if you have any other questions.

Ben
Ben Rabinowitz
Anyway of finding out the sole length of the 27.5 in this boot?
Drew
Hey Drew,



The BSL of this boot in a 27.5 is 298 mm. Feel free to shoot me any additional questions.
Kyle Livingston
Detailed Video of the Backland Features
All the goods of this new crusher of a boot -



Note - I personally feel this boot is close to a 110 flex - and for its weight - this thing can not be out classed.
Alex Quitiquit
Are the 26.5 coming back in stock? I'm assuming these work with the G3 Ion LT 12. Choosing between these and Salomon MTN Explore
Brandon Smith
Hey Brandon,



At this point we have not ordered any more size 26.5 from Atomic so I do not have a definitive timeline. The Backlands will work with the G3 Ion LT 12 Bindings. Feel free to contact me directly with any more questions about touring boots.



Kyle

Expert Gearhead

klivingston@backcountry.com

801-736-4337
Kyle Livingston
I am on the verge of purchasing the backland carbon boot but cant seem to find a binding that it will work with.. apparently backland and king pin arent guaranteed as the boot breaks. the beasts dont work either ? so what does that has good elasticity and good din ? thanks,
corey anthony
Best Answer
Hey Corey



The Backlands are only compatible with traditional tech bindings so your best choice would be the Dynafit TLT Radical FT 2.0 Bindings which are due to arrive in stock soon. Also the Dynafit TLT Radical FT Bindings (DIN 12) or the TLT Radical ST (DIN 10) would work too. Feel free to contact me directly to discuss your options or if you are interested in a whole new touring set-up.



Kyle

Expert Gearhead
Kyle Livingston
This boot will work with the Kingpin but an adapter (MRK001L) will need to be installed.
Evan