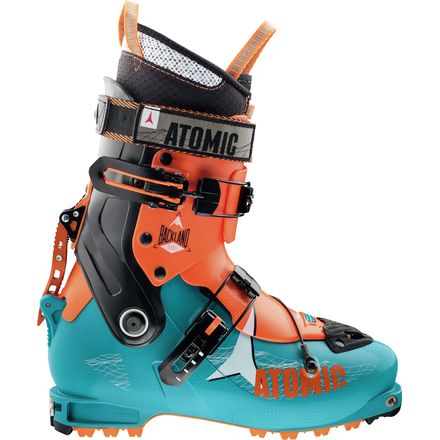 Colors
A boot that breaks the mold.
No, you don't need to make an emergency eye appointment to get your vision checked—the boots that you are now viewing are in fact made by Atomic. You might not have expected a boot of this build to come from Atomic, but the world is full of wonderful surprises and the Atomic Backland Alpine Touring Boot is definitely one of them. Although not as light as its carbon brethren in the Backland line, this Grilamid option comes at a clean price and is still exceptionally light with a stiff feel that will charge on the descent.
The Backland comes with a 98mm last, making it a true low-volume touring boot. Borrowing technologies from Atomic's more dedicated alpine boots, the Backlands feature Atomic's Memory Fit shell technology, which allows the shell and cuff to be custom fit to the skier's feet to ensure top-shelf comfort and performance. One of the first things you might notice about the backland is the external Free/Lock 2.0 walk mode, which eliminates the chance of things going haywire on really cold days. Atomic didn't cut any corners on the liners. The Platinum liner is supportive through the calf, ankle, and tongue and is heat-moldable. Their breathable bottom keeps feet cool on the up, as well as warm and dry on the descent, and they can be washed, so you give them a proper cleaning before you take them on that hut trip. The boots feature a ridiculous 74-degree cuff rotation, a frictionless pivot, and a removable tongue for a feel more akin to a pair of hiking boots than ski boots. When it is time to buckle these boots down for the descent, throw the Quick Click tongue in, fasten down the two aluminum buckles and cross lace system, then quickly lock the walk lever down for a solid and secure feel for the descent.
Memory Fit shell
98mm last
Backland Platinum liner (heat-moldable)
Adjustable forward lean (13 or 15-degree)
Free/Lock 2.0 walk mode
74-degree cuff rotation
Quick Click removable tongue
Rockered sole wit Skywalk rubber
Two aluminum buckles with cross lace
How much do these boots differ from the Backland Carbon? Obviously they're a bit heavier and cheaper, but are there any other significant differences between the two models?
Adam L.
Hi Adam,

The only difference in these boots is going to be the carbon content. Other than that the boots are the same.

If you have any other questions, feel free to reach out to me directly.

Thanks,
Matthew Pizza
Hi Will the backland boots adapt to a Marker kingpin 13 binding? If the adapter is required does it affect in anyway the overall performance of the setup?
cyril
Hey Cyril,



There is no adapter necessary to use this boot with the Marker Kingpin binding. The kingpin will accommodate a TLT (tech) boot out of the box.



If you have any other questions feel free to hit me up at 1-800-409-4502 ext 4665
Chazz Ogden