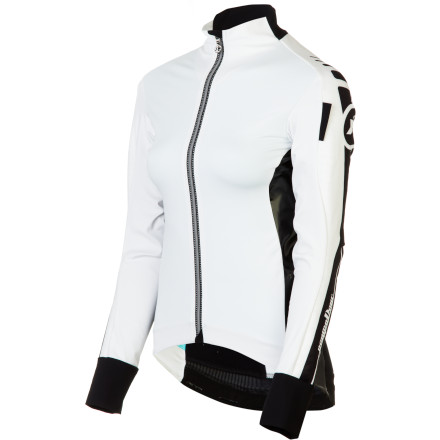 Goodbye umaJack, hello pompaDour.
It's rare that a jacket is able to tell its story through sheer numbers, but not surprisingly, the iJ.pompaDour_S7 achieves just that. For its construction, Assos used 30 pattern pieces, 10 different textiles, and 12 separate components. In other words, Assos put some thought into this jacket. Then again, in order to disrupt the seven year reign of the umaJack, we expected nothing less.
Even the name of the iJ.pompaDour_S7 is highly strategic. The "pompaDour" part of this jacket's name is the Assos translation of Madame Marquise de Pompadour, who was the official chief mistress of Louis XV. Among her many accolades, Madame de Pompadour was highly regarded for her intelligence and keen eye for Rococo interiors and architecture. In fact, she planned the designs for buildings like the Place de la Concorde and the Petit Trianon. However, she's most remembered, and endeared, for introducing Dom Perignon's invention, champagne, to the Royal Court. For these reasons, she served as inspiration for Assos to test the boundaries of possibility in winter riding apparel, in both style and sophistication.
Now, reason tells us that, as the umaJack's successor, the iJ.pompaDour_S7 would appropriately build off its predecessor's success. However, Assos actually modeled the iJ.pompaDour_S7 off of its men's iJ.bonKa. Accordingly, the chest, collar, and arm panels that face the wind take advantage of Assos' twinDeckFoiling in order to keep the cold at bay. It has two layers, one windproof and one insulating. The outer layer is the stratagonUltra airBlock material — Assos' new waterproof, breathable, and flexible membrane that's less breathable when cold and more breathable as the air directly next to the membrane heats up. This allows it to retain more heat when you're cold, and to be more breathable once you heat up and start to sweat. The inner layer is Assos' RXQ fabric, a lightweight stretch fabric that's smooth on one side and fleecy on the other. The upper-arms are made from stratagonMedium, a lighter, stretchier, and more vapor-permeable version of the Ultra. This material provides both a better fit and more enhanced ventilation. The Medium is also found on the side panels. The back panel consists of the RX fabric, a heavyweight stretch fabric that's alternately smooth and fleecy. And the bottom hem, in the back, has Assos' rear stabilizer to hold the jacket in place.
The iJ.pompaDour_S7 also does a few new tricks. There is extra shaping at the elbow for enhanced comfort, and the jacket also comes with a thin turtleneck layer that you're able to either put on or leave at home. However, if the temperature is low, we recommend wearing it, as the turtleneck helps seal the collar from the elements. This touch is doubtlessly inspired by the many cyclists who borrow "neck gaiters" from the ski drawer to help keep their necks warm on the coldest of days. The difference here, though, is that those are typically bulky and this is thin and designed to fit between the collar and your neck. Assos also incorporated its patented rear stabilizer panel design that reduces vertical stretch, while also preventing the pockets from sagging under load.

Combining what Assos calls its Advanced Ergonomic Pattern Design (AEPD) racing cut with its cycling-specific body-mapping pattern design, the iJ.pompaDour benefits from the most thought-out design process in the business. Assos is the first to tell you that high-end materials mean nothing if the cut is bad. That's why it's spent a maddening amount of time on two points of study — how the body is shaped, and how it changes throughout the movements of cycling. Accordingly, the AEPD cut is made for the shape of cycling, not standing (just a little something to remember when you try it on). With the iJ.pompaDour, the cut greets the contours of your body and adds a slight compression to aid in muscle recovery and stabilization. It's worth noting that AEPD achieves this without adding a sensation of pressure. Further along these lines, the cuffs use a no-pressure closure system that Assos calls WristWrap. To achieve this gentle grip, Assos integrated them with the fabric of the sleeves instead of placing them inside the hem. Altogether, the characteristics of AEPD literally make the jersey "click" into place for the ultimate in cycling fit.
The Assos iJ.pompaDour_S7 Women's Jacket is available in five sizes from X-Small to X-Large and in the colors Black Volkanga and White Panther. This jacket is part of Assos' Winter 6 ALS ClimaRange, which means that it's intended for use in temperatures ranging from around 41 to 25 degrees Fahrenheit.
Perfect Cold Weather Piece!
Familiarity:

I've used it several times

Fit:

Runs small

Size Bought:

Medium
...whether it's late Fall, Winter or early Spring (like now and I just purchased), this is easily my go-to my performance warmth generator. First, I'm 5'7" and 130lbs, with broad shoulders, 34.5 across chest, and athletic build. I wore this with an Assos #6/7 winter base layer and the T_FI Lady bib shorts(yes, shorts!) It was 38 deg out but sunny. Even with my legs exposed this jacket kept my upper extremities solidly warm. The 12-15mph winds didn't have a chance - couldn't even feel it except for on my face. Yes, Assos apparel is snug fitting, and like many Euro designers, runs small. In Castelli and Assos I wear a medium. Like the manufacturer states, this piece, like many others are designed and cut to fit perfectly while on a bike in riding position. So if you're standing upright, this jacket might feel snug across your chest. Again, I'm 34.5 across the chest and the medium is for up to chest sizes 90cm. If you have it on properly and the sleeves twisted the right way, facing properly, it fits exactly as it should. The pockets are fabulous in this jacket in that you don't have to reach back-up-deep in to grab anything. Two pockets you just reach around to get into - easy access but plenty of depth so items don't pop out; the rear pocket is a more traditional pocket, but with a zipper and two compartments separated by mesh. Very awesome. Lastly, stylish and streamlined as always! It can create quite the ensemble and always rocks a good performance.
Jodi E.
Height:
5'7"
Weight:
130lbs
Cut Too Small for Tall Fit Women
Familiarity:

I gave it as a gift but have feedback to share

Fit:

Runs small

Size Bought:

XL
I got this for my girlfriend in Large, then exchanged for XL. The jacket is cut too small to allow a base layer - especially a warm base layer underneath. It's fine if you are shorter than 5'10" and don't want a warm base layer underneath. All in all - disappointed.
Adam Greissman
Height:
5'10"
Weight:
145lbs
#1 winter cycling jacket by far!
Familiarity:

I've put it through the wringer

Fit:

Runs small
Amazing winter protection riding wear in every way... warm (including your butt with the slightly longer material in back), extremely comfortable, breathable (love the back material with the flaps), looks great, high quality layers in all the right spots, 3 pockets, plus a zippered one, etc, etc, etc!

I have several other winter jackets, but I keep going back to this one. Worth the crazy price if you plan on riding in frigid temps.

My only issue is the attached neck/mouth Gator (which under it's own right, is unbelievably warm and easy to breath with over your mouth and nose). Why did Assos attach it to this awesome jacket without having a small zipper to take off when not needed??? I didn't like tucking it into the back elastic tie and feeling like the Hunchback of Notre Dame! I did myself a favor and cut it out carefully and have been using it with my ski coat when skiing as well.

Runs small, I have the large and it's perfect! I am 5'3" and 117 pounds. I have the black version, but have seen the white version and it'€™s beautiful too.

Highly recommend, you won'€™t be sorry!
Marcy
Can't wait for winter!
Familiarity:

I've put it through the wringer

Fit:

Runs small
This jacket (and bibs and gloves and boot warmers) allowed me to comfortably ride through wet and cold NorCal winter.
Here's what I liked:
It is exceptionally well made and looks great.
It is seriously warm and well-ventilated at the same time, you won't overheat even when climbing tempo.
More windproof than a hard-shell, descending in ass-freezing temps is warm and fuzzy.
Alexandra Y.
Love It
Familiarity:

I've used it several times
This jacket is seriously white hot. It looks great! Like other Assos products, this jacket is very fitted so it does fit a little funny off the bike. Specifically it pulls tight in the chest area. If you're standing around, just unzip it a little. I did have to go a size up from what I normally wear. But after finding the right size, and testing it out, I got over the slight discomfort of non-bike wear. It is for riding after all and on the bike, it feels amazing. I've used it with just a base layer in sub freezing temps for road riding and been warm!
Lori N.
Small for an XL
Familiarity:

I returned this product before using it
I really wanted to use this performance jacket! I realize Assos and others (Castelli) will run small so I ordered both a large and XL to try. I am 5'10", 165lbs, and wear a M in women's clothing and an 8 in jeans. The XL fit me in the torso just fine, but the elbow and lower arm area were way too tight with my thin Craft base layer in place. Unfortunately I shall be returning these items.
Dan and Leslie R.
Unanswered Question
Guys' or Dolls'...



How's the fit/performance of this jacket? Is it really a improvement of the former "U Jack"? Thanks for you help.
Debbie C
Unanswered Question
How long is the zipper of this jacket? Are...
How long is the zipper of this jacket?

Are the jersey zipper and jacket zipper the same length or the jacket's is longer than the jersey's?

In the size chart, I can see the measurement of the hip and chest, but not the height, so I am not sure Assos is intended for tall or just average people.

Thank you.
Frances B.