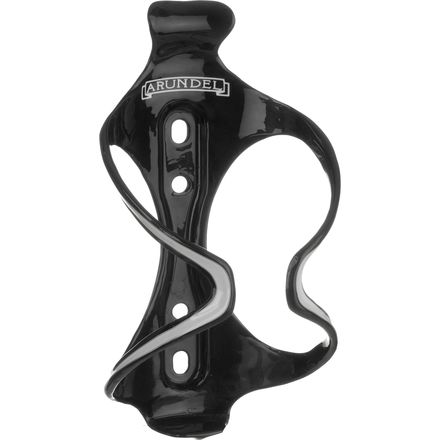 Colors
The jaws of cycling life.
The Arundel Mandible Water Bottle Cage was designed with two slim pieces that grasp your water bottle like jaws, securely holding your bottle in place whether you stick to smooth roads or take the stairs at your local cyclocross race. It is constructed from carbon fiber that has been given a foam core to further reduce weight. The mounting bolts are exposed, but the clean lines of the Mandible prevent your bottle from getting caught when pulling it out. This sleek package, with minimal graphics, guarantees your water will always be there when you need it.
Carbon fiber
Sleek design with minimal graphics
Bryan Fobbus
Hey Bryan,



The cage weighs 28 grams.
Neal Forbes
Unanswered Question
How many grams do the cage weigh?
Thanks,
DC
Donald Colbert
What's Exciting About Bottle Cages??
Familiarity:

I've put it through the wringer
Having fussed around with Elite and Spesh and finally got fed up losing another bottle I bit the bullet and bought two of these. These work! Easy in and easy out and securely hold. And they are beautiful! Oil slick version looks great. Yes they are expensive but you won't be disappointed.
Dr. Evil
Superb
Familiarity:

I've used it several times
These bottle cages are amazing, look good and the bottle will be well secure
Javier Meza
Great cages
Familiarity:

I've used it several times
Great cages, that securely hold bottles and look good. Love that you can get them in matte or gloss, and 3k or UD to match builds. Reasonably lightweight and work great.
Todd
Great looking cage that holds my bottles well. Any cage is light, buy it cause it does it's job and looks great doing it.
Robert M.
It just works
Familiarity:

I've put it through the wringer
I got tired of losing bottles on the horrendous roads of MA when my prior carbon cages lost their grip, and it became more than a bit dangerous when it happened during fast group rides. Enter the Mandible, which maintains a vice-like grip on my Podium Chill bottles while making them very easy to remove and replace without looking. Plus they look badass. Pricey, but it is the best-looking and best-performing cage around.
Cusewordsmith
Great for the trail.
Familiarity:

I've used it several times
Super tight gripping cages for the mountain bike. Light and look good. I use the side loader cages on my road bike. I am a big fan of Arundel products, and these cages are a good example.
Eric B.
The PR's Keep Coming
Familiarity:

I've put it through the wringer
I just can't believe how many trophies and PR's I am getting on Strava after purchasing two of the Matte bottle cages. Every gram counts now, so much so, I reduced the number of Skratch scoops I add to my bottles. Trust me, it makes a huge difference, the PR's don't lie.

Now on to reality, and lowering the sarcasm dial... these cages are nice, have a great look and do the job. My two cages are a little tight for my liking, and actually pinch/deform my bottles; it reminds me of Lennie holding the rabbits in Of Mice And Men... if you never read the book, he kills him with his death grip.

Yes I would buy them again, even though they are a bit snug.
Paul Cressey
Secure and light
Familiarity:

I've put it through the wringer
Awesome bottle cages. They're very secure, and my bottles have never come out even while riding on dirt or over potholes or bumpy roads. This was a problem with my previous cages (Elite Custom Race). It fits well for all types of bottles, including Camelbak Podium.
It's easy to get the bottles in and out while riding.

On top of that, they are light, look great and I got them on sale! What else could I ask for?
Pablo Bles
Grip
Familiarity:

I've used it several times
Bought even though I think it's crazy to spend so much for a carbon fiber bottle holder. Extremely strong grip on my Camelbak Podium bottle.
Eric K.
Everything they are cracked up to be
Familiarity:

I've put it through the wringer
Yes, this is just a bottle cage, but anyone who spends any time riding on less than good (ahem, Texas...) chip-seal roads knows that losing a bottle is more than a little inconvenient. I am thoroughly impressed with these rather bling bottle cages. Sure, they're a luxury item, but really no more expensive than other shiny carbon bottle holders, and they are SOLIDLY built. As hyped, they will hold a bottle through pretty much any situation.

Highly recommended if you want some bling and don't want to lose bottles.
George H.
Super light weight and holds bottles firmly. Oh... looks great too!
Marc C.
Very secure and beautiful looking
Familiarity:

I've used it several times
Got these on sale and would have paid more. Very impressed on how well they hold the water bottle, even on very rough roads. I usually use the larger water bottles and have not had a problem with them falling out. Yet the cage is not so tight that one has to struggle to get the bottle out. From my other carbon water bottle cage experiences (Bontrager, Giant, Ritchey, Arundel), these are the best experience for me so far.
John T.
Best cages money can buy!
Familiarity:

I've put it through the wringer
I have used just about every high end, carbon bottle cage out there; and every time I try something new, I always come back to the Mandibles.

They are incredibly light, hold bottles very tightly, but also allow for easy entry and release. I would say the best of all worlds, and I have never broken a single one, and have had these on 6 different bikes.

Bradley Gehrig
Customer Account Manager
801-746-7580 ext 4823
bgehrig@backcountry.com
Bradley Gehrig
Water bottles love to be held
Familiarity:

I've put it through the wringer
Holds your water bottle tight even through the toughest of times and light as a feather.
Vic
Beautiful and secure.
Familiarity:

I've put it through the wringer
A slim, yet powerful cage that holds my bottles securely, but doesn't make me fight to get them out. Beautiful industrial design is a plus.
macweelz
They're Great
Familiarity:

I've put it through the wringer
Even the biggest pothole won't jar the bottles loose. They cages look great and hold the bottles tight. The quality is second to none.
Craig
When I built up a new bike I had new Zipp cages from a previous purchase for the new steed. Unfortunately, these new Zipps didn't perform as well as the old ones and I began to have bottles launch frequently. Since this can pose a safety issue I began the search for new ones. The Mandible received high marks and with the bonus free bar tape I pulled the trigger. I'm very impressed with the design, style and function and they work! Bottles are snug and I'm 100% confident I will never lose another bottle again. These are excellent.
Michael