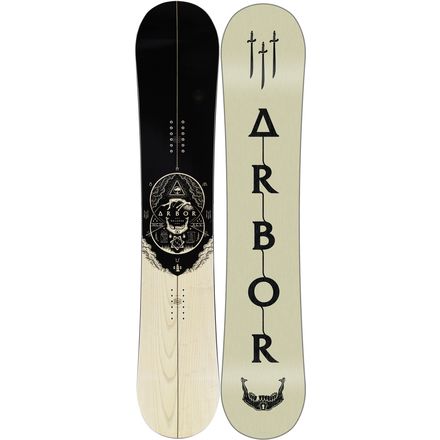 Inspired by snowboarding's glory days.
You prefer classic cars to space-age imports, timeless rock to the latest EDM, and historic buildings to modern architecture. Satisfying your classic sensibilities, the Arbor Relapse Wide Snowboard delivers the crisp pop and engaging feel of a traditional cambered profile, combined with a timeless twin shape for unadulterated freestyle fun. Its flex sits just below medium for well-rounded versatility, with softer tips for freestyle-focused performance when you're riding through the park and playing around the mountain.
Looking inside what makes it a classic freestyle deck, the Single Malt core of full poplar ensures lasting durability for riders lapping the park and hitting handrails on a regular basis. Biax fiberglass keeps thing torsionally soft for easier butters, clean presses, and forgiving landings. And because you'll be thrashing your board on jibs and rails, the extruded base remains easy to repair and reliably quick all-season long.
Inspired by classic twin-shaped park boards
Traditional camber for snappy freestyle performance
Freestyle-inspired flex is ideal for park riders
Single Malt core of durable and smooth-flexing poplar wood
Biax fiberglass for easy butters and forgiving landings
Extruded base is easy to repair after park thrashings
Arbor makes premium boards with handcrafted detail