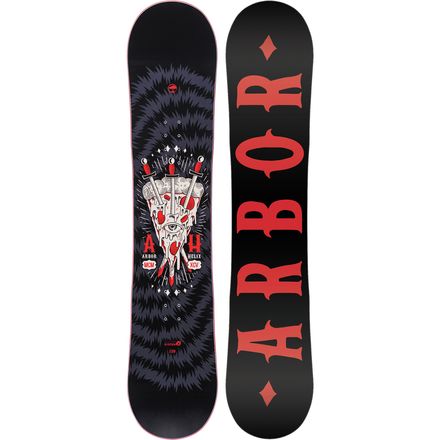 Colors
No more rental nonsense.
Seeing that progression starts with spending quality time on the snow, the obvious choice is bypassing the rental hassle with a quality board like the Arbor Kids' Helix Snowboard. This board is fine-tuned for smaller riders with its forgiving flex pattern that's soft enough for learning to link turns, yet responsive enough to keep them coming back for more after the first season.
The twin shape lends a well-balanced feel, whether they're finding their preferred stance those first days on the snow or dropping into the pee-wee park for smaller jibs and jumps. The System Rocker is Arbor's answer to providing a highly forgiving feel for everyone from first-time riders to seasoned freestyle pros. This rocker profile features a parabolic arc (e.g. upturned arc) that's more pronounced at center, becoming more mellow as you work towards the tip and tail. Ultimately, it creates a board that's incredibly easy to ride, without worry of unexpectedly catching an edge and tumbling down the mountain.
Allowing riders to firmly distribute edge pressure onto icy hardpack usually encountered at resorts (especially after dry spells where it hasn't snowed), the Grip Tech sidecut places two additional contact points along each edge. This technology gives upturned rocker boards the precise grip needed to initiate turns and control the board. It's a great addition to a beginner-friendly board, outshining other boards prone to washing out at speed.
Forgiving board for up-and-coming riders
The System Rocker lends a forgiving, catch-free feel
Softer flex is tuned for lighter riders just learning
Grip Tech for extra grip and control, even on hardpack
Single Malt core of poplar wood for lasting durability
Biax fiberglass keeps it torsionally soft for easy turning
Extruded base is low maintenance and easily repaired after dings
Arbor places an emphasis on premium construction and quality