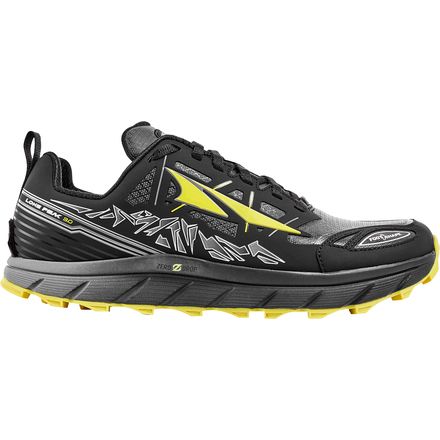 Colors

Detail Images
Tackle the talus.
The Altra Men's Lone Peak 3.0 Trail Running Shoes aren't named after Utah's famed 11,000-foot mountain for nothing. Designed to tackle talus fields, desert hard pack, and tricky descents alike, the Lone Peak offers the same, best-foot-forward performance as its predecessors—just with a slightly updated profile.
The Lone Peak 3.0 boasts a redesigned mesh upper that not only provides ample breathability when trucking through hot terrain, but it also features extra overlays for torsional support without the risk of hot spots. Additionally, this shoe is fashioned with a StoneGuard that's located between the midsole and the outsole, so you're never without protection from wayward rocks and roots. The plush styling of Altra's FootShape toe box encourages unimpeded room for your foot to move, groove, and splay, while the EVA midsole attenuates shock and provides responsive energy return with each stride. And perhaps most noticeable of all, the Lone Peak sports a more aggressive outsole that rips, grips, and chews up terrain and all kinds of conditions. So whether you're trail running sections of the Appalachian Trail in the Berkshires, or tackling the punishing terrain of Lone Peak itself, this shoe offers unprecedented support and performance.
Tenacious trail running shoe with 0mm assures a natural stride
Breathable mesh features overlays for support
EVA midsole with A-Bound layer attenuates shock
StoneGuard provides protection from rocks
MaxTrac assures unrivaled traction on tough terrain
Based out of Utah, Altra creates hard-wearing and dependable footwear for road and trail runners alike
Keep coming back to these
Familiarity:

I've put it through the wringer

Fit:

True to size
These were my go-to shoes on the PCT this year. When you find something you like, stick with it. I could not get a new pair of Altra's at one point on the trail and went with some HOKA ONEs. Comparably the fit was slightly more narrow in the toebox, but failed to make it 100 miles before they fell apart. Lone Peak's have been breathable, durable, and dependable.
Aaron P.
Not for me
Familiarity:

I returned this product before using it
This is my first time trying Altra. My regular trail runner is Pearl Izumi, amazing runners, but unfortunately they exited out of trail runner biz this year, which has forced me to find alternatives.

Ordered a pair here for $62. Great price. Two issues I have found with Altra Lone Peak 3.0 as soon as I put them on in my living room.

First, unlike Pearl Izumi, I find the sole is way too soft for me, which just can't give me any real sense of surface conditions.

Secondly, totally unlike Pearl Izumi, the absence of some type of arch on the toe box causes the fabrics tend to fold quite a bit even when I was walking on my area rugs. And what is even worse for me is that create a pinch on my right foot for every step.

Another minor issue is that I find its toebox way too big and wide, which definitely is not suitable for someone like me who has narrow feet, because it can create blisters easily because of swimming toes there.

Overall it has great workmanship. Being made in China, not Vietnam or Cambodia, gives another level of product quality. The buildin Velcro and loop for gaiter use is another great touch. Dont know about its durability tho.
Trailrunner
Good trail runners
Familiarity:

I've used it several times

Fit:

Runs small

Size Bought:

10 1/2
My Lone Peaks are my go to shoes for trail runs. I love the Zero Drop heel. The traction on these is pretty rediciulous. Just walking on concrete you can feel the rubber grabbing the sidewalk. Getting on the dirt trail, you don't have to worry about a slip off a rock. The rock plate in the sole effectively disipates any issues you'd have if you land mid-foot on a rock. The shoe is breathable, not waterproofed at all; not sure i'd want them to be gore-tex anyway. Only fault i have with them is the last they are made on is slightly different from my Instinct 4 shoes. the arch is slightly different which is causing some callus to build up in places it wasn't previously. No biggie.
Quick note on the sizing, I have had to go up a full size from my normal every day and hiking shoe size. Due to the FootShape toe box, more toe room is necessary for proper foot splay.
Tim.Wallace
Height:
5'11"
Weight:
183lbs
Altra Lone Peak 3.0
Familiarity:

I've used it several times

Fit:

True to size
Been in these shoes for a dozen runs so far and love them. They fit true to size are light as air and super roomy in the toebox. two thumbs up!

Javas
great shoe
Familiarity:

I've put it through the wringer

Fit:

True to size

Size Bought:

10.5
I'm ordering a pair of the lone peak 3. My 7th pair of Altra LP's. I've worn these on The Colorado Trail and a small chunk of the AT and over hundreds of miles of other trail, backpacking, hiking, walking, running. The first LP's I shredded. There was a tendency, I found, for the mesh to start giving out. Quickly. The LP2.5 was like a whole new shoe. I've had these since February and I can't seem to wear them out, at least the exterior. The mesh is showing wear but no rents, the tread seems okay. But I'm giving them up because they've begun to feel flat, flat enough that I could insert an insole. In new Altra's I've found that using something like Superfeet raises my heel too much so I've just gone with the factory insole. Looking forward to the LP3! I have bought a 1/2 size larger in the past and that's worked well. The LP2 I bought a full size larger and I owe a blackened toenail to it. I'm going to go 1/2 on the 3's. Obviously I love this shoe. Not crazy about the new colors. Gaiter trap is a nice touch.
Dean K.
Height:
5'9"
Weight:
195lbs
Light as Air
Familiarity:

I've used it several times

Fit:

True to size
This is my first pair of Altra, and my first foray into zero drop since the Vibram Five Fingers craze about 7 years back.

I'm coming from the Brooks Cascadia 11, a narrow, heavy, and altogether unimpressive shoe that I'll never recommend to anyone. S,o I'm trying not to be too blown away by the Altras, but they do feel like driving a Tesla after renting a UHaul.

I've had them for about a month, and the weather has been great so I've had them out on trail runs and hikes 10 or so times, plus I moved one weekend and wore them during the entirety of the move.

They're incredibly light, and super roomy in the toebox. Those are absolutely the first two things I noticed upon fitting them, and a month in I'm still impressed how noticeable the weight and toe room remain.

Sizing these is important, Altra recommends a fingernail of space beyond your longest toe so you don't bang your toenails into the upper on fast descents. So if you're buying these to run hilly trails or mountains, I'd size up a half size (I wear 9.5 about 75% of the time, and bought a 10). If I were just going to be walking around in these, or running on flats, I'd be more comfortable in a 9.5 for sure. But for super long runs where the feet swell, or bombing downhill, the extra space is pretty cush.

Regarding the zero drop, I honestly can't even tell, and that's coming from a 10mm drop in the Cascadias. Maybe it's because I used to do the Vibrams, maybe it's because I'm barefoot as much as I can, but I just can't say I even notice it.

I got the black/yellow ones, my favorite of what I'd say is a pretty mediocre range of colors. Style is all personal, so you may love the look of these, but I think they're just okay and docked a star as a result.
Taylor Journey
This makes 3 pair of Altra shoes for me.
Familiarity:

I've used it several times

Fit:

True to size

Size Bought:

13
Yep I bought another pair, I just had to get some for work . I walk 20 plus miles around a wear house all day and knew these would be perfect.
Dean F.
Height:
6'2"
Weight:
170lbs
Altra cool!
Familiarity:

I've put it through the wringer

Fit:

True to size

Size Bought:

13
I needed another pair, I bought a pair of neo shell altra lone peck waterproof shoes this last winter. And now that it's spring I need a more breathable shoe. I've ran 2 5k races in these and they are so comfortable. I've stood all day at a convention in them for to days and my feet felt great the whole time.
Dean F.
Height:
6'2"
Weight:
170lbs
Great everyday shoes
Familiarity:

I've used it several times

Fit:

True to size
Great fit and high quality. Just the right amount of cushion to feel like you are walking on pillows. Not super keen on the mountain motif on the sides but not a deal breaker.
Tom S.
Buy them now!
Familiarity:

I've put it through the wringer

Fit:

True to size

Size Bought:

12
Threse are amazing shoes! Buy them!
Randy W.
Height:
6'3"
Weight:
165lbs
Nice!!!
Familiarity:

I've put it through the wringer

Fit:

True to size
One hell of a shoe
Travis McGrew
Altra Line Peak 3.0 = Winner!!
Have made several runs in these shoes on various terrain and at different distances. I can say that I think these shoes are winners!! The fit of this Altra is finally true to size. Still have plenty of room in the toe box and they have great grip on any trail. IMO, the biggest improvement over the previous models is in the heel-cup. The only issue I've encountered is that the foot inserts are too wide in the heel. This causes them to move -especially when wet. To fix this problem I just glued them down. You might want to consider replacing them with your own custom inserts if you experience the same issue.
Fred R.
Fantastic shoe
Familiarity:

I've put it through the wringer

Fit:

Runs small

Size Bought:

12
I've been wearing every version of the Lone Peaks so far, and this one does not disappoint. One of the things I love about Altras is they require no break in time. I wore them straight out of the box for the first 110 miles of the Bigfoot 200, with some gnarly terrain. They performed even better than I would have expected. The grip is super good, and comfortable just like the other LPs. They even added a little "gaiter clip" on the front of the laces to hook gaiters too instead of shoe laces.

The only negatives is they do run a little smaller than previous editions, so it's hard to continue to order the same shoe but different year's models and know what size. I had a size 11 LP 2.5, and had to size up to a size 12 LP 3.0. Also, the typical "tear out" problem around the toes I've had with previous editions is still giving me some problems. Just after that 110 miles, little rips were beginning, but I also put my shoes through the ringer, so I get it.
m.kp956012
Height:
5'10"
Weight:
185lbs
Yet Another Great Update
Familiarity:

I've put it through the wringer

Fit:

True to size
Altra has impressed me yet again with these shoes. They still fit true-to-foot-shape, and they have added some solid reinforcement along the seams in the form of a fabric overlay. These have held up to scree, talus, trail, off trail, and Leadville with no sign of stopping. The tread is gritty as normal, and the shoe may have gotten slightly softer... perhaps I was just used to my flattened 800+ mile LP2s (which were still going strong). Overall, another great release from Altra. I'm looking forward to many more mountains and races in these.
byo105741220-0