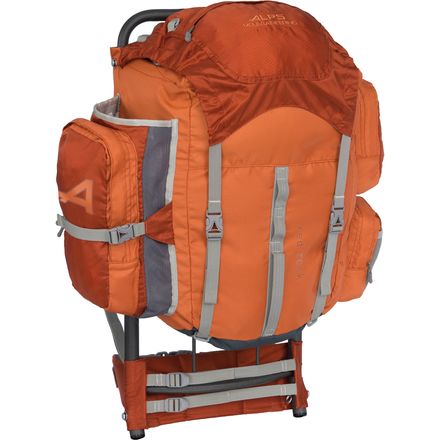 A step back from modern backpacks.
Too many backpacks have features up the wazoo that are way too complicated for you to truly remain comfortable from mile 1 to 100—the Alps Mountaineering Red Rock 34 Backpack, however, is a classic pack similar to the one you probably used on your first backpacking trip back in the day. It boasts a sturdy and supportive traditional frame with the lumbar support you need for long miles on rough terrain.
Alps Mountaineering outfitted the Red Rock with padding at the waist belt and shoulder straps for a combination of stability and comfort. Modern updates include a pocket specifically designed for hydration reservoirs and neoprene pockets at the sides and front to accommodate water bottles and compact layers easily.
Classic outdoor backpack for day hikes and climbs
Traditional external frame for long trails
Traditional top loader with multiple lash points
Padded shoulder straps and waist belt
Pockets for hydration reservoir, valuables, and water bottles