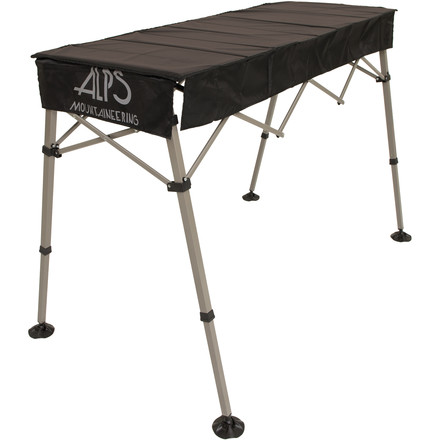 Guides your way through dinner.
Prep dinner at your campsite atop the Alps Mountaineering Guide Table. Its hard table top makes this table excellent to prep, serve, and clean without a problem. The adjustable legs give you an ideal height whether you're tall or short, and the powder-coated steel frame stays sturdy throughout many meals.
Powder-coated steel frame
Adjustable legs
Hard table top
Great Camping Table
Familiarity:

I've used it several times
I like this table, it is easy to setup and is very useful. It does take some time to figure it out the first few times, but once you have it down it is very easy to setup. The adjustable legs comes in handy and is very useful.
Matt O
Nice addition to car camping outfit.
Familiarity:

I've used it several times
Have used one of these tables for the last few years at grouse hunting camp. Worked well enough that I had to have my own. We tent camp in Michigan's UP and this table makes meal prep much easier. Sturdy, adjustable legs. Great workspace. Buy one.
Rick U.
super solid.... heavy too
Familiarity:

I've used it several times
super solid. easy to set up. sets up over uneven ground well. this is one *heavy* table at about 25 lbs.
Joe F.
Solid Table
Familiarity:

I've used it several times
Well built table. It's heavy, but hopefully it will last. Perfect height right out of the box with out adjusting the legs out. One cool feature is the feet are made to tilt in multiple directions to accommodate uneven camp sites. The top is easily wiped off. Great for serving food. Rubbermaid bins fit neatly underneath for that extra layer of defense against the rain.
Eric Stenglein
Best camp table out there
This table is amazing. Easy to set up, sturdy, adjustable height, easy to clean.
Andrew Meehan
amazing
Familiarity:

I've used it once or twice and have initial impressions
Heavy duty, tall standing table, perfect for car camping. Easy to put together but a little heavy
Chad Maurer
Excellent
Familiarity:

I've used it several times
This makes cooking and prepping food in camp a total breeze. No more hunching over or cooking off the tailgate of the truck. Plenty of adjustment for people of different heights, but this is primarily for food prep rather than food consumption. I'm very happy with this setup.
Andrew Wike
Great for the $$
Familiarity:

I've used it several times
Table is pretty sweet and the adjustable legs are awesome. I wish the poles that hold on the top had the push button locks though so they didn't come undone ever when you are assembling it. Outside of that I cant think of an improvement.
Ben B.
Item #ALM000Z
How much weight will this table hold?
What is the top made of?
how do the legs adjust and in what increments?
Michael Curry
Hey Michael!

It looks like this table is made of engineered wood and has a PVC tarp to cover the wood! The frame itself is a powder coated stainless steel! I am still waiting on the information of how much weight it can support, but it does weight 25lbs and 7oz! This table has two adjustable heights 30 inches tall and then it would extend up to 42 inches tall!


Brooklynn Hall
This table is SUUUUUCH a bang for your buck. I bought it for cooking and prepping food and I was blown away with how burly and sturdy it was when I opened/set it up. The height is adjustable so you can tweak it to make it perfect for your height. In addition, it works on a uneven terrain/hills as you can adjust the leg height individually. It's easy to clean, doesn't wobble, is really easy to set up and makes food prep feel fancy AF! haha... Get this dang table! You won't regret it my friends.
Natalie Ramon
Why didn't I buy this sooner!?!
Familiarity:

I've used it several times
Bring your camping to the next level with this table. It's at a perfect height for cooking or prepping food. It sets up and breaks down easily. The legs and feet adjust nicely. I have no idea why I didn't purchase one of these sooner. It's worth every penny
Lauren R.
Very Neat Table
Familiarity:

I've used it several times
I will say it took some figuring out to set this up the first time, but I have been very happy with it and it is very easy to setup and breakdown after some practice. For the value this is a great table that offers lots of adjustment.
Matt O
A real treat to have!
Familiarity:

I've put it through the wringer
Having adjustable height as well as adjustable feet sets this table apart from the rest. It is quite heavy, made a materials that will last!
Jack Hall
Durable Table
Familiarity:

I've used it once or twice and have initial impressions
This is a great table for car camping or tailgating. The table is easy to setup and stable. The table when packed down is still pretty large and heavy. The legs and feet can be adjusted. Pretty solid camp table.
Jason Kang
Awesome camping table
Familiarity:

I've put it through the wringer
I'd survived for most of my life without a camping table until I had kids and now that I have this table, not sure why it took me so long. We've put it to hard use this summer and it's holding up great. It's stable and easy to adjust, holds everything you need to cook meals for a huge crew and keep stuff off the ground and away from pesky kids. We run a 2 burner stove on one end, snacks and stuff on the other, and have plenty of room for chopping stuff or assembling sandos in between. It's not the lightest but it sets up and folds down easily, it's durable, and it's sturdy enough that we hang propane tanks, trash bags, cooking utensils and more off the frame with zip ties and bungies. Would definitely recommend and kudos to gearhead Zach for helping me pick it out. The adjustability and size is what sold me over some of the other ones out there.
RedManWalking
THE Outdoor Table
Familiarity:

I've used it several times
Absolutely love this bombproof table. Easy to set up, easy to transport in the car and to the campsite, and you can get it pretty stable on different types of terrain.

I mainly have it set up in the backyard as part of my "bike shop", but also bring it camping for a cook table, and for board/card games.

More expensive than other tables, but this thing is built tough. Going to enjoy using this for a while.
Ben Rabinowitz
I wanted to like this table
Familiarity:

I returned this product before using it
This table boasted to have it all when I was evaluating my needs. I could be a cook station or a dinner table, great feet, and adequate portability. Sadly, after setting up the table in my living room i have decided it's not for me. First off the table top is not a very rigid design. It needs legs in the middle or aluminum cross pieces to beef it up. Next, the frame was a little frustrating when set to the dinner table height as there is difficulty finding a comfortable place to put your legs. You really have to sit more next to the table tan under it. Lastly, I'm not really a fan of the flexible plastic table top. It seems that it is lacking durability and might even melt if hot items were placed on it.

f1shman2167286
Unanswered Question
Can someone tell me what the top of the table looks like beneath the plastic cover? Better yet, a pic please! I'm trying to understand how supportive the table would be for small heavy items, like a glass of water. If the gaps between the steel are large, then I can see something like a glass of water sort of tipping over since it would just be held by the table cover. Thx, --Tan
tonto
Good table
Familiarity:

I've used it several times
I'll be honest, I was looking for a bar height folding table that we could use .... Well for a bar at our wedding reception. This table is perfect for that and more. I have used it to fillet fish, cook meals, process game in the field and as a bar.

The only problem I can find is the weight, it is sturdy (lots of steel here) and heavy which holds it against the wind and bumping into it but it feels even heavier than the listed weight
BJ A.