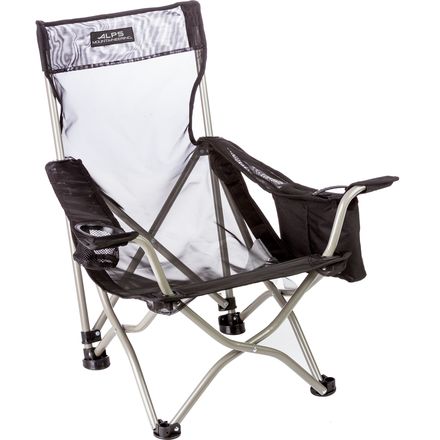 Colors

Detail Images
Get away from the crowds and kick back in a light, simple chair.
The ALPS Mountaineering Getaway Chair does everything but massage your feet after a day on the coastal trails. You'll have to bribe members of your party to do that. Maybe even let them have turns sitting in your chair for a minute.
Powder coated steel frame is sturdy enough for folks up to 300 lbs.
Chair folds to compact size and slips into a backpack-style hands-free carry bag
Slip your cool beverage into the right side cup holder
Mesh version provides extra ventilation in hotter climes
More comfortable than most chairs in this style. Drawback is the headrest portion of the chair comes on and off, the little plastic caps which protect the fabric are easily lost, keep an eye on them when setting up and taking down the chair.
Alec Wilkins
Nice to have a pouch to stash stuff in one side, with your drink on the other arm. The mesh makes it comfortable
ty
Lower is better!
Familiarity:

I've put it through the wringer
One main thing I want to add to the reviews... lots of people's con to this chair is how low it is to the ground. At 6'1" I say it's a pro! Think about the numerous activities you do around camp - sitting around a fire ring and stoking it, working with the camp stove, organizing gear... for me I do all that at ground level. This chair keeps me sitting normally doing those activities instead of hunched over in a taller one. Yep, I just blew your mind.
John L
alps crushing again
Familiarity:

I've used it several times
But seriously, why spend more than double like other chairs on the site. I also own another Alps mountaineering chair which sparked the purchase of this one! well made, well thought out, half the price of the competitors. if you enjoy planting you butt on the beach, at a concert, in a parking lot after your favorite activity. this is the chair you will need.
Evan Grott
Chair is very well put together and comfy. Only issue is sits pretty low to ground which is fine for me (5'2") but someone taller might not be as comfortable and be able to get in and out of it easy.
Robyn H.
Stoked on this chair
Familiarity:

I've used it several times
Awesome camping chair. built cup holder and cooler pocket that holds about 4 beverages. super comfy too
Chad Maurer
perfect
Familiarity:

I've used it several times
I am so happy with these chairs! I purchased two of each color. They are more comfortable than I expected. Guests love them. They are low to the ground but I find that to be more comfortable for my legs.
Angela M
Down Low
Familiarity:

I've used it several times
These chairs are very comfortable, they sit slightly lower to the ground than i am used to. The cooler sleeve is awesome for not only holding beer, but your phone, or any other items you dont want to lose track of.
the folding mechanism gets a little bit clogged up in the sand.
Emily Forsdick
Solid chair
Familiarity:

I've put it through the wringer
THis chair rules. Built in cooler on the arm for those campfire beers! buy this chair.
James Farnan
I recently just picked up a set of these and they are AWESOME! I normally would buy the cheap chairs you can pick up anywhere but after using a high quality chair like this, I will never go back again. They are a little hard to get in the travel sleeve but they are not bulky at all. The side pocket is nice if you want to stash a couple extra beers, throw in your headlamp while you are around the fire, and pretty much anything. I will be picking more up soon. Highly recommended!

William Bowen
After all the positive reviews I decided to go with this chair. I had lost mine somewhere along the way and keep this in my car now. It's pretty lightweight but impressively comfortable. Plus the little cooler built in adds to the appeal...comfort with cold beers. Simply amazing!
Christine D
I bought more!
Familiarity:

I've put it through the wringer
I bought a couple of these earlier this year and just bought a couple more because they are so great. PLUS they are on sale!
Carly Stark
good ... slightly better
Familiarity:

I've used it once or twice and have initial impressions
good chair ... slightly better than other cheaper chairs of this type. Extra strap makes a bit easier to carry without shoulder concerns (sort of - still similar type weight, just spread out) ... the mesh does make it a bit cooler (we used first time on a 90degree day), and I bet easier drying out with morning dew ... and the side "cooler" addition is nice. Final thought, I think this also stays slightly below the 30" recommendation for concerts - but not really sure the guys at the entry really notice a difference?!
Kimberley R.
10/10, Would Drunk Buy Again!
Familiarity:

I've used it several times
I found out that I purchased on a sunny saturday morning ( following an outdoor concert with shitty camp chairs) via backcountry email confirmation, and immediately broke out in the "oh no what did I buy now" sweats. After going through the reviews, it started to become apparent that I may have done my due diligence and made what appeared to be a solid purchase; which was a bit of a relief. When they arrived and I tested them out, I was beyond impressed, I would easily pay over $50 for these chairs. They are slung nice and low, the mesh back is perfect for summer weather, and the pocket cooler really seals the deal while ensuring many more drunken backcountry purchases to come. I immediately pounded a 40 and bought two more to celebrate my amazing decision making abilities. Getting them in and out of the sleeve is a bit of a PITA, but the overall quality and value make it 5 stars.
Paul M.
Great chairs
Familiarity:

I've used it several times
I have never owned any camping chairs so I was really excited to get some for camping and outdoor concerts, you know the ones with the security guards walking around with tape measures. Nice cool and comfy and the cooler bag is my favorite feature, I need to get more as gifts!
Valor McNeely
Comfy and Cool
Familiarity:

I've used it several times
These chairs seem pretty sturdy for the price. And we like the mesh that keeps you cool. Good colors. We like that they are low because our little one can climb in all by herself. She loves them. Good Chairs
Amanda Daley
Nice chair
Familiarity:

I've used it once or twice and have initial impressions
Very sturdy chair,comfortable and low. I bought this chair for camping , fishing, and to keep in the back of my jeep for when I need a chair.
Dean F.
Breathable!
Familiarity:

I've put it through the wringer
The ALPS Mountaineering Getaway Chair is comfortable, breathable and spacious! One of the best chairs out there for the price. It's low enough for outdoor concerts, the side cooler is so awesome and the cup holder fits most cups/bottles (no Nalgenes). The good new however, the Nalgene can be tossed in the side cooler. Booyah!
Jaclyn Richards
Beer drinkers rejoice
Familiarity:

I've used it several times
It has a beer cooler in it. Yes.
It's also fully mesh backed which is great for the hotter days we have here in Utah, and it sits relatively low to the ground so you don't feel like you're lording over everyone else in the campfire circle.
Luke Dordai