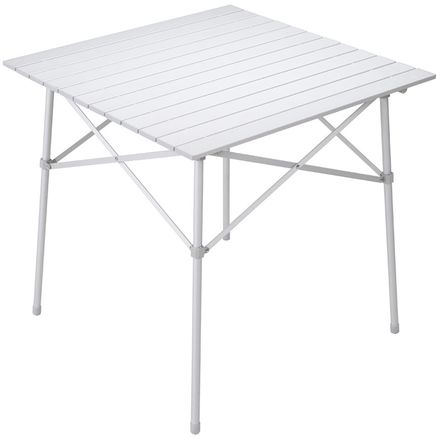 Colors
Set up the Alps Mountaineering Camp Table and eat your meals without attracting a whole ant colony to your campsite.
Enjoy a relaxing meal for two or four with the Alps Mountaineering Camp Table. Pull the Camp Table out of your car and set it up easily at your campground. The Camp Table's sturdy aluminum frame prevents wobbling while you eat, and Alps Mountaineering included a carry bag to make this table a no-brainer bring-along.
The perfect addition to your glamp life!
Familiarity:

I've used it several times
I can't say enough good about this little table. It goes together and breaks down so easily and quick. The size is perfect for a camp stove and serving area, and although I thought the height may be too low it has turned out to be just right. Seems more than sturdy enough for its design, we will see how it holds up after a few dozen trips down the river this year!
Michael McMillan
Packs Tight
Familiarity:

I've used it several times
Great little camp table. Perfect size for a camp stove with room to spare. Folds up neatly and does not take up much room.
Luke Fortune
Light and compact
Familiarity:

I've used it several times
Table performs as advertised. It's aluminium and cleans up easy. I use it for cooking and keeping expensive things off the ground such as my bluetooth speaker. I used it several times over the summer. I have had zero issues with it even after letting my 6 year old boy set it up. Great value.
Eric Stenglein
Perfect for car camping
Familiarity:

I've used it once or twice and have initial impressions
This table is just the right size when it is set up and packed down. It is about the size of a camp chair when collapsed. I find it light enough that its easy to handle and it is very easy to set up. The surface cleans easily as well. the table is fairly stable.
Zoe Zeerip
Great car camp table!
Familiarity:

I've used it once or twice and have initial impressions
Finally decided to pick up this table for my Camp Chef Everest camp stove. No more sitting on the ground or trying to balance on rocks! It sets up really easily and seems pretty sturdy for how light it is. I'm digging it!
Eric Olofson
Sweet Little Table!
Familiarity:

I've used it several times
Absolutely love this thing! It just big enough for a stove and cooking area but it packs down and rolls up to the size of a regular camp chair. Easy to clean off and you can take it anywhere. Glamping essential.
Kyle Scagnelli
Keeps off the Ground
Familiarity:

I've put it through the wringer
This is an awesome little, lightweight table perfect for car camping to keep your stove off and cooking prep off the ground. Also can double on the back patio as an extra table.
Derek R
multi-adventure ready
Familiarity:

I've put it through the wringer
The ALPS camp table is incredibly light and easy to use. Whether you car camp or head out for multiple days at a time, this table is a great quiver killer in your gear closet.
Trevor Linthorst
Great Table
Familiarity:

I've used it several times
I was really pleased with this table. There was plenty of room for my camp stove a small food prep area and my beer. It is real easy and quick to set up. It is pretty light weight and stable.
Duncan Britt
Useful, Versatile Table
Familiarity:

I've put it through the wringer
I can't believe I car camped for 15 or more years without owning something like this. For all the times I've cooked on the ground next to my car roadside or in parking lots, this table was sitting there in its convenient little carry bag just waiting for me to buy it. It's easy to set up and take down and also to clean and has significantly reduced the amount of dirt that gets into my shabby climber meals. I can't speak to how it compares to other similar tables, but the construction seems fair for the price and it can often be found on sale, which makes it an easy choice.
Andrew P.
Great Table!
Familiarity:

I've used it several times
So easy to set up and take down. Can hold a lot of weight and very versatile
Mal C
Perfect pack-able car camping table!
Familiarity:

I've put it through the wringer
Its no campground picnic table, but when you are in the middle of the desert and need a small table to go along with your car camping setup, this is a great solution. When stowed, it takes up as much space as a fold up camp chair, and when you set it up it makes a perfect platform for a 2-burner stove, with room to spare. This table has become the kitchen prep station for my car setup and is plenty sturdy for preparing camp meals.



If you have any questions about this table, or any other camping supplies, please contact me directly.
Trey Schanzenbach
Awesome car camping table
I love the portability. I worry about the way that the center panel attaches via plastic pegs, I see them wearing out and braking over time.
Gavin McBride
How much does this weight?
Kyle
Kyle
Awesome for car camping
Familiarity:

I've used it several times
It is light enough to pack into the site from your car, folds up small and is easy to take apart and put together. plenty sturdy and easy to clean. It just makes camping life easier.
Joe Bolton
Does the job and then some.
Familiarity:

I've put it through the wringer
This is a relatively small, frail table. It's very lightweight and packs small though... so it's actually pretty awesome. I use it ALL THE TIME and find myself tossing it into the truck "just in case" even more.

I use it when car camping to set up a two burner stove next to my grill.

I use it at the beach! Small enough to bring along, having a clean level surface above the sand cannot be undervalued! (Seriously: this table and two helinox chairs and you're the king of the beach.)

I wouldn't put more than 20 pounds or so on this table, but at it's normal weight loads, it's quite sturdy.
David Thiel
Useful little table
Familiarity:

I've used it several times
Used this table several times at home and on a car camping trip. The ALPS small size (~2'x2' top), light weight (aluminum), and carry bag made the camp table easy to transport (it is too large for any backpacking application). Set up is straight forward and much easier than an older/different manufacturer similar table we already own. We use it to support cooking stuff, so the knee interference issue another reviewer noted was not a factor. Recommend.
Maurice S.
Excellent light-weight camping table
Familiarity:

I've used it several times
This is a great table for camping trips. Its low weight makes it easy to carry around in the supplied bag with strap. Building the table is simple. It is not stable enough to support an adult, so do not try to stand on that table to reach something or put heavy weight on it. Also, make sure your chair seat height is not too high, otherwise your knees will bump into the supporting aluminum stick cross (see pic).
Matthias K.
where are the product details such as...
where are the product details such as weight, size, and material? The new website design is nice but that's key information to have...
andy.maier1335319
Best Answer
So the table is 28x28", 27" tall, weighs 9lbs, folded in included stuff sack is 4x6x32", aluminum, except for the fittings.



I know what you mean...some product specs and descriptions are more detailed than others. More info and consistency would be great- REI's spec pages are the format to follow. Try finding extended specs for BC's Stoic brand. Nobody can find anything but the most basic stuff anywhere.



Click on "what's wrong with this page?"under the "About Us" section at bottom of this page and let them know your feelings.
Phil Maher
A MUST HAVE for car camping
Tired of camping like a caveman/cavewoman?

Treat yourself and give your primitive looking campsite a blast of the future.



It folds up into the size of a large camp chair and will fit into your uncle's Ford Fiesta for some backwoods fun.

Gives you a nice flat cooking surface, and you don't have to worry about your veggies falling into the dirt while you chop those suckers up.



As stated below, it's not the sturdiest table, but if you're on a relatively flat surface it'll be just fine.

This table is approx. 3 ft more convenient than the ground and highly suggested.


Emerson Takahashi