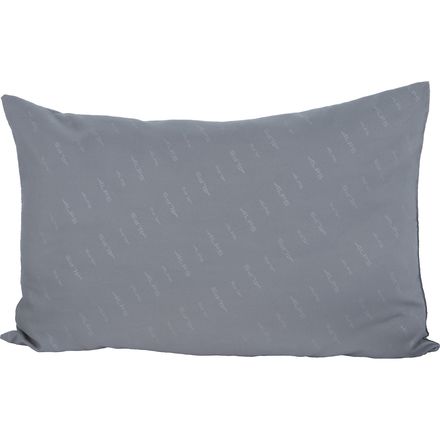 Colors

Detail Images

Community Images
Better than a box wine bladder.
Finally grown out of your rolled-up-pants-as-pillow stage? Upgrade with the ALPS Mountaineering camp pillow. This pillow keeps your head off the ground and gives your drool a chance to evaporate before it soaks into your tent's floor.
Pack n Go
Familiarity:

I've used it several times
This is a nice pack able pillow that works well for camping and travel. Definitely smaller lighter weight options out there and if you and worried about size and weight you might want to go a different direction.
James Griffin
Great for car camping
Familiarity:

I've used it once or twice and have initial impressions
Just bought these for my whole family so we can stop packing our regular pillows for car camping. They are great! Very cushy for camping - they are big and fluffy and comfortable. They come with a stuff sack that they pack down into. We keep our camping gear in our truck all summer, so these pack away small and are there for us if we decide to do a quick weekend away.
Meg Keller
Plush
Familiarity:

I've used it several times
Nice car camping pillow. Plush and offers good neck/head support while sleeping. The size large isn't overly big and fits inside a sleeping bag hood well.
benijana
Packs down small
Familiarity:

I've used it once or twice and have initial impressions
This is a pretty small pillow and seems pretty comfortable, I'm stoked have this for my backpacking trips.
Glenys Ocando
My Luxury Item
Familiarity:

I've used it several times
I've recently gotten into backpacking and I've decided that I truly can't go without a pillow - *que princess curtsy*. Hey! Not everyone can sleep in the wild like they do in the comfort of their own home! So with this I decided that a pillow was necessary. This isn't anything fancy, or high-tech (can pillows be high tech?) - but it will do the job. I've used it a few times and it gives me the exact comfort and support I need to get a good nights rest that isn't my jacket or pants rolled into a ball. It's little bit bigger than expected when packed down, and probably not the lightest pillow on earth, but it's my one luxury item so I'll take it. I haven't gone on any lengthy journeys with it yet, but from the use I have put in I think it'll work out just fine.
Kassie Rose
Moderate size and comfort
Familiarity:

I've put it through the wringer
I purchased the LARGE pillow.
For the price, its a decent purchase.
I've used this pillow on multi-week camping trips (involving car camping and backpacking) and it served its purpose.
For me, it DEFINITELY needed extra padding underneath...nothing a bundle of my jacket, extra socks & shirt can't help with.
The size is nice since I don't do well with small pillows..and I found folding it in half helps sometimes.

As others have stated, its VERY lumpy which is frustrating unless I've hiked/bikes/imbibed enough during the day to conk right out upon impact - but to be fair, I have yet to try throwing it in the dryer with a tennis ball as recommended below.

Packability is mediocre - it does take up a bit of room in the pack. (picture shows it next to a gallon jug of water). This could improve with a stuff sack I suppose, probably reducing the size by at least a third.

This pillow is good in a pinch, and for the price, but I'll be looking to upgrade in the near future, especially before any extended backpacking excursion.

Topher
Disappointing, as I thought this would be an inexpensive solution. But, you get what you pay for, and in this case, it would cost me more to ship it back as a return. Material inside is VERY lumpy, which does not fluff out and there is a crease in the filling from being folded into the sack. Perhaps originally rolling the pillow into the sack would be better? I'd be better off with a rolled up sweatshirt. Sack is worth more to me than the pillow...so I got a $5 sack.
MB
Camp Pillow
Familiarity:

I've put it through the wringer
Bought 2 of these pillows for an overnight camping trip and they were awesome! great size to pack in your bag and folded out for some extra comfort for such a small size.
Michele V
Alright
Familiarity:

I've used it several times
This wasn't the most comfortable pillow I've found, nor was it the most compact. If you're looking for a cheap pillow and you're not too concerned about size, this is the right pillow for you.
Paul Baker
great pillow! great pillow
Familiarity:

I've put it through the wringer
I pretty much use this pillow every other weekend and it is great easy to clean, holds its fluffiness vary well, but it is a little lumpy but hey these are the good lumps lol. all in all great pillow
Robert Handy
For the price and weight...
Familiarity:

I've put it through the wringer
Looking through other pillows, this one is easily the best value. The weight isn't THAT much more than some of the other Thermarest and Big Agnes pillows (for the small ALPS pillow), but the price is so much cheaper. Can be found for less than $10, and, in my opinion, is much much more comfortable than other inflatable and ultra light pillows. It's more like a regular pillow.



I stuff it in the hood of my sleeping bag to keep it puffed up, and it feels nice. It's no fluffy down pillow, but it does the job and I can't complain.
gilipollas
Better than a sleepless night
Familiarity:

I've used it several times
For many, it's not an issue. But for those of us so urbanized that we still reach for a lightswitch on the trail, a pillow is a necessity. I can't sleep if my head isn't comfortable. If I can't sleep, then my hike suffers.

This pillow is not the most compressible. It is not the lightest, it is not the most luxurious. But it's good enough to get me and my wife into REM sleep for a few hours each night.

We're packing two for Patagonia and there's no regretting the added bulk and weight. It's a matter of basic human rights at this point.
Courtney Dean
Comfortable but not Compressible
Familiarity:

I've put it through the wringer
This pillow is great. I am an outdoors enthusiast that prefers to car camp so this pillow is perfect for me. It is durable, lightweight, and quite comfortable. However, if you are a backpacker and are trying to pack light and small this might not be your pillow. It doesn't pack up very small and doesn't compress. Like I said, for my use I wouldn't pick any other pillow, and you'll be happy with how comfortable it is. Something I've found useful: this pillow folds in half in the stuff-sack. Try folding it opposite ways each time you take it out, it seems to help not leave a permanent fold in the pillow and it lays a bit flatter while you are sleeping. Happy sleeping!
Haella H.
Favorite Camping Pillow
Familiarity:

I've put it through the wringer
If you do not have one yet you are missing out. I absolutely love this pillow. The price is amazing and it is incredibly comfortable. With the stuff sack provided it does not pack down incredibly small, but if you are intending to backpack, you could stick this in a compression sack along with some clothes. I went with the 10x20 size and it is small enough, but incredibly comfy and the interior stuffing does not shift around or lump. I use this for camping, car trips, and plane travel (window seat) and it has worked wonderfully so far.
Rachael Van Dolah
Good pillow
Familiarity:

I've put it through the wringer
Used it in Denali and it held up great! Sleep was 100% better.
Seth S.
Comfortable, not very packable.
This pillow (in the large size) is not the most packable option out there, but it definitely is comfortable! Stays lofted even after a full night's sleep. Great for back sleepers, not quite high enough for side sleepers.
John Langer
I use it for weekend trips between parents' houses, friends houses, and in 2 weeks It'll be taken all over the Colorado Plateau for 2 weeks on a college field trip. I've broken it in with some slobber already on the weekends and it works pretty well for the price. Can't beat it. Just fold it into 3rds and tuck it away in it's bag and you're ready to go. It's a good little travel pillow.
Jordan B
Wish it was a little more comfortable but for the price it is a great buy. Plus it packs very small.
Adam