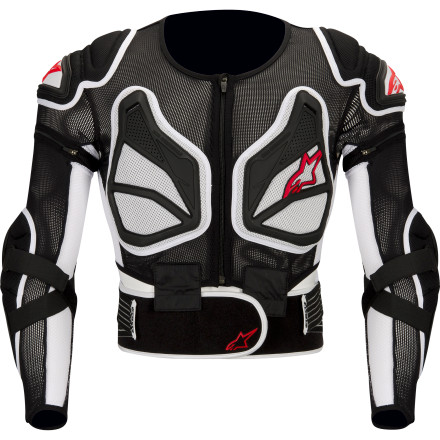 Be the bionic man.
You wear a helmet every time you ride. It only makes sense that you would protect Alpinestars MTB Bionic Jacket protects your chest, back, shoulders, and elbows, and it does it all while letting cooling air flow through the jacket so you don't overheat.
The jacket's main body is made with lightweight open mesh and Lycra. This combination forces fresh air through the jacket to cool you off and provides an unlimited range of motion. The chest and back protectors are made with Thermoplastic rubber and backed with an 8mm foam panel to soften impacts. The back panel is actually five separate plates that work together to move with your back and prevent over-extension. Both the chest and back protectors are compatible with Alpinestars' Bionic Neck Support.
The shoulder and elbow protectors are made with polyurethane shells and backed with lightweight, low-profile foam pads. When you don't need them, the sleeves zip off to leave the shoulder pads intact and your arms completely free but unprotected. An integrated kidney belt eliminates bunching around the waist with thin strips of stretch material.
Open mesh and Lycra main body fabric
Thermoplastic Rubber chest and back protectors
Bionic Neck Support compatible
Polyurethane shoulder and elbow protectors
Zip-off sleeves
Really made for a bean pole
The build is solid, but I couldn't get it to comfortably fit. I'm a standard medium. Just way too slim. A large would have been a better choice.
Steven Holsenback
took a big fall
Familiarity:

I've put it through the wringer
im recovering from a fall that left me with 35 stitches to the leg but fortunitly I was wearing the bionic man . my upper body is 100% fine!
I am 6'2" and wear between a medium and a large so I went with the medium. it fits snug but not restrictive.

time to get some shin guards...
andrew gilpin
can i use this jacket for motorcycle street...
can i use this jacket for motorcycle street riding
Jonathan R.
I had a different brand, that actually did a great job for protectection. I wrecked my tw200 at about 55mph and was able to get back up right away. Since this is more expensive I would assume this is even better. If that's the case then yes
ele105638935-0
You can use it for street riding but it's not gonna provide the same protection as normal street bike gear, I use it for motocross. Not competition. Just trail riding
Rich J.
Then this armor is for you. I ordered the XL and had to return it because the "interface" where the arms zip to the shoulders was too tight for my arms. I ordered the XXL thinking that obviously the arm opening/zipper area would be bigger. Guess what? Nope. I had to return the XXL as well. This must be a design flaw of the armor. It makes absolutly no sense at all. I'm actually really bummed out to write this review because the quality and breathabily of this armor seemed great. If you've got slightly larger than normal arms, this armor is NOT for you. If you've got normal to skinny arms, you should be okay.
rep_19692243524