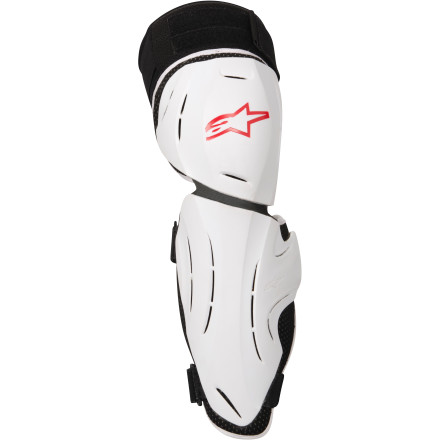 Colors

Detail Images
Ride with your brain.
Sometimes you need to turn your brain off when you're on the trail, but you should fire up your gray matter before you ride and strap on the Alpinestars A-Line Knee/Shin Guards. These kneecap-and-down pads combine hard-shell polypropylene hard-shell padding and soft Biofoam pads to give you full-on impact protection in both high- and low-impact crashes, as well as a quality cushion against abrasion.
The A-Line isn't all gnar, though. Specific panels are ventilated, which improves cooling and prevents sweat from building up and helps keep your pads from sliding down to your ankles. A snug sleeve and large hook-and-loop strap at the top help lock the pad down, while two more straps at the calf and ankle keep the A-Line in place, so your next wreck isn't a season-ender.
Polypropylene hard-shell pads
Soft Biofoam padding
Ventilated panels
Hook-and-loop strap
These are sold as right and left together correct?
Justin Lowe
Hey Justin, yes they are sold as a pair.
Wesley Eads
Good quality for the price!
Familiarity:

I've used it once or twice and have initial impressions
These bad boys go sweet with the rest of my paddle gear. I also got the matching pair of elbow gaurds. I'm really happy with them, they stay on really well and they look badass!
*** Update*** In the current the knee guards tend to slide down so I won't be using them with my set up. Elbow gaurds stay on fine.
Look at the bottom of my review for my contact info. Feel free to email or call if you have any questions about my review or this product.
Devin Peterson
Solid product with caveats
Familiarity:

I've put it through the wringer
Like other reviewer's, the impetus to buy protection was AFTER a nasty spill that split open the flesh over my shin bone. It could have been much worse. Most of our riding is done here in Central Texas where the trails are Choate and calcified lime stone (skin and muscle shredding type rock) that bring new meaning to staying on the bike.

First the Cons:
1. Elastic straps are okay, however, the hook and loop fasteners have hard edging and extend beyond the actual width of the elastic straps. This translates to digging into skin, especially the strap under the knee cap. Over the course of the ride, the skin can become raw if you don't care to stop frequently and make adjustments. I solved the problem with knee sleeves that I had lying around and trimming the obvious sharp edges on both sets of the hook and loop fasteners.

2. D-rings where the elastic runs through and back to lock rotate 90 degrees, causing the elastic to bunch up and require pulling the elastic further to compensate for a secure fit. There is a DIY fix of hand stitching the fabric close to the D-ring, I just haven't bothered to do that yet.

3. Thigh sleeve is held by a much wider swath of elastic. Mine ends up bunching/pinching during rides and allows the whole rig to slide about two inches down. It's not a huge problem, just annoying.

Pros

1. Plastic Shell is absolutely better at taking hits than skin. Actually hit the deck a few times right after getting these and was extremely grateful to be wearing them at the time. Didn't even see a mark on the shell.

2. Despite the annoyances, these do stay in position pretty well - and compared to reviews of other products, my experiences have held out that these were a good buy.

3. Texas is hot - not Phoenix summer time hot, but unpleasant just the same. I still used these with little discomfort all summer; very much worth the protection they bring.

Suggestions for the manufacturer:

1. Ditch the elastic and use stiff webbing for all three strap fasteners. The elastic is likely going to fail in the next year of riding; I estimate it's already lost about 20% effectiveness in the 7 months since purchase.

2. Silicon top loop.
> make it a wider strip for greater surface area to grab
> split the top and add a small adjustable strap for the silicon loop independent of the larger thigh strap.

3. Fix the D-Rings so they don't slip. A swivel that automatically rotates to accommodate the rider's leg shape would be a welcome design change. It would also permit use of the stiff webbing noted in item 1 above.

Hope this helps.
Erich P.
When it's Hot Out...
Familiarity:

I've used it several times
When its hot out and you wear these you get these obvious sunburn stripes on the back of your legs from the straps and people will ask whats on your leg. So far that's the worst leg injury I ever had wearing these. So that's good. Great knee/shin guards! I was a bit worried about wearing these biking because they might limit leg movement and they might feel awkward. I was wrong. They weigh nothing and you can move freely. No getting-used-to here! When wearing these, they wont slip either because of the "sock" under the high knee strap. Another concern was the velcro durability. They look like they might peel off from the elastic straps but they haven't yet. just something to keep an eye on. Also my legs get really sweaty when wearing these. I think Alpinestars did all they could though with taught mesh on the inside. Could be a lot worse. They fit very well and sizing is accurate. I think there is a sizing chart on Alpinestars' website.
PS: they come with a logo sticker so pull out your Nalgenes!
William Caldwell
Have not used them yet...
I have pretty skinny legs and they seem to fit really well. I think they are going to work out great whenever spring comes and i can actually put them to the test.
Weston Chivers