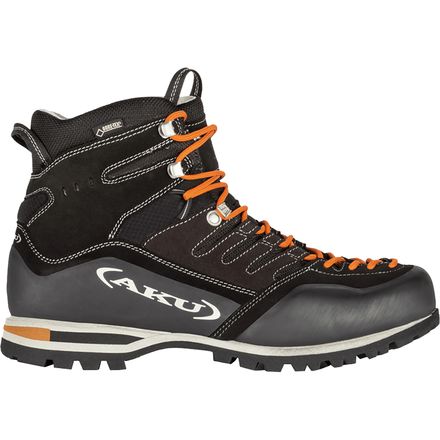 Precision and comfort for the alpine.
The Aku Viaz GTX Men's Boot is designed for use under reasonably heavy loads on rough hiking trails, rugged alpine ridges, and via ferratas. The upper, made of soft and supple suede, incorporates Aku's Air 8000 technology for unparalleled breathability when you're humping a load under the Dolomite sun, and it sports a Gore-Tex Performance Comfort waterproof membrane to keep your feet dry when, in the course of 17 seconds, dark clouds roll in, obscure said sun, and start turning the trail into a river. Regardless of trail conditions, the Viaz's sticky and tough Vibram Nepal outsole will keep you from slipping around like a deer on a frozen pond, and the speed lace hooks make it easy to dial in the right snugness.

If it ended there, the Viaz would be a killer boot, but it doesn't. Aku's real party trick is the fit. The Viaz features the IMS-1 Precise (Internal Midsole System, if you're keeping score) to help you achieve the perfect fit, with an internal micro EVA layer on top of a super-thin nylon lasting board which together provide the stiffness to conquer rugged terrain and the softness to keep your foot from slipping and banging around inside your boot. To top it off, there are IMS 162 footbed, which you can choose between depending on the volume of your foot. If there's a more precise hiking boot out there, it's hiding itself pretty well.

Suede and Air 8000 upper
Gore-Tex Performance Comfort membrane
IMS-1 Precise midsole (EVA)
Vibram Nepal outsole
Rubber rand
Nylon and EVA lasting board for medium stiffness
IMS 162 footbed
Lace closure with speed hooks
Initial Impressions
Familiarity:

I've used it several times

Fit:

True to size

Size Bought:

10.5
Looking for a slightly sturdier boot, I am trying the Viaz. I've been hiking in the Salewa Alp Trainer, which I'm very happy with in terms of comfort, but I wear through the soles pretty quick. And to be clear about the test conditions, I'm about 185-190 lbs, and routinely carry a 20 lb. pack. The Viaz is made in Italy and appears very well constructed. I can't find a spot on the boot that I can point to and say "I'll bet that rips/fails/comes undone." The boot itself is sturdy- leather uppers with a rubber rand all the way around. You can have any color you want as long as it is black. The first fairly important item of note is that when laced as recommended the laces aren't long enough for a double knot. Really? Four more inches of laces would be ideal. To circumvent this issue, I bypassed the fabric eyelet between the locking speed lace and the next metal speed lace. This allowed me to tie a double knot, but it created some fallout. Midway into a 9 mile hike, the lateral locking eyelet on one foot was applying pretty severe pressure to the top of my foot. I suspect lacing them as intended helps disperse the stress more evenly. After quite a bit of fussing with the laces, it became bearable. The climbing style laces certainly help, and tweaking them all the way to the forefoot was beneficial. I do believe this could all be solved with longer laces. As far as fit, they are true to size in a 10.5. There's not much to the footbed, and be forewarned if you are going to use Superfeet or a semi-custom orthotic, you might want to go up a half size. I tried both and it just created too much volume for the boot, exacerbating my problem with the locking eyelet. On a subsequent hike I used the insoles provided with the boot and it was much more comfortable despite the lack of arch support. The inside of the boot is exceptionally comfortable. It has a little padding which not only feels comfy, it also feels like it provides more of a "custom fit." No rubs or hot spots on heels or toes. The forefoot is a little on the narrow side, again requiring fine tuning of the climbing laces. The boot is so sturdy, I'm not sure yet if the forefoot will expand a little over time (use caution if you have wide feet). The rubber rand did a great job of deflecting fist sized rocks. The midsole is what I would call medium stiff, protecting the bottom of your foot from feeling the sharp rocks, but not too stiff where it insulates you from the trail. Traction is great on loose rock and DG, and pretty good on granite slabs- yet not quite as confident as the Alp Trainer. Ankle support is average, I would love to see the top of the boot come up just a little higher. Sorry, no wet weather testing, but Gore-Tex is Gore-Tex. The boot never felt too hot, so I guess it breathes pretty well. Despite the desire for more lacing inches, I have to say overall the boot made my feet "happy," and once the boot was fine tuned, it made me want to just keep going because my feet felt really good. I will provide a "longer term" review once I log a couple of hundred miles. Time will tell, but so far a very good boot.
Robert R.
Height:
5'10"
Weight:
190lbs
AKU Viaz GTX Hiking Boot - Men's
Adam Saucedo