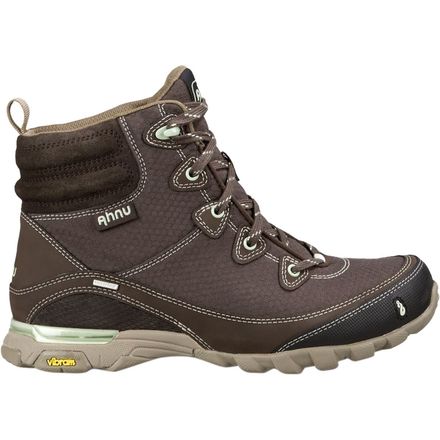 Colors

Detail Images
Waterproof, lightweight, and full of rugged spirit, this boot loves every kind of trail.
Talk about high-tech. The Ahnu Women's Sugarpine Hiking Boot features waterproof technology to keep your foot dry in wet conditions or when crossing creeks and Numentum Hike technology for superior stability, support, and comfort on rugged terrain. Lightweight EVA midsole and stability postings give allover support and stability on medial and lateral sides, while a durable TPU arch support and shank keep you going from start to summit in comfort. There's even a shock-dispersal plate for protection against rocks. So whether you hit the trail hard and fast or at your leisure, this Vibram-soled hiker will keep you happy and grounded.
Waterproof upper
Lace closure
Numentum Hike technology
60 Durometer EVA midsole
70 Durometer EVA stability postings on medial and lateral sides
Integrated TPU shank and arch support
Shock dispersal plate in forefoot
Vibram non-marking sole
Best hiking boots I've owned.
Familiarity:

I've used it several times
These boots are awesome!
Sharon H.
Not for high insteps
Familiarity:

I gave it as a gift but have feedback to share
If you're like me and have ridiculously high insteps, then these are not for you. The tongue is sewed in, so they cut off circulation to the rest of my foot. I ended up giving them to my sister, who has more normal feet and loves them.
Jacquie Davis
Eh
Familiarity:

I've put it through the wringer

Fit:

True to size

Size Bought:

9
I've had these boots for about 3 years after rolling my ankles one too many times in hiking shoes. As far as ankle support, these work great! I've had no issues with rolling my ankles, even with a 45 lb pack. However, after 3 years and hundreds of miles on these boots, I still find myself getting blisters almost every single time I wear them, even with sizing up. Also, I found that when hiking on wet/slick rock, these boots didn't have great traction. I ended up falling quite a few times on my most recent backpacking trip.

If you're looking for just a day hiking boot, I would suggest these! But if you're looking for a boot for higher mileage, I would probably suggest going a different route.
Ashley VanSumeren
Height:
5'4"
Weight:
160lbs
Light but hot
Familiarity:

I've used it several times

Fit:

True to size

Size Bought:

10.5
I was looking for lightweight hiking boots -- something for long days with decent mileage, but lighter that my heavy leather backpacking boots. These seemed to fit the bill, and the cute colors pushed me over the edge. In many ways, they are exactly what I wanted: they're lightweight with stiff-enough and grippy-enough soles. My first few hikes out were mostly comfortable. (I did size up half a size, as I always do in trail and running shoes.) Two drawbacks that are worth noting:
1. these rubbed a bit on my ankles, but my ankles are pretty bony and prominent. Might not be a problem for everyone.
2. Like others mentioned these get HOT. Some reviews mentioned their breathability, but my experience is the opposite: in a mile, my feet were noticeably hot and sweating, and it was only about 75 degrees that day.

I have a feeling these will be better for cool/cold days on the trail. For summer hiking/in hotter climates, you might want to look for boots with better ventilation.
Kelly J.
Height:
5'8"
Weight:
160lbs
Mom loves them!
Familiarity:

I gave it as a gift but have feedback to share

Fit:

True to size

Size Bought:

8.5
I got these for my mom since I really like my Ahnus. She says they are lightweight, comfortable, needed to breaking in, and great for hiking in all weather conditions. She is a size 8.5 and found that they are true to size
Kassie Scheider
Great for Winter
Familiarity:

I gave it as a gift but have feedback to share

Fit:

True to size
I gave this as a gift to my sis-in-law. She's up in a snowy area but also does a lot of hiking. These certainly do the job and are pretty cute to boot.
Amanda Daley
My new favorite hiking boots
Familiarity:

I've put it through the wringer

Fit:

True to size

Size Bought:

8.5
After booking the 4-day Inca Trail trek, I took a look at my old boots and realized that I desperately needed an upgrade. After much research, I came across these boots and decided to buy them.



I didn't get to wear them as much as I would have liked to before the Inca Trail trek so I was a bit nervous that they wouldn't be broken in enough. I was wrong to worry. These boots were fantastic! They are lightweight which made them great not only for hiking but to carry in my backpacking backpack when I wasn't using them; I didn't get a single blister and they were incredibly comfortable; they kept my ankles secure on the uneven trail.



They are true to size so order your shoe size. Some people complain about them being too narrow but I didn't have that problem. I used them mostly with medium weight socks and on colder days I used sock liners and medium weight socks.



I highly recommend these boots.
Vanessa M
Perfect short-hike boot
Familiarity:

I've put it through the wringer

Fit:

True to size

Size Bought:

7
These boots are unbelievably comfortable. I didn't even need to break them in, and they have never given me blisters. They have great grip, are very lightweight, and they have great ankle support for a mid-calf boot. I have had these boots for over 2 years and they are still in great shape.

The only reason I am giving these boots a 4/5 rating is because they are not waterproof, they are water resistant. I have been on several hiking trips in Norway where the ground shifts from rocky to mossy (wet). The boots work wonderfully on the rocks and mountains, but not well in the moss or wet grounds. My feet get wet within a few minutes and they don't dry out easily.

If you are going on a short hiking/backpacking trip in a dry area, then I HIGHLY recommend these boots.
Molly R.
Height:
5'5"
Weight:
120lbs
A week long trip and worked great
Familiarity:

I gave it as a gift but have feedback to share
A week long backpacking adventure and no complaints about this boot. Comfortable, durable, and keep her feet dry. Went up a half size due to having a wider foot and no issues at all. This is a great boot for your hiking enthusiast.
James Meadus
lovely
Familiarity:

I've used it several times

Fit:

True to size
I wore these all last summer on my various adventures (backpacking, strenuous hiking, boulder hopping, etc... ) and they've worked awesomely for me! The only thing is I suggest using thin socks, as with thick socks they gave me blisters. So thin socks. All the way. You will thank me. I'm a size 10, and the shoes fit perfectly. However, they do not have good traction when wet. I like them though. they are nice things.
sophia G.
Height:
5'8"
Weight:
150lbs
Great for Hiking
Familiarity:

I gave it as a gift but have feedback to share

Fit:

True to size
Girlfriend is always an 8, and these were no different. Perfect fit right out of the box, no break in period.

She was constantly rolling her ankle and we needed to find something with ankle support, plus she wanted it to be light. When you first take these out of the box you will be surprised with how light they really are, its pretty insane.

If you have anymore questions feel free to send me an email or call!

Bill Porreca
bporreca@backcountry.com
801-736-6398
William P.
Height:
5'8"
Weight:
200lbs
Performance depends...
Familiarity:

I've put it through the wringer

Fit:

True to size

Size Bought:

7
These are my second pair of Ahnu hiking boots. I also have the Montaras. I gotta say I like these better. No breaking in period. The boot wraps the ankle nicely without that annoying gap. Trudged through mud, puddles, streams, etc. and my feet stayed dry. The grip is phenomenal too. Went down a wet, muddy, super steep rock scramble and the boots gripped well. (oh... and the color is faabuuloous!) LOL!
UPDATE: So… I used these boots in the Northeast for several backpacking trips and they were great. As I said before, great grip and comfortable. However…. When I got these boots down south into the 90+ degree heat and high humidity, I noticed a big flaw… they are not breathable at all. My feet sweat more in these boots than they ever have in any other boots/trail sneakers I've owned. There's just no ventilation. Any sweat or moisture that accumulated in there, didn't dry, even overnight. As a result, I ended up with very large, very bad blisters. (I've got photos, but I won't share!)
Overall… if you're in cooler climates, doing shorter backpacking trips or day hikes, I'd recommend these. If you're in a hot climate or plan on long days in the heat, I'd highly recommend you get a different boot.

Maria aka Wheezy the Turtle
Height:
5'2"
Weight:
145lbs
Super comfortable
Familiarity:

I've used it several times

Fit:

True to size

Size Bought:

10
I LOVE these boots! They are super comfortable and didn't need breaking in at all. I got the fuchsia because they were on sale and I think it's a great color. I ordered a size up than I normally wear but I fear it's because my feet are getting wider as I get older.
Lisa M.
Height:
5'7"
I loved them, but between sizes
Familiarity:

I returned this product before using it

Fit:

Runs large

Size Bought:

6.5
I was a size 6 in most shoes but find I am often between sizes now when it comes to athletic shoes of any kind. In boots it's always wise to size up if in question I've found, but in these I couldn't do it. The 6 was near perfect, but way too close for comfort, so I went for 6.5. I love the look and the weight! Sadly, when I walked, at the bend at my toes the soft fabric dug too deeply into my foot. I could quickly imagine blisters! I thought my insoles would take up the space and make them fit...They didn't help either. They took up too much space. So back they went ...and they were really cute. I would have worn them a lot. So in the end, size 6 was too small. And 6.5 too large. However, I do not have wide feet. If you do, these may be great for you, but maybe size up if you are ever between sizes in shoes.
ANN B.
Super lightweight, comfy boots!
Familiarity:

I've put it through the wringer

Fit:

True to size
These boots are very comfortable and I didn't have any trouble breaking them in, contrary to other reviews. I feel they are true to size, and the colors are fun. They are super lightweight, so my legs don't get tired while hiking. I used to wear these every day for work (outside, hiking a few miles each day) and they were great for that. My only problem with them is that by waterproof, it means that it has a waterproof membrane inside the boot. I found that the membrane lost its effectiveness after two months of daily use. This means that walking across a freshly watered lawn left my feet soaking. I recommend waterproofing these before wearing. Overall, though, they are a fantastic boot.
Jacquie Davis
Working on a more complete review, but here's an action (or inaction) shot for the time being.



I found these were a bit rough to break in (contrary to my initial impressions). Lots of blisters later I discovered that THINNER socks worked best. Still putting these boots through their paces before I can post a thorough review.
Lexi Dowdall