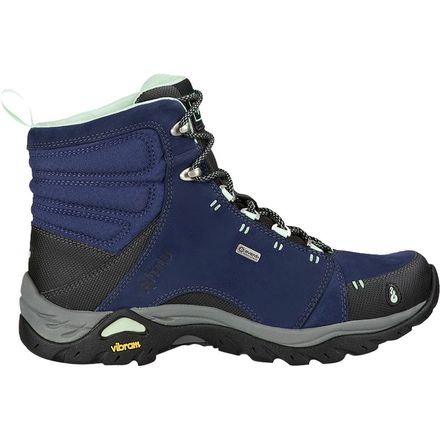 Colors

Detail Images
Take a trip to the state of Montara.
Dedicated hikers looking for an all-terrain boot that repels water and is ultra-breathable shouldn't overlook the Ahnu Women's Montara Boot. Built with waterproof and ultra-breathable eVent membrane, the Montara excels at shedding wet weather and braving muddy puddles but, thanks to eVent's legendary breathability, won't leave you with sweaty- or soggy-feeling toes.
eVent fabric combines waterproof technology and industry-leading breathability to keep your toes dry and comfortable
Numentum neutral positioning tech is designed to keep your body centered and balanced for added stability on rugged terrain
Vibram outsole provides excellent grip and durability for sure-footed travel over a wide variety of terrain
Rubber toe protector shields the front of your foot from rocks, sticks, roots, and other trail hazards
I'm clearly in the minority. Feet hurt!
Familiarity:

I've used it several times
I am obviously a crowd of one when you read the glowing reviews. First a positive note—these (midnight blue) boots are
the cutest, coolest boots—even counting all my shoes—I have ever owned. They are fabulous looking., which makes my problems with them even sadder.

Ok so, maybe I am anatomically unique or something but these boots felt wonderful , comfortable and light going on BUT the bottoms of my feet were very sore and in pain after hikes. They are so light (which I like) but I can feel every blessed thing—every rock, stick, pebble— through the sole. I tried them on a long hike and by the end my feet felt so tender I had trouble walking. Then a shorter hike, and then even just in my daily life around town where I walk a lot (NYC—we don't drive here). Again, sore bottoms of feet.

I am a 62 year old very athletic normal weight woman. Maybe everyone reviewing here is way younger than I am and something weird happens to aging feet. That said, I saw my podiatrist and sprung for (gulp) $275 Asolo hiking boots and I am OK in those. Not sure why this happened to me reading all these glowing reviews... Oh yeah—ordered a half size up due to advice from other reviews and that was the correct thing to do.
Mia B.
Daily wear
Familiarity:

I've put it through the wringer
I got these for Christmas over two years ago and am still wearing them. So comfy yet supportive. Keeps my feet dry even through the PNW rain. Honestly I often choose these over my tennis shoes for daily wear.
Nikki S.
So nice I bought them twice.
Familiarity:

I've put it through the wringer
First pair served me well: Two years, 4 seasons, on the trail, in the tavern, and occasionally to the office on a snow day. Most impressive is how they keep my feet warm and dry on a snowy trail - I just throw on some crampons and I'm good for a winter wonderland hike - love that eVent technology. Takes about 20 miles to break them in, but after that, it's butter town. Typically a 7 and the 7 fits just right. Smokey brown is exactly how it looks, beautiful dark brown with a nice rich caramel accent.
Earth Reiser
A great light weight boot!
Familiarity:

I've used it several times
I bought these because I wanted a lighter boot with ankle support for day hiking. So far they are meeting all of my expectations. They are ridiculously comfortable and didn't really need to be broken in. I bought them in blue and they are absolutely adorable. I live in the PNW and hike in the rain all the time. I have had no problems with the waterproofing yet, but i'll see how that holds up over time. They are true to size and have enough room to fit my custom orthotics.
Hope Macke
So far, so good!
Familiarity:

I've used it several times

Fit:

True to size

Size Bought:

10
I ordered these without trying them on, I needed new boots because my feet were miserable in my old pair. I have pretty flat and wide feet, so I was a bit nervous to order these reading some of the reviews, but to be honest, I was being sort of shallow and really just picked these based off of the colors and just hoped they would work for my foot... I thought all the color options for these boots were really different and cute for hiking boots! Felt like it had more personality than many similar boots on the market.

I took them out for a 6 miler the first day and it was perhaps the most comfortable break in period for a pair of hiking boots I have ever experienced, which I truly am stunned by given my flat feet. I usually have major foot pain about 2 miles in with most boots!

Overall, they were sturdy enough for my needs and the traction felt fine. So far, so good! I plan on taking them out for a few smaller overnight backpacking trips and am eager to see if they continue to provide me all the stylishness/comfort.
Elyse J.
Height:
5'6"
Comfy and light, not durable
Familiarity:

I've put it through the wringer

Fit:

True to size
These were a great fit for me from the start. I have narrow feet with high arches. I bought this in my street shoe size and wear them comfortably with Superfeet greens or merinos. They lace up nice and snug for a moccasin-like fit, and the laces stay exactly in place (so I can lace the ankles up tighter than the top of my foot for example, and the lacing doesn't shift or redistribute itself). No break-in, no blisters, waterproof enough for heavy rain but still dried very quickly after wading and spelunking. The boots need seasonal waterproofing, the eVent isn't just enough on it's own.

The traction is fine for my needs, but anyone frequently on rockier terrain in wet weather should steer clear. The uppers are soft and sole is low-profile, so this is definitely a minimal hiking shoe and not appropriate for backpacking. I do carry heavy camera gear (about 10lbs) on my day hikes and find these comfortable, but I can definitely feel the terrain beneath me. I have lots of foot issues and these boots remain comfortable even during periods of injury (plantar fasciitis, achilles tendinitis).

The only major downside to these is that the uppers don't hold up well. The pretty colors look gross quickly, which I don't really care about, but just know - the purple somehwat returns when I deep clean & condition but it doesn't last 5 miles before they're discolored again (not just surface dirt, they get faded and stain). The real bummer is that the stitching has busted in various places after a few seasons of day hiking, and the eVent lining has it's first tear. Maybe things just don't last as long as they used to in general, but my clunky old goretex backpacking boots lasted years and years without any of these issues.

Bottom line: they've been good to me, but I'll go back to a more established and less "fashionable" brand next time.
HN
Comfortable Break In Period
Familiarity:

I've used it once or twice and have initial impressions

Fit:

True to size

Size Bought:

9.0
I've only used these shoes on a handful of hikes, and I know I'm still in the break-in period, but they're a lot more comfortable than I had expected right away.

The first hike I did in these was The Living Room Trail in SLC (2.2 miles) and my feet were totally happy right up until we got to the car. No blisters but I could tell that I'd be uncomfortable soon if I had continued to hike.

The 2nd hike I took these on was the Desolation Trail out of Millcreek in SLC (about 4.4 miles). Same thing, super comfortable and supportive, probably could've hiked a little longer but no blisters and feet weren't achy the next day.

I've done a few other hikes around 2-3 miles in Neffs Canyon and Big Cottonwood Canyon and these boots just get better and better. Looking forward to using them on some longer hikes around the Wasatch, and a few trips to the Sierra in California this Summer!
Amanda Frederick
Height:
5'6"
Weight:
135lbs
New favorite brand!
Familiarity:

I've used it several times

Fit:

True to size

Size Bought:

8.5
l LOVE these boots. I wore them for a 60 mile, 4 day backpacking trip right out of the box. They were great. Others who had well broken in hikers suffered blisters & sore spots but not my feet! They are super comfy & stylish. I wear them around town with leggings & get compliments all the time. These are very light weight. The inside ankle support is super soft, no need to even wear boot socks! I have rather wide feet and was worried after reading other reviews that these would be too narrow. I wouldn't wear my thick wool socks with these but I've had no issues with the fit.
Rebekah
Height:
5'4"
Weight:
155lbs
Cute, comfy, but NOT waterproof
Familiarity:

I've used it several times

Fit:

True to size

Size Bought:

8.5
I used these boots on a road trip through the desert and they were comfortable, supportive and I received a bunch of compliments. After returning from the desert, I wore them around town where I live in UT. We have had a ton of snow and I though I'd be safe wearing these because they're supposedly waterproof. After one especially slushy day, I returned home with unbearably squishy, wet puddles in my shoes and freezing, wrinkly toes.

I would be nervous to take these on any type of backpacking trip that might involve rivers, streams, or even the slightest chance of rain because of this. I couldn't wear them for a couple of days afterwards because I had to wait for the inside of the shoes and the inside padding to to dry out.
Natalie K.
Height:
5'8"
Weight:
155lbs
Buy these boots!
Familiarity:

I've put it through the wringer

Fit:

True to size

Size Bought:

7.5
I am relatively new to hiking and based my decision to buy these boots solely on the reviews I read. They are true to size as well as being lightweight. I knew I had made the right decision when at the end of our first hiking trip in the mountains of North Carolina I realized I had not thought about my shoes/feet one time while hiking. For those of you that are avid hikers you know how important that is. These boots are also very visually appealing and I get compliments often. I am looking forward to putting many miles on these boots. A big shout out also to our awesome gearhead #hunterforaker who makes every purchase at Backcountry a flawless experience!!
Todd Birmann
Height:
5'4"
runs large
Familiarity:

I've used it several times

Fit:

Runs large
crazy comfortable, day one on a long, steep hike and they didn't even give me a blister. However, they run very large. I'm a 9.5 and I got a 10 for thick socks, but I should have gone 9.5 maybe even 9. Even if they are too big, they are still functional and great. I should have exchanged right away but I wanted to test them out...
d_zahler613423
Amazing Boots
Familiarity:

I've put it through the wringer

Fit:

True to size

Size Bought:

8
Intro: I bought these a week before my trip to Peru to do the Salkantay Trek.

Pros: extremely lightweight, no break in period needed, waterproof through rainstorms and trekking through streams, great support, good traction.

Cons: haven't found any yet

Fit: true to size. I wear a size 8 in street shoes, these fit perfectly in a size 8.
Cheryl K.
Height:
5'10"
Weight:
135lbs
Amazing boots for my Grand Canyon hike
Familiarity:

I've used it several times

Fit:

True to size
I purchased these boots two weeks prior to my Grand Canyon hike because I didn't feel like my approach shoes would be the most comfortable. I wore them for the first time to summit Mt. Humphrey's in AZ three days prior to our rim to rim adventure. These boots are amazing! Obviously, I didn't have time to break them in, and I had no problems at all! During our 3 night, 4 day Grand Canyon rim to rim hike, we had rain for the first two days. My feet stayed completely dry! These boots were extremely comfortable, and even with no break in time, I had no issues! LOVE these boots!
Dana G.
Seriously, deep connection btwn these&me
Familiarity:

I've put it through the wringer

Fit:

True to size
These boots have been thru so much terrain, weather, love, and adventure!



I had never heard of this brand before I purchased these. I am very pleased that I bought them! I have had these for a year and a half now. They still seem great with all the miles I have put on them. I do see though in the near future I may have to get a new pair! I do need to re waterproof them though. They are not water proof anymore.



As soon as I tried them on they felt like the perfect fit. I can not compare this fit to any other shoe. It's like they used my foot as the mold. :)



I would say though, the first few weeks I wore them I did receive blisters on my heel but after they were broken in no more blisters, period!



These boots are great for backpacking. They are super lightweight compared to my other boots. I always prefer the ankle protection when backpacking. The sole is super grippy.



**These boots are for people with narrow feet.



****Purchased a size 6 and wear a street shoe size 6.


Aleshia DiBella
Hiked Big Bend
Familiarity:

I've used it several times

Fit:

True to size

Size Bought:

8m
I'm not really a hiker but needed boots for Big Bend trip and wasn't comfortable wearing low cut shoes. The Anhu Montara boot was comfy all day and protected my feet and lower leg. I'm not used to taller boots so they rubbed my left above the ankle, could have been my sock. Great shoes otherwise.
JANET M.
Height:
5'5"
Weight:
160lbs
Got these as a gift for my best friend and her (soon-to-be) husband who will be backpacking in Kauai for their honeymoon. Will update w/ pics and review once they get back! :)

UPDATE! My bestfriend is married! And here's what she had to say about her boots!

These boots were by far more than I expected. I did some research on a few other hiking boots and these had the best reviews. One of the main reasons I decide to purchase Ahnu's was because it's feature of being waterproof and light weight. We went to Kauai and hiked multiple trails, ranging from 6-10miles, and boy it was wet, muddy, and moist. I wore theses boots almost 85% of the time and they were amazing! I didn't have to break them in, didn't get a single blister, and my socks were dry. I was impressed. They are very comfortable, stylish, and true to size. I highly recommend these boots! Your feet will love you.




SUNPDX
Height:
5'4"
Weight:
135lbs
Nice, comfy boots...
Familiarity:

I've put it through the wringer

Fit:

True to size

Size Bought:

9.5
for a season. I purchased these boots last May and have worn them on about 8 day hikes ranging 6-10 miles. They are light, comfortable, and the toe box was roomy enough in a size 9.5 (I usually wear a 9). I also have a narrow foot and heel; my heel fit well, no slippage, without special lacing techniques.

I also wore these boots on a 4-day backpacking trip with about a 40 pound pack. My feet stayed pretty happy. I didn't develop any hot spots until day 4, only one (small) on my left heel, but I suspect it was due to the wool sock I was wearing that day and not the boot. They had pretty good traction on wet granite and provided good ankle support. I was also happy with the water-proofing.

However, my first 8 mile hike this year proves that they are not feeling as cushy as they did last year. Also, the sole was slightly slippery on the half mile of trail that was covered in wet snow.

I'll still be wearing these boots around town, because they are pretty comfy short-term, but I'm shopping for a boot that is designed for longer trips.
ashann
much more than purple and pretty
Familiarity:

I've used it several times

Fit:

True to size
My boyfriend got me this pair of boots as a gift. I love the color and style of it, but they also work great. I wore them all summer long. We went hiking and backpacking. My two favorite things about these boots are their amazing traction and the fact that they never made my feet hurt.
Martina Rossi
Not for Wide Feet
Familiarity:

I returned this product before using it

Fit:

Runs small
I bought these shoes and I'm usually an 8.5, but I couldn't even get these on my feet, unfortunately. They felt far too narrow for my wide feet. I returned them but I must admit that they were one of the more adorable hiking boots I have ever seen (sorry that I can't comment on their hiking qualities!).
Emily