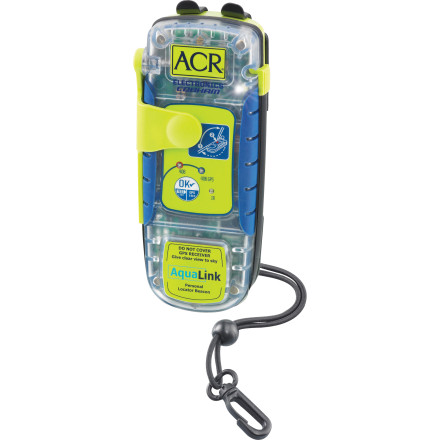 Colors
A low-maintenance friend who knows how to network.
When a series of unfortunate circumstances leaves you lost, stranded, injured, or otherwise in need of wilderness rescue, having a friend like the ACR AquaLink 406 Personal Locator Beacon is more than just a nicety; it could actually save your life. Built waterproof and with a 406 MHz signal, this beacon also floats so that you can feel confident when heading offshore. Once activated, the AquaLink connects to a worldwide network of SAR satellites and relays your precise location for a faster rescue and added peace of mind.
Its 406 MHz signal relays information to the worldwide SAR satellite network
The 121.5 MHz signal relays your location to localized ground Search and Rescue operations
On-board GPS accurately notifies rescuers of your position and is accurate to within 100 meters
Device floats so it's ideal for adventures over water
Bright LED strobe light is automatically activated when rescue signal sent
Full-function test mode lets you know it is working properly without draining the battery
GPS acquisition test mode allows you to test GPS functionality up to 12 times over the life of the battery
Small, lightweight, and easy to carry in a pack, pocket, or on the included lanyard
No subscription or activation fees required, but an optional subscription service is available through 406Link.com that allows you to send periodic 'I'm OK' messages to family
You Use It...We Replace It
ACR has just annouced the creation of SurvivorClub.com, a complete program where they will replace any 406 MHz PLB (regardless of age) with a brand new beaon. Learn more at ww.survivorclub.com
Mikele D
How many "OK" messages can you send with...
How many "OK" messages can you send with this unit?
Laura Chynoweth
406Link.com says you can get about 60 messages with GPS or 420 without before the battery needs to be replaced.
Dave Marcus
So there is a market for scuba divers to...
So there is a market for scuba divers to carry down to debth if it will take the pressure of say 100 feet underwater in a sealed water proof bag. Lots of cases where lost at sea (see left behind movie for true story) where the divers are swept out to sea in strong currents and boat couldn't find them. You might want to test your product out and see if it will do the job.
larry hand
I would say probably not. it is only rated at 5 meters for 60 minutes or 10 meters for 10 minutes.
Pat Gunning