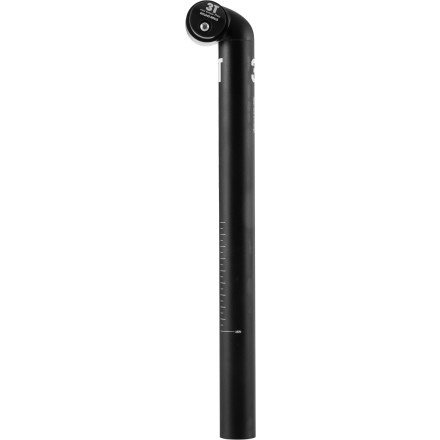 Colors

Detail Images
Classic, redesigned
The Ionic seatposts by 3T are a new series that feature its proprietary Difflock seat clamp. The Ionic 25 Pro features a robust and sophisticated design that is ideal for the rider who needs a more rearward position on a shorter frameset.
The entry level Ionic 25 is called the Pro. It was constructed with aluminum alloy construction for the entire seatpost and clamp assembly. While this adds a few grams (35 to be exact) to the overall weight of the post, it makes up for it in price. The setback is 25mm, which gives riders a more relaxed position and is also an ideal compromise on a frame with a more aggressive seat tube angle. Sitting on top of the post is 3T's Difflock saddle clamp. This is a single bolt clamp that allows for quick and easy adjustment of both saddle angle and fore-aft position. The hex key both is easy to reach and you're able to adjust for setback without disrupting seat angle.
The 3T Ionic 25 Pro seatpost comes in two widths: 27.2 and 31.6mm. Each width is available in two lengths: 280mm and 350mm. It is finished in shot peened black with a white vertical stripe.
This post weighs in a 312 grams, by far the heaviest post in my miscellaneous collection that I have acquired over the years. All of the excess is located in the odd clamping mechanism, which I may attempt to drill some holes in to lighten it up a bit. However, if you need a large setback (effective setback), this is one of your few options, as the clamping mechanism allows you to slide the seat rails much further back than most other seat posts with a 25mm setback rating.
robert S.