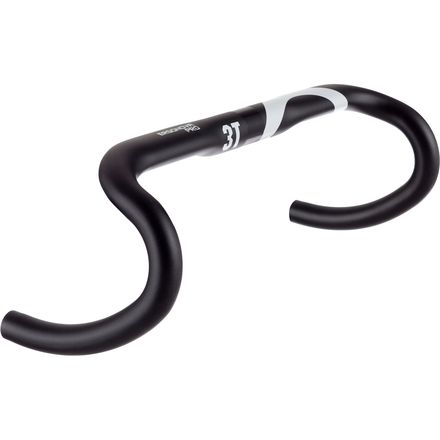 Colors

Detail Images
The shape of comfort.
Aluminum tubing has come a long way since the days when you could only get it in three shapes: round, round, or round. With the ability to shape aluminum tubing just about any way they want, bicycle component manufacturers can shape aluminum to do amazing things, like reducing fatigue after hours in the saddle. The 3T Ergonova Pro Alloy Handlebar does just that. By carefully shaping the tubing to fit the shape of your hand in its various positions on the handlebars, the Ergonova provides a more comfortable perch for your paws during every stage of your ride.
The Pro level offers the ideal balance between top-flight performance and feet-on-ground price. And beyond the price issue, you get the supreme reliability of its AL7075 alloy construction, which keeps the weight reasonable at 265g (42mm width) while offering all the piece of mind that goes hand in hand with alloy bars.
The Ergonova Pro shares the same shape and drop characteristics that you'll find in the Team and LTD versions. This means that the top of the bars are egg or tear-drop shaped, which is intended to give your hands a flatter, more comfortable surface to hold onto. Not only do these bars come in an array of widths ranging from 38 to 44cm (c-c), but the reach is quite moderate at 77mm and the drop is a comfortable 123mm. Whereas a bar like the FSA Wing Pro has a 145mm drop making it very difficult for a rider with small hands to reach the brake levers while in the drops, the 123mm Ergonova drop is much closer to what one would find in a shallow, classic shape bar, giving greater ease of access to the levers and other controls. Available in sizes 38cm-44cm (center-center) in 2cm increments. Compatible with 31.8mm stems only.
Setting the Facts Straight
Familiarity:

I've used it several times
For a size 44cm bar: Width at hoods is 42.4cm and width at bar-ends is 44cm (c-c for both). 3T always measured this bar center-center at bar-ends and it always flared 6 degrees. So each size will be 16mm narrower at the levers than at the bar-ends. BTW, the 3T website no longer lists this bar for sale (see screenshot).
Eric A.
Perfect for me!
Familiarity:

I've used it several times
Ooooo I am stoked on these bars!

I've finally found a bar that fits me perfectly. I have e 40cm (38cm c-c at the hoods) and it's the best road bar I've used.

The ever-so-slight flare at the drops provides incredible stability descending canyons around the Wasatch, and the wider flats are a perfect platform for climbing and cruising.

Hannah Dhonau
3T is one of the most experienced (and complete) manufacturers of cycling cockpit components in the sport. 3T (Turin Tube Technology) was founded in Northern Italy in 1961 by Mario Dedioniggi. In 1975 Dedioniggi was the first person to use aircraft grade 7050 aluminum alloy in cycling cockpit components. 3T is used all over the UCI pro peloton. Lots of experience here.

This top-of-the-line aluminum road bar utilizes triple-butted 7050 aluminum alloy and is shot peened for extra strength.

This bar weighs 265 g (size 42). A carbon bar weighs ~200g but costs $300! ... 65g of additional non-rotational mass is insignificant on the bike. This 3T alloy bar is: light, strong, and affordable. That's a combination that is hard to beat.

Other pros of the Ergonova Pro: (#1) The short reach and drop. (2) The flattened, eggshape tops (better support during long rides). But oval tops may not work well for those with small hands. (3) The slight flare of the drops (for descending stability or sprinting). (4) The new graphics are a big improvement over the 2014 version of the bar; as is the grippy application to the stem clamp area.

All in all, a great road bar. And a GREAT price/value.

P.S. - Of course, you must buy a 3T ARX II Pro or Team stem to match. ;-)
Jonny Heinken
Hi

I need to clarification on widest 3T ergonova pro handlebar and how 3t measures. Item drop down indicates 46cm, however description says up to 44.

Thx
GL
Available in sizes 38cm-44cm (center-center).

The 44cm center to center is 46cm wide outside to outside.
Matt S.