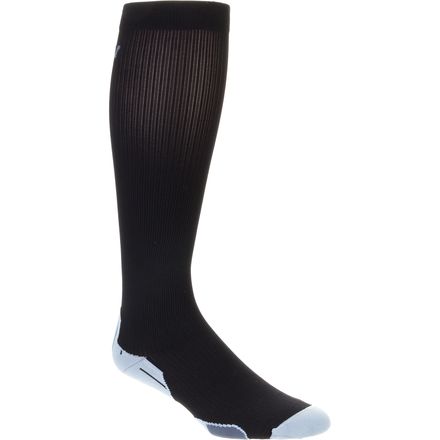 Colors

Detail Images
Recover faster.
Wanderlust. As cyclists, we all feel its pull at one point or another, and it can't be satisfied with just a different route around town. So what do we do? We spend serious hours folded up in an airplane to get to that magical location. And it's during these endless flights that the 2XU Recovery Compression Socks are an absolute necessity.
If you've ever flown, built your bike, and gone right out for spin, you're familiar with the bloated, dead feeling in your legs when you ride. It's because gravity pulls blood down to your legs and feet, and your body struggles to return it upstream towards the heart. When you wear Recovery Compression socks you supercharge your venous function by forcing the blood flow from your extremities up into your circulatory system. There's a reason why elite endurance athletes refuse to travel without wearing compression: The difference in what your legs feel like after wearing them is night and day.
The Recovery Compression socks aren't just for travel, though. They're equally useful to wear post-ride in order to enhance circulation. Not unlike a post-ride recovery drink, these help lay the groundwork for faster recovery and better rides, day after day.
The 2XU Compression Recovery Socks are available in the color Black/black and in five sizes from X-Small to X-Large.
I gave my dad a pair of these to wear while he traveled and he loved them. I have bought multiple pairs for both of us since then.
Andrew Oaks
Height:
5'10"
Weight:
160lbs
Amazing results
Familiarity:

I've used it several times

Fit:

True to size
I love my 2XU Recovery Compression Socks. Putting them on after any exercise speeds up my recovery time and just feel great once they are on. As with any compression sock, they are a bit tricky to get on but this is a small price for the benefit they provide.
Cornell Brown
Best post ski, run, hike, bike, sock!
Familiarity:

I've put it through the wringer

Fit:

True to size
Toss a pair of these on after your latest outdoor adventure and your feet will thank you. These socks help increase bloodflow around your calf and foot, to help you get back out tomorrow and send it again. I love tossing these on between ski days, and I always feel like new the next morning. Definitely pay attention to the size chart, as these can easily be too tight if you're not careful.
Andrew Meehan
Good support
Familiarity:

I've used it several times

Fit:

True to size

Size Bought:

S
I spend to much time sitting on a desk, but also really put effort on my workouts, so these socks are really great for all those resting periods, lately I have feel an overload in my calfs but these socks help me recovering from that
Ale
Height:
5'5"
Weight:
148lbs
Unanswered Question
why isn't sizing chart linked?
Mark Petrie
Incredible feel.
Familiarity:

I've put it through the wringer

Fit:

True to size
Incredible feel, starting from your foot and going all the way to your knee. It makes recovering while driving, flying or standing actually possible, best recovery/ compression socks I've owned.

Jonny Atencio
I Feel Good...I Feel REALLY Good
Whether it's after a long ride, race, or just when I'm at the office all day, I just feel better when I have these on.



Ultra comfortable feel, firm compressive fit but without having to wrestle them on. Durability has been great, though you shouldn't be walking around much in these. You'll be too relaxed, probably won't want to get off the couch. That's true recovery my friends.
Trevor J
What you wear to feel great.
Familiarity:

I've put it through the wringer

Fit:

True to size
This is what you wear to feel great all day. Wear them while on your feet for extended periods of time, sitting behind a desk or the wheel of your car. These feel great up until about the 10 hour mark then you get hit with another feel great experience, taking them off at the end of the day!
Eric Miller
Magic Socks
Familiarity:

I've put it through the wringer

Fit:

True to size
These are great after an epic day on the snowboard or bike. They are heaps more convenient to put on than compression tights. I also find when I'm for travelling/sleeping that I overheat in compression tights, the socks are a happy medium - a reasonable amount of compression without getting too hot.




Amanda