Tucano GT RR Boot - Women's

$64.99

Details

Tech Specs

Sizing Chart

See More Deals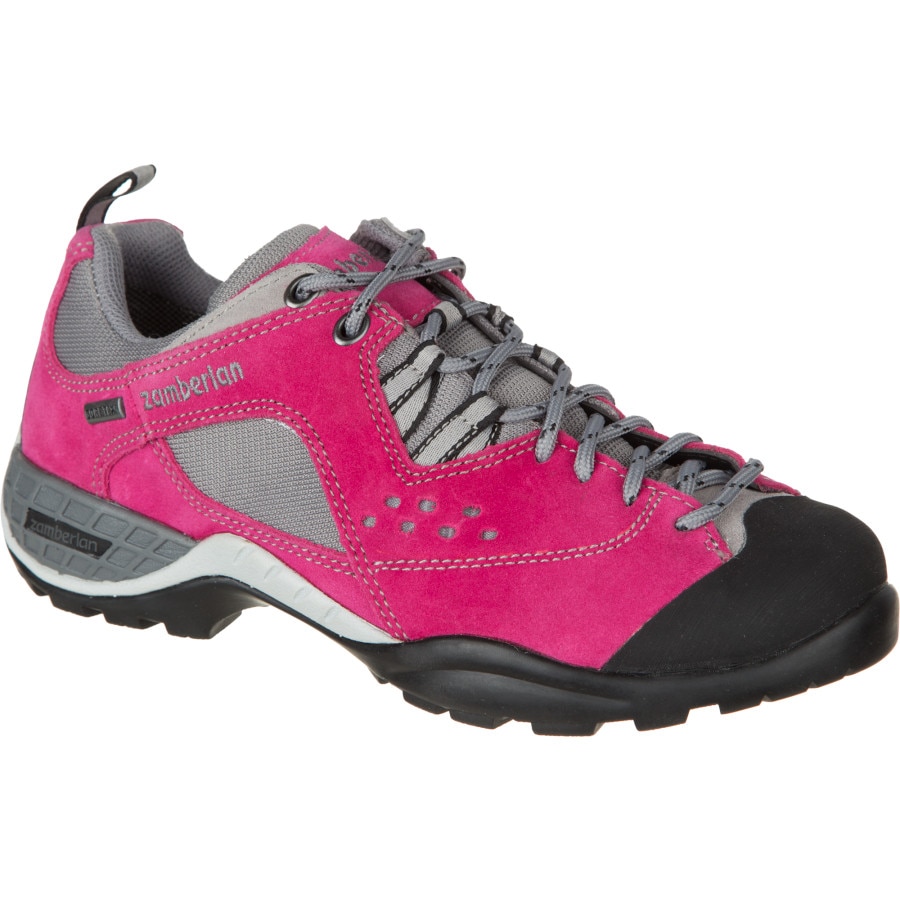 Tucano GT RR Boot - Women's
Remaining Product
{{ sizeObj.size }}
{{ product.availability[sku.sku].qtyRemaining }} of {{ product.availability[sku.sku].qtyInitial }}
Details
Step off the plane in Reykjavik with the Zamberlan Women's Tucano GT RR boots dangling deliciously off your pack, flaunting your upcoming exploration of Iceland's glaciers. This bright hiking shoe uses Gore-Tex to give your foot guaranteed waterproof protection with the additional guarantee of breathability. Water-resistant Hydrobloc split-grain leather and Cordura on top add element protection while holding your foot firmly in place. This rugged upper also thwarts incoming efforts by gravel and twigs you encounter along the path.
Synthetic material stands between the shoe and your sock to manage your hard-earned foot sweat. Top-to-toe lacing minimizes slipping for confident tromping over any terrain. Compression-molded EVA makes high-stepping over frozen water and pebble-pocked terrain delightful. Low-density EVA in heel offers additional cushioning and a similarly-cited TPU plate increases support and torsional rigidity. Vibram Tech Approach is a sole specific to Zamberlan that exploits grabbiness on scree and smooth trails alike.
Gore-Tex membrane
Hydrobloc full-grain leather and Cordura, water-resistant
Synthetic lining, moisture-managing and quick-drying
Top-to-toe lacing
Compression-molded EVA midsole
Low-density EVA heel midsole
TPU plate in heel
Vibram Tech Approach sole
Female-specific last
Tech Specs
Upper Material
Hydrobloc split-grain leather, Cordura
Waterproofing
Gore-Tex membrane
Sole
Vibram Tech Approach
Recommended Use
hiking, light backpacking, travel
Manufacturer Warranty
lifetime
Sizing Chart
Zamberlan
Note: Zamberlan's EU sizing differs from other European brands. Use your US shoe size to determine proper conversion.
Footwear

| EU | US Men | US Women |
| --- | --- | --- |
| 37 | | 6 |
| 38 | | 6.5 |
| 39 | | 7 |
| 39H | | 7.5 |
| 40 | | 8 |
| 40H | | 8.5 |
| 41 | | 9 |
| 42 | 8 | 9.5 |
| 42H | 8.5 | 10 |
| 43 | 9 | 11 |
| 44 | 9.5 | |
| 44H | 10 | |
| 45 | 10.5 | |
| 45H | 11 | |
| 46 | 11.5 | |
| 47 | 12 | |
| 48 | 13 | |
| 49 | 14 | |