Patrol 24L ABS Winter Backpack - 1465cu in

$764.99

Details

Tech Specs

Sizing Chart

See More Deals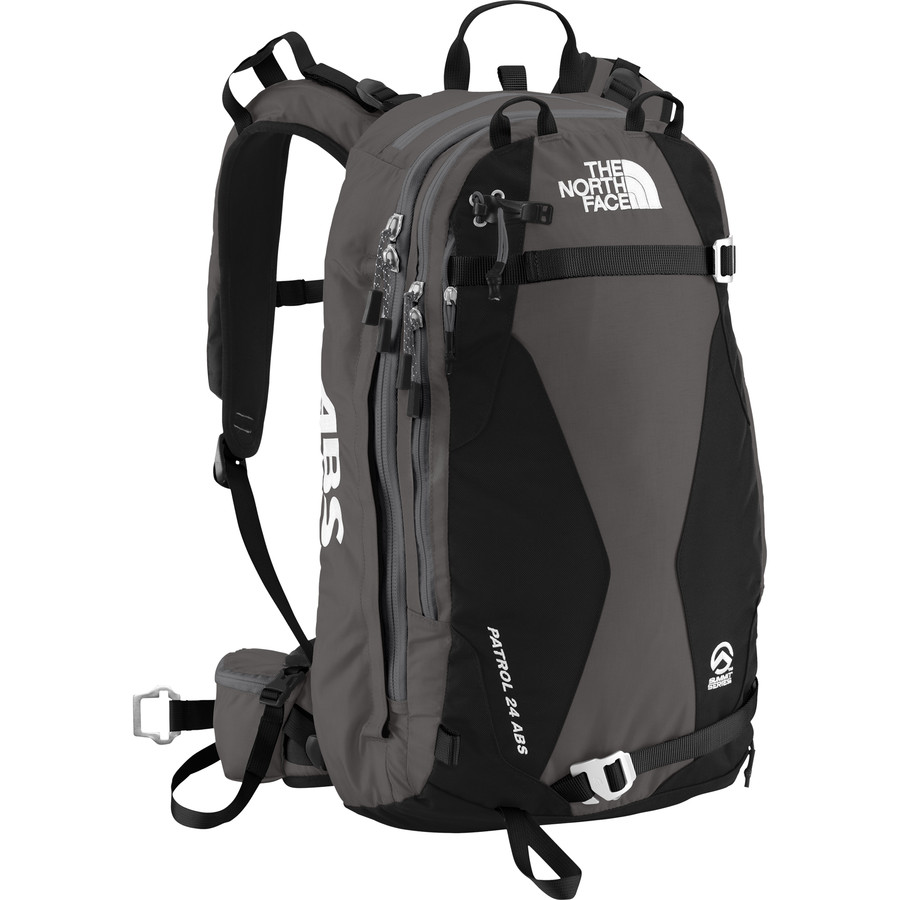 Patrol 24L ABS Winter Backpack - 1465cu in
Remaining Product
{{ sizeObj.size }}
{{ product.availability[sku.sku].qtyRemaining }} of {{ product.availability[sku.sku].qtyInitial }}
Details
When you're getting into more high consequence terrain, it's nice to have the peace of mind that if something should go wrong The North Face Patrol 24L ABS Winter Backpack will be there to help keep you on top. Taking The North Face's athlete-tested Patrol backpack and outfitting it with one of the industry's most trusted avalanche air bag systems yields a winning combination of proven technology in an athlete-approved package that will perform well in the backcountry.
The bag comes equipped with the ABS compressed nitrogen system, which activates with a quick pull of the handle located at the left shoulder strap. Two Bombastic auto-airbags deploy at either side of the bag and are high-vis to make your more visible in the event of a rescue. The pack is a fully functional backcountry backpack with a large avy tool pocket for your shovel and probe, and it features The North Face's simple and straight-forward tuck-away ski or snowboard carry system for quick attachment of your planks or board for that final bootpack to the top. The Patrol 24 is hydration system compatible,and the it features dual hip belt pockets to keep your small essentials close at hand on the skin track.
Integrated ABS avalanche air bag system
ABS activation pull handle
Side airbag deployment pockets
Compressed nitrogen cylinder
Zippered front avy tools pocket
Internal gear pockets
Hip belt pockets
Tuck-away ski and snowboard carry system
Hydration system compatible
Metal hip belt with leg/body harness
Tech Specs
Material
, 840D Jr ballistic nylon
Airbag
315D Cordura Bombastic nylon
Deployment System
ABS Activation Unit (nitrogen)
Pockets
[external] 1 avalanche gear, 2 hip belt; [internal] 1 organizer
Recommended Use
backcountry touring
Manufacturer Warranty
lifetime
Sizing Chart
The North Face
Backpacks
Men's Backpacks
S
M
L
Torso Length
15 - 18in
(38 - 46cm)
17 - 20in
(43 - 51cm)
19.5 - 22.5in
(49.5 - 57.1cm)
Chest Measurement

36 - 38in




(91 - 97cm)

39 - 41in
(99 - 104cm)
42 - 44in
(107 - 112cm)
Waist Measurement
28 - 31in
(71 - 79cm)
32 - 35in
(81 - 89cm)
36 - 39in
(91 - 99cm)
Women's Backpacks
S
M
L
Torso Length
15 - 18in
(38 - 46cm)
17 - 20in
(43 - 51cm)
19.5 - 21.5in
(49.5 - 51.6cm)
Waist Measurement
25 - 26.5in
(64 - 67cm)
27.5 - 29in
(70 - 74cm)
30 - 32in
(76 - 81cm)
Chest Measurement
33 - 34.5in
(84 - 88cm)
35.5 - 37in
(90 - 94cm)
38 - 39.5in
(97 - 100cm)
Men's Two-Size Fixed
S/M
M/L
Torso
16 - 19in
(40.6 - 48.25cm)
18 - 21in
(45.7 - 53.3cm)
Waist
26 - 32in
(66.0 - 81.3cm)
32 - 40in
(81.3 - 101.6cm)
Women's Two-Size Fixed
S/M
M/L
Torso
14 - 17in
(35.6 - 43.2cm)
16 - 19in
(40.6 - 48.3cm)
Notes:

Most packs come in different sizes or have suspensions adjustable to your torso length. The most important thing is to match your torso length with the size of the pack.

Torso:

Measure your torso length by bending your head forward so your chin touches your chest. Feel for the most prominent bump at the back of your neck. Now measure from that point down to an imaginary line connecting the tops of your hips around your back. This works best with a partner's help.

Chest:

Measure around your chest/bust, holding the measuring tape under your armpit.

Torso:

Measure around your waist just above your hips.