Quintic 38L Backpack - 2319cu in

$149.99

Details

Tech Specs

Sizing Chart

See More Deals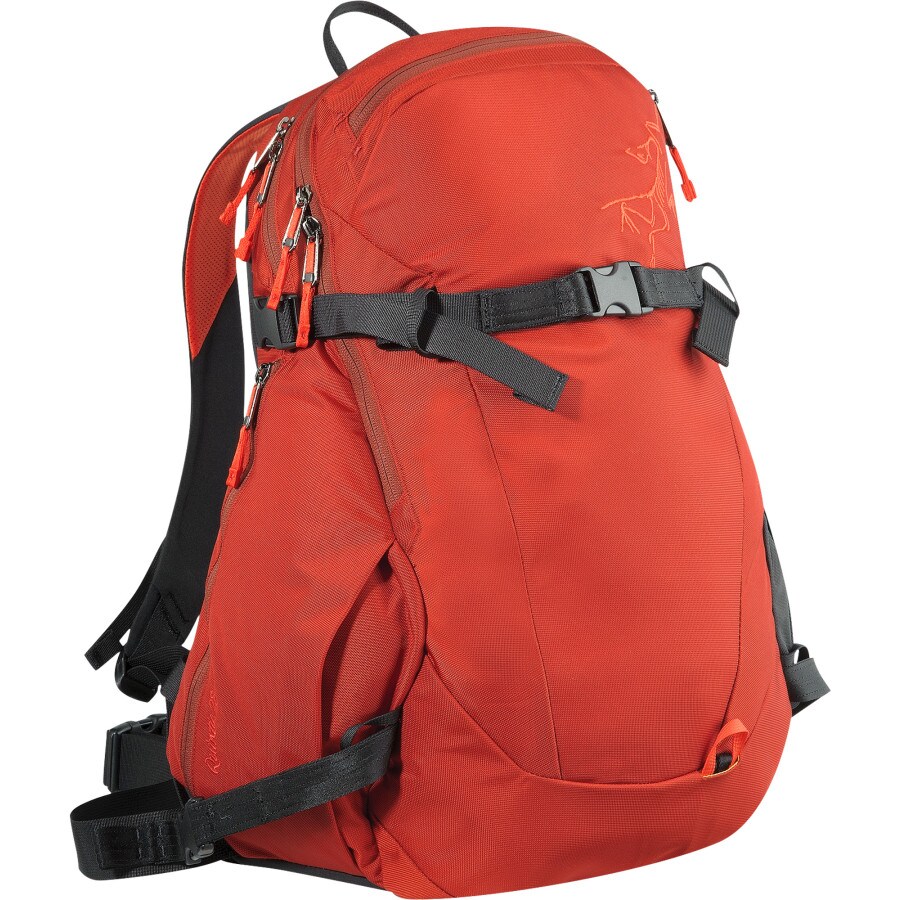 Quintic 38L Backpack - 2319cu in
Remaining Product
{{ sizeObj.size }}
{{ product.availability[sku.sku].qtyRemaining }} of {{ product.availability[sku.sku].qtyInitial }}
Details
Arc'teryx designers poured untold amounts of energy into perfecting the lowered, wide, and flat shape of the Quintic 38L Backpack. This shape specifically accommodates the movement patterns of skiers and snowboarders. Stable and predictable when fully loaded with your avalanche safety gear and winter kit, this bag serves as the ideal companion for medium-range backcountry tours and skin treks that are a little closer to home.

Hypurcel foam and LD60 foam back panels cushion your upper and lower back in order to reduce stress under heavy loads
Low, wide, flat, streamlined shape keeps the bag's center of gravity as close to your body's center mass as possible so the bag moves with you while you ski or ride
Horizontal frame stays help this pack retain its shape, provide additional support for heavy loads, and improve frame strength
Side zip access allows you to reach into the main compartment while you're on the move
Top pocket designed specifically to hold skins and goggles for quick access
Tool kit compartment loads from the top and offers individual sleeves for each item
Highly durable shell materials resist heavy abrasion and punctures
Hydration hose slit and internal reservoir pocket makes it simple to carry water and route your hydration system (water bladder not included)
External carry straps offer multiple configurations for carrying skis or a snowboard
Helmet attachment accommodates either a full-face or half-shell helmet
Internal and external zippers are made from high quality #5 and #8 zippers, both designed to withstand heavy forces
Pro skier Eric Hjorleifson had a part in designing the Quintic 28, which is the smaller version of this pack
Tech Specs
Support/Suspension
padded back panel
Claimed Weight
(short) 42 oz, (regular) 51 oz, (tall) 56 oz
Recommended Use
skiing, snowboarding, backcountry travel, touring
Manufacturer Warranty
lifetime
Sizing Chart
Arc'teryx
Packs
Men's
Short
Regular
Tall
Back Length
16 - 19in
(40 - 48cm)
18 - 21in
(46 - 54cm)
20 - 23in
(51 - 59cm)
Short/Regular
Regular/Tall
Back Length
16.5 - 20in
(42 - 51cm)
19 - 22.5in
(48 - 57cm)
Women's
Short
Regular
Tall
Back Length
14 - 17in
(35.5 - 43cm)
16 - 19in
(40.5 - 48cm)
18 - 21in
(45.5 - 53cm)
Short/Regular
Regular/Tall
Back Length
14.5 - 18in
(37 - 45.5cm)
17 - 20.5in
(43 - 52cm)
Important! Do not select the frame size based upon the pack volume.

How to Measure Back Length:

Measure from your C7 vertebrae (the one that sticks out from your neck) down your back in a straight line to the same level as the top of your hip bones. If you're between sizes, it is better to go with the smaller of the two sizes.
Hipbelt Sizing
Men's
Small
Medium
Large
27 - 32in
(67 - 80cm)
32 - 37in
(81 - 94cm)
37 - 42in
(92 - 105cm)
Women's
Small
Medium
Large
25 - 30in
(63 - 76cm)
27 - 32in
(76 - 88cm)
30 - 35in
(88 - 101cm)
Hipbelt Sizing:

These sizes are based upon a measurement 2" (5cm) below the top of the hipbone resulting in 2.5 - 7.5in (6 - 9cm) of separation at the belt front.