Down Sweater Jacket - Women's

$125.95

Details

Tech Specs

Sizing Chart

See More Deals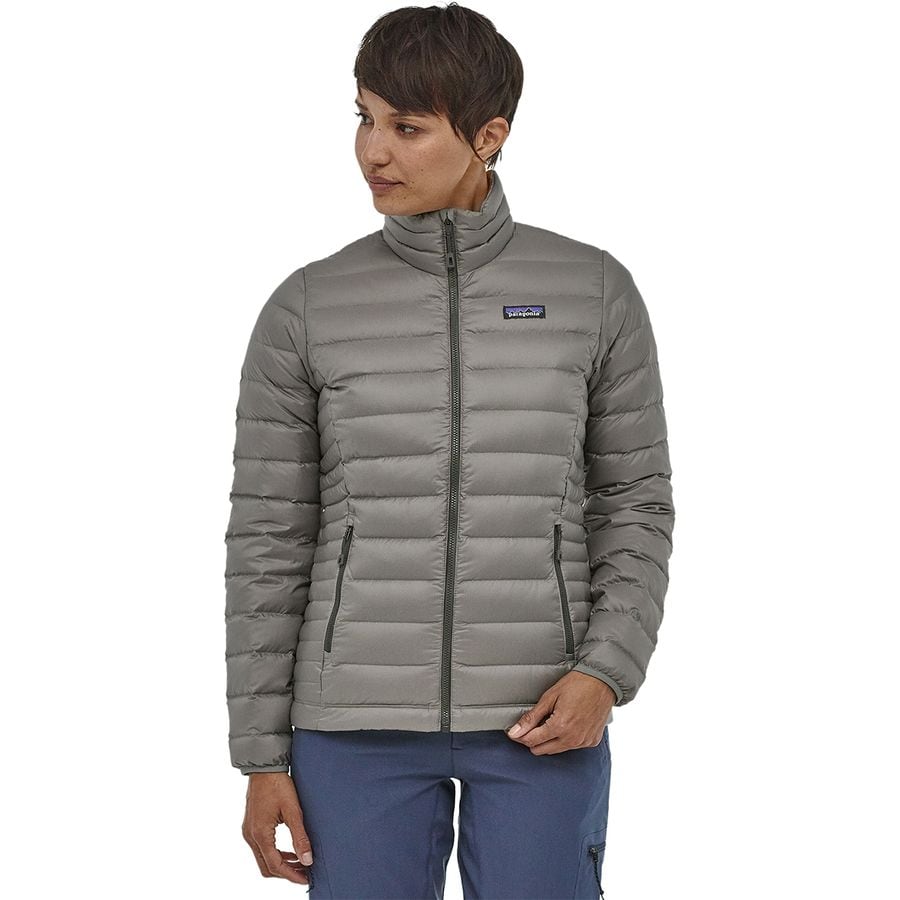 Down Sweater Jacket - Women's
$=$ Price match guarantee Learn more
Remaining Product
{{ sizeObj.size }}
{{ product.availability[sku.sku].qtyRemaining }} of {{ product.availability[sku.sku].qtyInitial }}
Details
When the Polar Vortex rips through your town, you'll be glad you have the awesomely updated Women's Down Sweater Jacket from Patagonia to fend off frigid temps and arctic blasts. Lightweight and compressible 800-fill down comes from happy geese (never force-fed, never live-plucked) to fill out this form-flattering jacket, and the down's even traceable if you need proof. Down keeps this jacket lightweight and compressible, making it perfect for everything from wearing under a shell while you ski, to stashing in your hiking pack for spare warmth, to just wearing around town on chilly nights.
Recycled polyester ripstop won't let the day-to-day bumps and snags unravel you or the jacket. The DWR finish repels snow and rain so flakes and droplets simple slide off the jacket's surface. Horizontal baffles are sewn through to prevent the down from shuffling around. Two zippered hand pockets hold your goods, be it sunscreen and lipbalm, candy and jerky, or a smartphone and credit cards. With a slightly more sleek shape and robust (yet lightweight) fabrics, the revised Down Sweater Jacket protects you from the cold and wind, wherever life takes you.
Ripstop fabric
DWR coating
800-fill Traceable down insulation
Packs into own pocket
Contoured fit
Adjustable hem
Internal stuff sack pocket
Tech Specs
Material
recycled ripstop polyester , DWR coating
Recommended Use
casual, hiking, climbing, skiing, snowboarding
Manufacturer Warranty
lifetime
Sizing Chart
Patagonia
Women's
Apparel
XS
S
M
L
XL
US Size
0 - 2
4 - 6
8 - 10
12 - 14
16
Chest
32 - 33in
(81.2 - 83.8cm)
34 - 35in
(86.4 - 88.9cm)
36 - 37in
(91.4 - 94cm)
38.5 - 40in
(97.8 - 101.6cm)
42in
(106.7cm)
Waist
24 - 25in
(61 - 63.5cm)
26 - 27in
(66 - 68.6cm)
28 - 29
(71.1 - 73.7cm)
30.5 - 32in
(77.5 - 81.3cm)
34in
(86.4cm)
Hip
34.5 - 35.5in
(87.6 - 90.2cm)
36.5 - 37.5in
(92.7 - 95.3cm)
38.5 - 39.5in
(97.8 - 100.3cm)
41 - 42.5in
(104.1 - 108cm)
44.5in
(113cm)
Inseam
31in
(78.7cm)
32in
(81.3cm)
32in
(81.3cm)
32in
(81.3cm)
32in
(81.3cm)
Bottoms
XS
S
M
L
US Size
00 - 2
4 - 6
8 - 10
12 - 14
Waist
24 - 26in
(61 - 66cm)
27 - 28in
(68.6 - 71.1cm)
29 - 30in
(73.7 - 76.2cm)
31 - 32in
(78.7 - 81.3.cm)
Swimwear
XS
S
M
L
XL
Chest
32.5 - 33.5in
(82.6 - 85.1cm)
34 - 35in
(86.4 - 88.9cm)
35.5 - 36.5in
(90.2 - 92.7cm)
37 - 38in
(94 - 96.5cm)
39 - 40in
(99.1 - 101.6cm)
Waist
25in
(63.5cm)
26.5in
(67.3cm)
27.8in
(70.5cm)
29.3in
(74.3cm)
31.3in
(79.4cm)
Hip
35.5 - 36in
(90.2 - 91.4cm)
36.5 - 37.5in
(92.7 - 95.3cm)
38.8in
(98.4cm)
40.3in
(102.3cm)
42.3in
(107.3cm)
Formfitting: Conforms to the body's contours.
Slim Fit: Closer-fitting. Slim-fitting technical garments may be worn over baselayers and light midlayers.
Regular Fit: Neither slim nor oversized. Regular-fitting technical garments may be worn over heavier midlayers.
Relaxed Fit: Drapes loosely on the body.
Classic Boy Fit: Boxy, athletic, with a traditional crew neck.
Anika Fit: Formfitting and longer in the torso, with a wider, deeper neck (not quite scoop).
How to Measure:

Measurements refer to body size, not garment dimensions. For best results, take measurements over your underwear.

Chest:

Measure under your arms, around the fullest part of your chest.

Waist:

Measure around your natural waistline, keeping the tape a bit loose.

Hip:

Measure around the fullest part of your body at the top of your legs.

Inseam:

Inseam will vary depending on style; when lengths are offered, "short" is 30, "regular" is 32 and "long" is 33. Using pants that fit well, measure the crotch seam to the bottom of the leg.