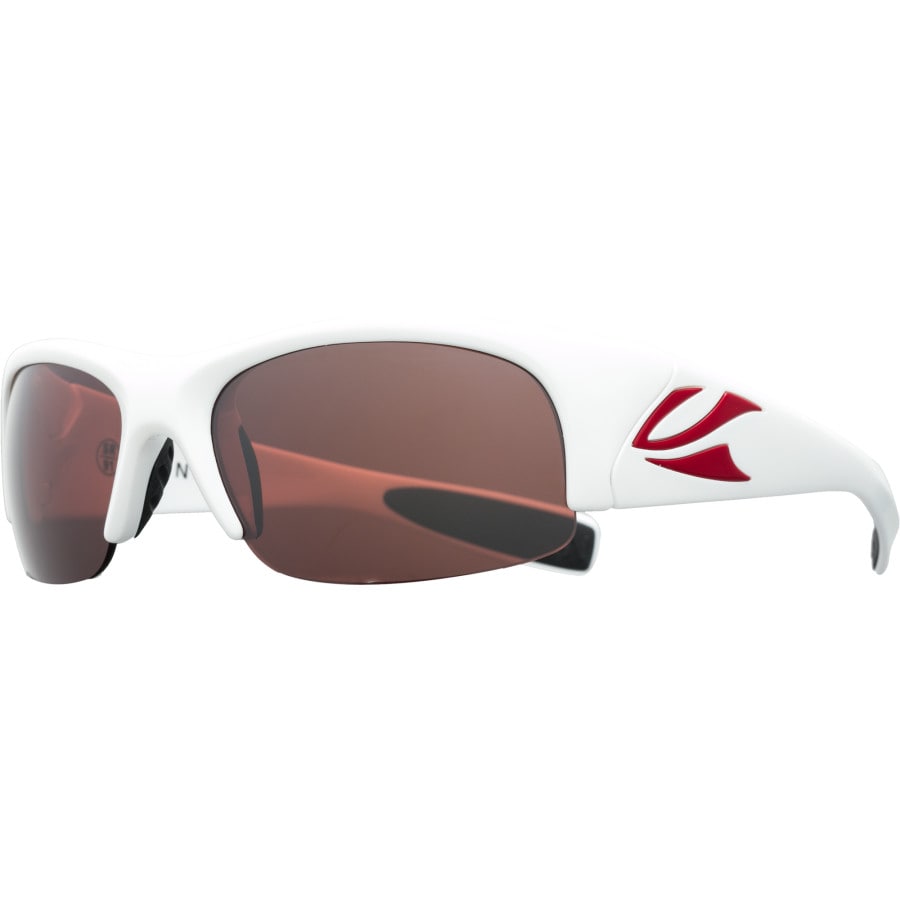 Hard Kore Sunglasses - Polarized
Remaining Product
{{ sizeObj.size }}
{{ product.availability[sku.sku].qtyRemaining }} of {{ product.availability[sku.sku].qtyInitial }}
Details

|

Tech Specs

|

Reviews

(18)
The ultralight Hard Kore Sunglasses give you the clarity and protection of Kaenon's ground-breaking polarized SR-91 lens and a fit designed for active lifestyles. The SR-91 lens provides the durable lightweight strength of polycarbonate lenses and the clarity of a glass lens, giving you unparalleled feel and vision. Kaenon's Variflex rubber temple tips provide solid purchase on your head, which keeps the Hard Kore Sunglasses exactly where they need to be no matter how much you move, jog, or jump.
Recommended Use
Running, hiking, biking, outdoor sports
silly name, serious sunnies
Zach Pina
I'll come right out and say it: the Hard Kore is not the most cleverly named, and it certainly lacks some of the refined sculpting and frame design that I've come to expect from sunnies at this price point. It even almost feels dated in both of those respects. However, there's something about the Hard Kore's (ugh) timeless sport-performance that still feels refreshingly utilitarian. It's pretty clear in this design simplicity that Kaenon is putting all their eggs in the basket of optical performance, and luckily their SR-91 lenses deliver in spades. For me, having a contrast-enhancing lens that protects and cuts glare on sunny days but delivers perfect clarity on cloudy days is a huge win -- the C12 (copper, 12% light transmission) is the ultimate in all-day, all-sport versatility. Plus, its mirrored finish looks absolutely badass. No complaints on the fit or wearability -- the Hard Kore is definitely a large wrap frame with beefy arms and big lenses, and the rubber nose pieces and long rubber temple tips are more than adequate to keep things snug. Still, if you have a smaller mug or just prefer a slightly more progressive style, check out the also unfortunately-named Soft Kore.

* made in Italy, if you're into that sort of thing
Favorite Sunglasses
psenior399219
These glasses have replaced my Maui Jim's and Oakleys. They have better lenses and are more comfortable to wear. I use them for outdoor sports and casual wear.
Really Enjoying the Kaenon's
vrk4712572
Bought the Kaenon Hard Kore sunglasses mainly for running. These are lightweight and have crystal clear lenses. The frames block the light from the side very well. I also like the fact there is no frame on the bottom of the lenses. This really opens up the field of view. I have the C12 lenses and find them a nice all-purpose lens. I had the C28 lenses and found they were not quite dark enough in normal sunny conditions. Would also recommend these glasses for biking, golf, or pretty much any sports activity.
Love the Kaenon Hard Kore Sunglasses
paddyo_2001182021
These sunglasses are great. I got the copper lenses and they are superb, especially for partly cloudy days. They have quickly replaced my Maui Jims as my favorite sunglasses. Great clarity - love those lenses.
SNEWS Press Release - HUGE for Kaenon and Hard Kore
Stacy Newton
Kaenon Polarized Takes on Park City Point 2 Point MTB Race

Posted: 08/25/2011 In Category: Outdoor Trade Shows / Events

Industry News Release Written By: Tyler Weaver

Newport Beach, CA — August 25, 2011 — Kaenon Polarized is an official sponsor of the 2011 Park City Point 2 Point mountain bike race. Additionally, Kaenon Polarized sponsored rider, Alex Grant, the winner of the event the past two years, and fellow team rider Marshall Eames, will compete in the 78-mile event on September 3, that will travel between The Canyons, Park City Mountain Resort and Deer Valley. Never crossing the same section of trail twice, the course rises over 14,000 feet, pushing athletes to their physical limits.

"The Point 2 Point is unique in that it is almost all single-track," said Grant. "That makes for a tough day in the saddle because you need to be mentally focused the whole time in order to navigate the technical terrain."

Proper eyewear is a necessity as riders traverse the course. Alex Grant and Marshall Eames wear Kaenon Polarized sunglasses due to the superior optical clarity and protection offered by the patented SR-91 polarized lenses. Preferred by most mountain bikers, the Copper 28 and 50 lens tints (allowing 28% and 50% of essential light to the eye) let riders tune their vision depending on light conditions. Kaenon's collection of Kore Performance sunglasses are the perfect choice for biking in any condition, reducing eye fatigue when riding in and out of shadows, protecting against plants and debris, enhancing contrast when riding on trails, and allowing for increased visual awareness at high speeds.

"Riding single-track for seven hours without stopping requires a lot of focused vision," said Grant. "You need your eyes to be protected and relaxed rather than strained. Kaenon's ultra-efficient polarized lens does that better than any other lens out there."

About Kaenon Polarized
Since 2001, Kaenon Polarized has continued in its mission to provide elite athletes and active lifestyle enthusiasts with unmatched polarized optics and high-performance frames, all with superior fit and luxurious style. With proprietary and revolutionary SR-91 polarized lenses, Kaenon Polarized continues to push the boundaries of active optics with award-winning performance sunglass styles, all available in Single Vision and Freestyle Progressive prescription.
Jamie Mitchell - 10x world champion Molokai 2 Oahu -wears Kaenon Hard Kore
Stacy Newton
http://www.quiksilver.com.au/#/HOME_v/XPLOSIVE_G
New Special Edition JM10 Kaenon for Jamie Mitchell
Stacy Newton
CELEBRATING 10 YEARS OF VICTORY
The New JM10 Inspired by, and Created for Jamie Mitchell

Introducing the JM10 Special Edition Hard Kore which celebrates Jamie Mitchell's unprecedented decade of dominance paddling from Molokai to Oahu and his 10 consecutive World Championship wins. The JM10 Hard Kore features a custom combination of matte black frame finish with white logos – as worn by Jamie in his 10th and final Molokai 2 Oahu World Championship title. The JM10 Hard Kore is available with Grey 12 or Copper 12 lenses and is.

"From the day Jamie strolled into our Newport Beach offices nine years ago, it was clear to me that Jamie would be something very special," said Steve Rosenberg, Kaenon CEO and co-founder. "His pure love for the ocean, his humility and charm was so refreshing. To see him win ten in a row is mind-blowing. To win one is great, to defend is always a special accomplishment, but to dominate and win 10 consecutive years? That's Jordan-esque, Slater-esque. It's freakish! Jamie is truly one of the greatest athletes and inspirations of our time." Read more about Jamie's monumental win here.

Hard Kore JM10 is available now at Kaenon.com and coming soon to a retailer near you.
Mike Horn Internationally Renowned Adventurer wears Kaenon Klay, Rhino, Jetty and Hard Kore
Stacy Newton
An internationally renowned adventurer and founder of the Pangaea Expedition; Mike Horn educates youth about environmental issues while traveling the world.

Prior to the formation of the Young Explorers program, Mike began, what it called, the Amazon Expedition in 1997. Without any form of motorized transport, Mike traversed the entire South American continent alone. Starting at the source of the Amazon River, Mike navigated its entire length using a hydrospeed (a human powered flotation device), hunting for food to survive and resting on the Amazon's riverbanks at night.

Additionally, Mike circumnavigated the globe without any motorized transport, starting in 1999 and ending 18 months later. This expedition thrust Mike into the worldwide spotlight and won him the 2001 Laureus World Alternative Sportsperson of the Year Award as well as an invitation for an audience with Pope Jean-Paul II at the Vatican in Rome.

As similar journey around the Arctic Circle beginning 2002 (lasting 2 years) won him the 2005 Laureus World Alternative Sportsperson of the Year Award.

In 2007, Mike became a member of the Laureus World Sports Academy in recognition of his ground-breaking achievements.

Mike Horn wears Klay, Rhino and Hard Kore.
Great Biking Glassses
Stephen Koch
I have used the Hard Kore sunglasses for a few seasons as my main biking sunglasses. They breath well and have no frame on the bottom which allows excellent visibility for cycling. These shades stay on well and are comfortable.

Bottom line: Great biking shades that I highly recommend.
2nd pair of Kaenon's
sbatten774412
Love these Hard Kore's. Great on the trek bike.

My first pair of Kaenon was the Rhino's

These are my favorite polarized sunglasses.

One negative about Kaenon Sunglasses, the company will not stand behind them as far as fixing Rhino's when the insert pops out. SOmething to consider since they are not a cheap purchase !




My New Favorites
djones1429519
After 10 years in several pairs of Maui Jims, I purchased a pair of Hard Kore G12's. The clarity is amazing and the frames are lightweight and comfortable. The gray tint doesn't overdim your vision and in fact, you forget you are wearing them. These are easily my favorite sunglasses.
Nice, but large
Tyler Danielson
I have a skinny head (6-7/8) and these are way to big for my head that I had to return them. They did look pretty cool, but I could put my thumb between my temple and the glasses they were so wide. If you're someone that has a problem like myself don't get these glasses and go get some polarized Arnettes for half the price.
Killer shades
RockyMtnHigh
These are fantastic sunglasses. The SR-91 lenses are crystal clear, and the polarization is excellent. These are great glasses when polarization is a must (flyfishing, being on the water or snow, or driving on wet roads).

I own the Hard Kore and also the Kore, and I find myself wearing the Hard Kore more often. The Kore are also great sunglasses, but the lens is bigger. While the bigger lens does a slightly better job of blocking light reflecting from below, they also have less air circulation, and are more prone to fog up. The Hard Kore, OTOH, allows a little better air flow, yet still provides excellent coverage. But by no means is the Hard Kore a small or narrow lens; actually, it's closer to the size of other "normal" shades. As should be evident by the picture, these shades do a great job of blocking lateral light, yet they are much lighter than they appear. Of my (too many) sunglasses, these are hands-down my favorites.
AMAZING!!
Stacy Newton
Functional and fashionable frame - the first 'shield' style that you can wear on and OFF the bike. Cool looking and amazing optics. You can't find better lenses than these - worth every penny and then some. *also does NOT scratch easily at all so don't fret about wearing a high end sunglass on the bike!!!!
Golf Glasses
run3144031
I ordered these glasses specifically for golf after watching Brian Gay win a tournament in June. These glasses did not improve my score - however, they have protected my eyes from the sun and wind while not having any distortion and really not even aware that they are on my head. Other glasses required always pushing them back up my nose and usually taking them off before each shot. Not these. They are great, of course they ought to be, and especially the "no frame" on the lower side allows for good vision while looking down at the ball, nothing in the way. A TV doctor said that you should protect your eyes, same as your skin while in the out of doors. Even at $200, I think this is a good buy.
Fantastic Sunglasses
David S
I purchased the Kaenon Hard Core and Rhino Sunglasses after doing much research. I was concerned with purchasing the glasses without trying them. Back Country was very helpful with selection and suggested I order both and see which I prefer and return the other. They arrived, and both fit so well and were of such high quality, I decided to keep both. I bought the sunglasses for competitive sailing and plan to use the Rhino's on more moderate days and Hard Core on the days that really blow with lots of spray. The glasses fit tight, I have even used them without retainers. In a 60 km/h the spray was intense but the glasses shielded me perfectly without water residue. The polarized leneses are fantastic and enhance my ability to see the gusts and waves. Over all, I am thrilled with the products and the service of backcountry.com.
Hard Kore Rocks
Stacy Newton
This is an incredible sunglass frame. The Hard Kore frame fits so well and w/ the open lens at the bottom is incredibly functional for any sport. The lenses are outstanding - like the comment below, they are truly like wearing nothing at all they are so clear and efficient. I forget that I am wearing glasses they are so comfortable. I own other brands but find myself grabbing my Kaenons all the time for everything, they are the best.
great all around
kirbycaril2262567
I got the black frame with medium C28 lenses for playing golf. They are like wearing nothing as far as comfort and the view with the C28 lense is crystal clear in low or bright light with no squinting or eye strain.