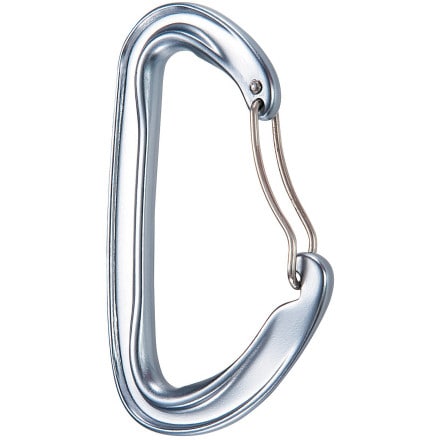 CAMP USA Photon Wire Gate Carabiner
While everyone has been making carabiners smaller and smaller to save weight, CAMP built the full-size Photon Wire Gate Carabiner for a scant 29 grams. Despite the feather-light weight, this carabiner packs a full 21kN rating, so you can whip with confidence. Plus, the full size is easier to clip with gloves on, which makes the Photon a great carabiner for ice and alpine climbing, or any time you want to save weight without having to clip a keychain.
Product Features
| | |
| --- | --- |
| Shape | offset-D |
| Locking | no |
| Gate Type | wire |
| Nose Type | standard |
| Major Axis Strength | 21 kN |
| Minor Axis Strength | 9 kN |
| Open Gate Strength | 7 kN |
| Weight | 29 g |
| Recommended Use | rock, ice, and alpine climbing |
| Manufacturer Warranty | 1 year |
Average Product Reviews (5 Reviews)
Reviews:
Greg G (0)
June 11, 2012
Alpine standard
Ridiculously light carabiner that handles like a standard size Petzl Spirit. 100% NOT for sport climbing, but truly excel for traditionalists.
Kurt Johnson (0)
May 19, 2012
Sharp Edge and Gate Action Fixed, But Action Stiff on New Models
I just handled some of the newer Photon Wire biners, and CAMP seems to have addressed some of the design flaws and quality control issues people have commented on in various reviews. Thankfully, the sharp edge where the wire gate is anchored to the biner is no longer sharp, and the gate action is no longer "floppy" as it was on many units. Unfortunately, they overcompensated with the gate action, and what used to be that perfect balance between too loose and too stiff on most Photons is now a uniform too stiff. At least it doesn't vary from unit to unit as it did in the past, but in fixing the gate action on the Photon, CAMP did away with the one thing besides weight that made it a truly great carabiner. I would now recommend the Photon, but unfortunately, it falls short of it's potential.
Kurt Johnson (0)
February 23, 2012
Numerous potentially dangerous design flaws.
I'm trying REALLY hard to like these biners, but after being given one at a climbing slide show (CAMP carabiners and quickdraws were both given and raffled to audience members) I'm disappointed that they're plagued by design flaws. First, I have to second James' review when he mentioned that the wire gate is "loose, bordering on floppy." This concern is compounded by the fact that the nose is slim and unshrouded, inviting the slightest slip across the rock to open it with ease. Second, the part of the wire gate that's anchored to the carabiner (I'm sure there's a name for it, but it looks like the head of a pin) is so sharp that it can literally cut your finger, not to mention slings. In fact, in a couple reviews I read about the Nano (which suffers from the same problem), one reviewer mentioned that it cut his finger while checking it out at a store, and another reviewer said it tore up his doubled Spectra slings. It's mindboggling that a company as reputable as CAMP would produce such a product. And it's not just the Photon Wire Gate and the Nano; the Orbit Twist Lock and the Photon Express Quickdraws have serious issues as well (see those reviews for further info). Having said all that, my first experience with CAMP biners was the Photon Screw Gate which I fell in love with. It hits that sweet spot of full size and light weight perfectly, which enticed me to further explore what CAMP had to offer. I then graduated to the Photon Express Quickdraws which I recently ordered but haven't yet used (see review). After replacing the dogbones with skinnier ones I'm overall happy with them (the action of the bent wire gates is much better than the straight wire gate of the one I reviewed here), but still concerned with the potential danger of the original setup. At the same time I also ordered a couple Orbit Twist Locks (again, see review) which due to numerous sharp edges should never go near ropes, slings or skin. Needless to say, I won't be buying another CAMP biner or quickdraw unless I check them out in person. And even then, I question their quality in general. With all these design flaws, I can't help but wonder if they're really as solid as they're rated.
dustin.mur1623365 (0)
October 11, 2011
Bomber!
I had the opportunity to use draws with both straight and bent gate Photons and they performed well. I couldn't get over how easy and smooth they clipped. The weight of this full size biner is clutch! I also liked the 9kn rating on a Minor Axis load and I believe this was the highest rating I saw when comparing with other companies. I have compared other biners and the Photon has the best all around light weight and safety specs. I hope CAMP comes out with different colors so I can switch out my heavier color Neutrinos that I currently use to color code my units. I like how CAMP is pushing the standards with this product and in my opinion they have raised the bar with the Photon. Purchase a Photon and put it on a finger tip size unit and head to the Creek! You will agree with me when your pumped and make a effortless clip on a desperate tips crack with the Photon.
James Jenden (0)
September 8, 2011
Light, but...
This biner is obscenely, obnoxiously light. It's awesome. CAMP has taken the next step forward in wire gates in the design of the body, so it makes me very sad that they screwed up on the gate action. I have wiregates from Petzl, Wild Country, Metolius, OPac, and Mad Rock, and the wire gates are tuned perfectly, resulting in a great snappy feel: not too tight, and not too loose. Everybody else is doing it, so why can't CAMP? I feel like they concentrated so much on the engineering of the body that they ignored the gate construction completely. It's loose, bordering on floppy, and you worry that even with a wire gate, it might flutter open, sticking you with the low-as-is-legal open gate strength. I have two of these, but I won't be purchasing more until CAMP fixes the gate action. If you're looking for a good full size biner that's light and won't break the bank, check out the Wild Country Nitro. The only people who I'd even consider recommending this to are alpine climbers who are doing everything they can to cut every last ounce.