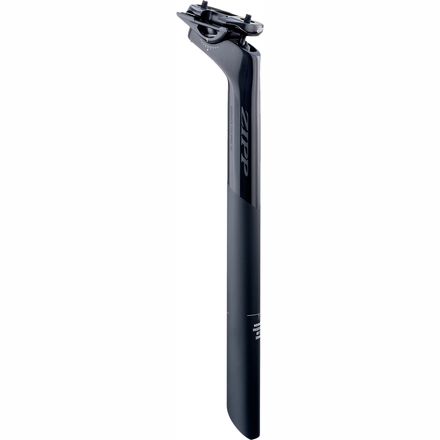 Colors
Even more super light.
By using a single piece, forged head and shaft instead of bonding separate units, Zipp was able to make its Service Course SL Seatpost even more Super Light. The titanium bolts also contribute to weight loss, and the fact that they're easily reached from below means that you can simply adjust your saddle position once it's installed. The clamps themselves feature a low profile which provides more clearance and a wider range of fore/aft adjustment.
Looks good, but terrible bolt placement
Familiarity:

I've used it several times
Looks sleek, but the inner bolt for mounting the saddle is so buried within the seatpost that it's impossible to use a torque wrench to achieve proper tightening. I emailed Zipp about this issue and they recommended I buy an extension with a ball hex end. There are numerous other two-bolt designs that are easier to use.
Roman P.
Zipp is one of the best carbon road wheelset designers in the world, of course. They are also one of the very top designers of cockpit components (stem, bar, seatpost).

The "Service Course SL" is one of the great, benchmark alloy road seatposts. Affordable, light (only 235 g), strong, and great looking. That is a combination that is hard to beat.

Super sexy in "beyond black." Will look great with any frame.

American company/design. Nice.

Install note: If you have a Al, Ti, or steel frame, don't forget to grease the post before installation. (Phil Wood's waterproof grease in the green tube is the classic. ~$10.)

If you have a carbon bike... you must use grip paste to properly set your seatpost. I highly recommend "Finish Line" grip paste ($7/tube). Then tighten the seatpost collar to spec using a quality torque wrench or one of Park's cool new torque keys ($45). Don't over tighten! And you don't need to if you use grip paste and a torque key.
Jonny Heinken
Well-executed aluminum version
Familiarity:

I've put it through the wringer
The SL is pretty light, looks great, and has one of the best seat clamp designs. Cosmetically, the lower portion is matte finish which obscures any scratches from raising and lowering the post. The upper part has that lustrous but stealth finish that characterizes the SL line. The disadvantage of the post is it is still aluminum so it may be stiffer than carbon alternatives, and you may have to use special compound to avoid Al/Ti bonding if you use it with a titanium frame.
Alan B.