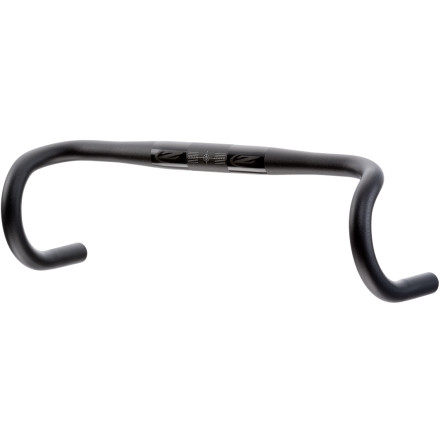 Colors
Got it where it counts.
Aluminum is far from extinct as a high-end bike material. For example, many pros still rely on aluminum handlebars, whether it be for peace of mind or because having a more substantial bar is an intelligent way to meet the UCI minimum weight requirement without sacrificing ride quality. Regardless, the Zipp Service Course SL Handlebar makes the most of aluminum's beneficial properties -- it features a low weight, high strength, and a relatively low cost. All the while, the SL provides the same exquisite design detail that's found in Zipp's carbon fiber bars.
The Service Course SL uses the same shaping for the Short-and-Shallow version as used in the SL Carbon Fiber Handlebar. It's built with round tops that taper downward in a smooth and constant manner from the 31.8mm clamp area to a 24.2mm diameter at the top bend. The drop angle is only 20 degrees. What's the net effect? You're able to position your levers in the high-and-Belgian style, and you'll get a smooth transition from the bar onto the drops.
In addition to this, the Short-and-Shallow bar has a dual radius curve in the drops. So, you'll benefit from the longer, flatter hand surface. We're tempted to call it an anatomic bend,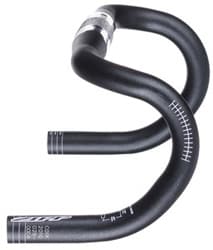 but be aware that the bend shape is, thankfully, subtle and not overly curvy like many anatomic bars of the past. The 84.5mm reach, plus the short radius behind the clamp area, make it easy to get the crook of your hand 'locked' into position for a solid feel in the drops. This also provides a simplified reach to the brake levers. For the drop, the 128mm plunge makes the lower portion of the handlebars more accessible.
Zipp also produces the Service Course SL in a Traditional Bend with an 87.5mm reach and a 130mm drop. If you detest anatomic bars of any sort, but you're looking for a bar with a modest drop, then this is the bar that's best suited to your tastes. With a slightly steeper drop angle than the Short-and-Shallow version, this Traditional Bend will give you a bit more curve in the transition to the hoods.
The Zipp Service Course SL Handlebar is available in the two aforementioned bends and in the colors Beyond Black and Polished Black. Zipp is also offering the bars in 38, 40, 42, and 44mm widths (measured outside-outside). It's also worth a mention that the drops on these bars angle out at two degrees in order to make your wrists more comfortable for long days in the saddle. Please note that the bars are only compatible with 31.8mm clamp diameter stems.