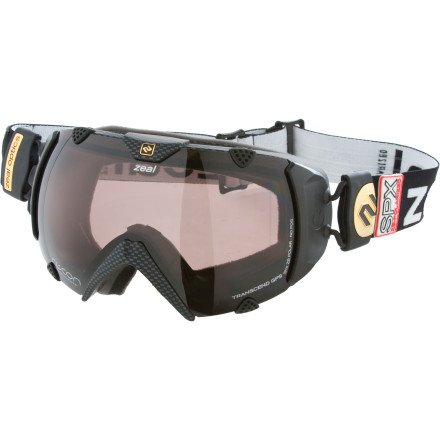 Colors
The future just happened ... and it more even awesome than we thought it'd be.
Last year, the folks at Zeal titillated gear junkies the world over when they introduced the world's first snow goggle with an integrated GPS display. This year, they're expanding the product line and building models with a little friendlier price tag like the Transcend GPS PX Polarized Goggle. Designed with Zeal's industry-leading optics and featuring GPS-enabled tech from Recon Instruments, the Transcend GPX PX represents a whole new way to experience the mountain. Much like your car's dashboard, the GPS display window sits below your field of view and shows you real-time data and helpful stats to help you navigate the terrain. Glove-friendly buttons let you toggle through the different displays, and, when the day is done, you can upload your data to your PC or Mac and relive the experience on Google Earth.
Proposition 65 Warning for California Consumers: This product contains chemicals known to the State of California to cause cancer and/or birth defects or other reproductive harm.
Recorded data includes speed, altitude, distance traveled, vertical drop and gain, longitude and latitude, time, temperature, and a run counter–stopwatch feature also included
LCD Display appears to hover six feet in front of your face for easy reading, while your normal viewing area remains unobstructed
Thanks to GPS enabling, all data is shown in real-time while you're on mountain; for a more detailed analysis of your stats, upload your data to a PC or Mac with the included Recon software
Once uploaded, the GPS data can be mapped out on Google Maps, showing your run history on a satellite image of the mountain so you can prove that you skied the Cirque
USB-powered lithium-ion battery lasts up to six hours, and the glove-friendly power button lets you save the juice for long, boring lift rides
Polarized lens blocks 99-percent of glare and provides an undistorted view of the mountain
Anti-fog lens technology keeps your vision clear during a steamy gondola ride
do these allow you to connect to a smart...
do these allow you to connect to a smart phone
Anthony C.
Best Answer
I'm not sure what you're hoping to connect, but no, they don't. If you want to do something with the GPS data you'll have to download it to a computer first.
Angus Bohanon
I feel like a fighter pilot.
I love these things. I use them for snowkiting and for my application they've been absolutely perfect. Battery life is great, accuracy is great. I carry several GPS units on me but this takes away the hassle of stopping to look at the others. Side to side visabilty isn't as good as a non-gps goggle but given what it is I see just fine. No tunnel vision. They fit in my helmet great and no gap. The lense is awesome.

The only downside I had is the screen doesn't exactly line up with my eye. It worked fine for others but my eyes not quite. I shimmed the screen a little and now it's perfect.

They're a little pricey but given that you get a first rate goggle and GPS system and a hell of a lot of WOW factor they are worth the cost of admission.
Chris Krug
I purchased these goggles December 2010 (the first year they are available) and I would like to say these are a cool toy. The idea of GPS integrated goggles is neat but so much is sacrificed for this one thing. To start off they have bad blind spots because they sit 1 1/8" off of your face. Its heavy and the weight hurt's my nose. The two clips that hold the lens to the top of the chassis don't full lock, And lastly for having a heads up display, Zeal does a good job of making it hard to see the display because it is tucked way down in the corner so it "doesn't obstruct the view" but that COMPLETELY DEFEATS THE PURPOSE. I don't like to mock this unit because so many other people are giving it rave reviews and there is something to be said about being the first of its kind, but for the money it is cheaper to get a GPS and a nice pair of normal goggles that perform better and feel better. I hope other have better luck than me and to finish I think these goggles are cool but with a little more research and development they will be much better.
Brook
Whats the difference between this and last...
Whats the difference between this and last years model?? Just the price?
Joshua H.
No difference between this and last year's models. There are 2 available (and a new one coming in November). The 2 available now are the same except one has a polarized AND photochromic lens and the other (this one) has just a polarized lens, henece the price difference. Backcountry has the description wrong here. The SPX model is not photochromic. I'll let them know.
Sandy Brown