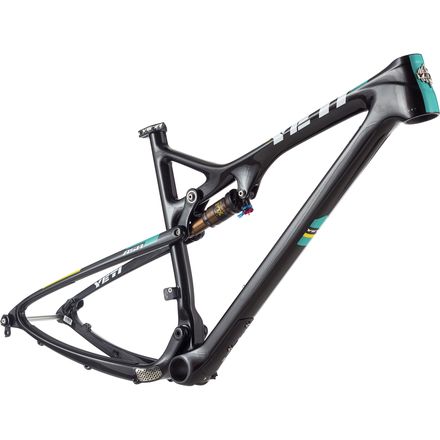 Colors

Detail Images
Precision.
The 2017 Yeti Cycles ASR Turq Mountain Bike Frame may look like an XC rocket, but it wouldn't be a Yeti if it didn't have a little bit of rowdy aggression mixed in. Keeping with its heritage, the ASR sits just a little longer and slacker than most other 4in bikes, which lets it blend the light weight you need to get up hills fast with the stability you want on the other side of the crest. The big news for this year is Yeti's new Turq designation, which represents the company's most advanced construction. Turq means a more precise carbon layup that's carefully molded to reinforce key stress points without adding bulk for strength where it's needed and lightness where is isn't.
The biggest differences between the ASR and its SB4.5 counterpart are a few millimeters less travel, a steeper head tube, and a single pivot suspension rather than the heftier Switch Infinity. This suits it for the XC racer who wants to get to the top first and demonstrate bike handling skills by dissecting terrain that enduro sled bruisers would just wallop through. If Yeti's Super Bike line comprises enduro sledge hammers, then the ASR is the surgeon's scalpel.
That's not to say that the ASR gets timid when grueling climbs let onto jarring descents littered with baby heads, loose shale, and twisty roots. This is where other cross-country bikes would be begging for mercy, yet the ASR shines across abusive terrain and white-knuckle descents. The ASR is built to pair with 27.5 or 29in wheels, depending on size, so the big (or bigger) hoops steamroll anything lying in their path, allowing you to ride over trail impediments with effortless composure. And because it's distinctly Yeti at heart, the ASR proudly retains a gravity-friendly persona with a head tube angle of either 68 or 69 degrees, again depending on size. This more relaxed geometry won't chuck you over the bars like other cross-country bikes when the going gets steep, allowing you to confidently descend on only four inches of suspension where other riders are packing longer-travel bikes.
The ASR eschews Yeti's applauded Switch Infinity in favor of a significantly lighter single-pivot suspension. Not only does this design save a ton of weight for efficiency, but it also simplifies regular maintenance for riders and racers servicing their own bike. The exceptionally stiff high-modulus carbon frame and swing arm complement the lightweight suspension platform, translating into uncompromising acceleration needed for tearing the competition apart.
An aggressive cross-country bike that drops in like a Yeti
4in of single pivot suspension for a stiff, light rear triangle
Slack geometry (for an XC bike) handles bigger terrain
Turq carbon construction adds strength while reducing weight
Wheel sizes matched to frame sizes for rider compatibility
Will the SRAM XX1 156mm Q factor crankset fit on this frame? I thought I remembered Yeti's website saying it would fit (ASR info no longer on the Yeti site), but just saw another persons review above saying it does not fit. I need the narrower Q for my knees.
Michael P.
I have the 156mm Q.f. XX1 crankset on my sz Medium. They fit perfectly.
albeant
I am having problems with a shimano crank contacting the chainstay...spaced out as far as possible and still hit occasionally. I had to put a sticker on the frame to keep it from wearing into the paint/carbon. I was going to go to sram 168q cranks to remedy...
Matthew B.
Wish this frame would quit breaking
Familiarity:

I've put it through the wringer
Update to my 5-star review below. First frame cracked on the top of the seat tube just below the collar. Yeti replaced under warranty. 10 hours on my new frame and exact same thing - cracked seat tube just below the seat post collar. I'm not a kook, I know my way around bicycles and how to install a seatpost so it's not user error. I weigh 155# and I'm not rough on my equipment - never broken a frame in my life. Bummer because this is still the best FS XC frame I've ridden. Makes me afraid of more dangerous failures in the frame design/manufacturing, though.
Jason H.
So f*****g sick
Familiarity:

I've put it through the wringer
I've been a Pivot fan for a long time but got tired of having to buy oversized frames because they haven't updated their geometry to the steeper seat tube and longer top tube geometry that works so well with a slacker head tube. Now I wish I would have made the move sooner. This bike is a rocket ship on xc and xxc trails and the geometry works so incredibly well it's insane.
Jason H.