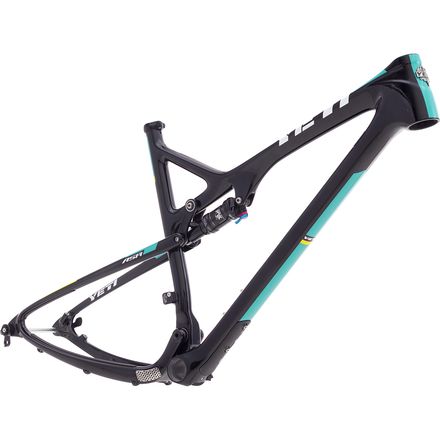 Colors

Detail Images
Bridging the gap between XC and trail.
Sitting a bit longer and slacker than most cross-country whippets, the Yeti ASR Carbon Mountain Bike Frame doubles as a lightweight, lively trail bike when you're not donning a race plate. It's a versatile performer that's confident sprinting for the finish and conquering brutal climbs on cross-country courses, yet it inspires more rider confidence for hitting burlier trail features and enjoying long, sustained descents along the local mountain pass.
This particular ASR Carbon Frame provides all the strength and stiffness of Yeti's high-end Turq series carbon frames, albeit with a weight penalty in the neighborhood of 250 grams (that's about 8.8 ounces). Ultimately, this carbon construction translates to the rocket-like acceleration and precise handling desired by cross-country racers and aggressive trail riders alike.
Though the ASR Carbon occupies much of the same territory as Yeti's newer SB4.5, you'll find it's actually packing a bit less travel, sports a steeper head tube, and rocks a single-pivot suspension instead of the signature Switch Infinity you've come to expect from Yeti. Another difference, the extra-small and small frames use 27.5 inch wheels for a bit nimbler feel with increased stand-over for shorter riders.
Although more basic than Switch Infinity, this single-pivot platform reduces the frame's overall weight and increases the rear triangle stiffness—both characteristics desired for an XC bike. Yeti refined the pedaling characteristics and descending composure of the ASR Carbon by working closely with FOX to fine-tune the suspension rate. What you'll find is snappy acceleration from corners and efficiency on the brutal climbs of XC, yet it's far more confident handling the rough stuff on the trail, with the shock ramping up at end stroke to prevent harsh bottom-outs.
Feathery XC rocket that doubles as an agile trail bike
4in of single-pivot travel balances efficiency and composure
Slacker and longer (for an XC bike) to handle burlier trails
Carbon construction maximizes stiffness and keeps weight down
27.5in wheels on smaller sizes for a nimble, easy-handling feel
29in wheels have a high angle of attack on medium and larger sizes
I'd been thinking about it almost a month. I'm 183cm tall and own all bikes size L when I immediately bought longer seatpost than delivered with original frame. I bought firs yeti beti size L for my wife and then realized I need XL. I need distance from bottom bracket to seat top 82cm and this XL frame still allows me to have a seatpost more than 20 cm.
I like how long is the frame because I needed at least 120mm stem for my other bikes size L. This one will allow me to shorter the stem to 60mm. I haven't been using it for now because I have to wait until I return back to Europe in next year.
I'm happy with good deal so I bought the same frame for my wife.
Thanks to backcountry team for this deal.
Vladimir T.
Super light, super versatiele
Familiarity:

I've used it several times
This frame is the right mix of XC and just enough trail capabilities. You're definitively investing mainly in a XC bike, but with the right components, it's ready to perform great as a trail bike as well.
Kelly
What BB would fit on this frame? PF30. External, internal, threaded, non-threaded, 73mm?
Thank you
Monkeybar
The ASR takes a PF30 bottom bracket.


Kyle Br
Superlight Full-susser!
Familiarity:

I've put it through the wringer
I've had this frame for a year now and couldn't be happier. I built this last year with a mix of XTR, Race Face Next SL, Chris King, and Stans to just over 22 pounds without going crazy expensive on parts. The bike rides smooth, no pedal bob, and the suspension is simple and easy to work on. I ride in Northern VA with a mix of rolling terrain, some roots and rocks, with short punchy climbs.



I've raced multiple years of Specialized Epics and this bike rides just as well. It's no long-travel trail bike, but for it's intended purpose, the ASRc is spot on.
Charlie Davis