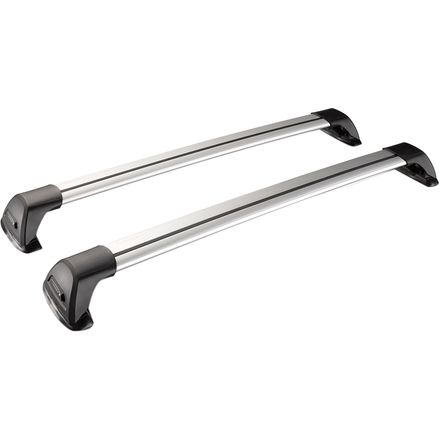 Colors
Turn the volume down.
Yakima's Whispbar Flush Bar Rack Kit is designed to reduce the profile of the bars on your roof, which means less air hits them, which means that air makes less noise as it moves around your racks. The aerofoil shape is based on an airplane wing, which won't make your car fly, but it will cut through the wind.
Flush model designed for vehicles with no running rails Includes two crossbars, four towers with SKS locks, four SmartFoot mounting components with mounting pads
Unanswered Question
Which of these styles will fit my Mazda 3 hatchback?
gabe barbato
Are the bars priced in pairs?
Matthew R.
Matthew,

Yes, the price you see is for a pair of bars.



all the best
Matt Myers
Unanswered Question
I have a 2013 Ford Focus Sedan, would anyone be able to tell me if the rack will fit on it and what size I would need to get? Thanks
Devon Evanitus
Hey guys,

Do you know what size in the Yakima Whispbar Flush Bar Rack Kit I need to get for my 2015 Toyota 4Runner SR5?

Get to me when you can and thanks much!
Megan
Megan O.
Hey Megan,



We would love to help, but need to know about your cross bars before we could answer. If you go to www.yakima.com and go to " Add Your Vehicle" just under the Yakima banner, it will walk you right through it!



Thanks,

Ashleigh

Gearhead/Account Manager
Ashleigh McClary
Unanswered Question
Would this system hook right into the doors of my car or would I need to purchase something additional to make it do that?
Kassidy G.
Unanswered Question
Which roof rack is for a mk6 vw gti 2 door.
Kali Kight
Unanswered Question
Will this fit a 2016 Volkswagen GTI 2 door
Roy Campbell
Quiet Rack!
Familiarity:

I've put it through the wringer
This rack is another winner from Yakima. Quiet and compatible with other Yakima accessories. Look is sleek and much quieter than the traditional round bars.
Z-Family
Unanswered Question
Can i please get an answer about if fit my Audi S4 B5 2.7turbocharged 4doors sedan 2002

Carlos Vásquez
Unanswered Question
Would this cross bar fits y Audi s4 b5 2.7t 4 doors sedan 2002 ?

Carlos Vásquez
Unanswered Question
What system would I need to purchase for my son's 2007 328xi BMW?
kelly marshall
Awesome roof racks!
Familiarity:

I've used it several times
Make sure you pay attention to what the Yakima website recommends for your vehicle or you'll end up ordering the wrong thing like I did. I messed up and ordered the 1B, because it's 1/2 the price of the 2B, and shows 2 racks in the picture. I now know the 1B means there's only 1 bar in the box... So after ordering the 2nd bar, got it all hooked up and I couldn't be happier! Mounted right up to the preexisting roof mount holes in my Subaru Forester (with the footprint kit that's sold separately). It holds our two mountain bikes with no problems, and doesn't make any popping or clunking noises going around corners like I've experienced with other brand racks. The only wind noise I've noticed from the racks is when there is a nasty crosswind, but I honestly think the wind noise comes more from my Yakima Fork Lifts rather than the Whispbars. I'd highly recommend these to anyone who hauls anything on their roof!
B-Man 518
Unanswered Question
I have a 2011 VW Jetta Sportwagen with the...
I have a 2011 VW Jetta Sportwagen with the factory roof rails and sunroof. Yakima's fit guide says I need the S25 version of these bars and also says I need a fit kit, but I can't find out which fit kit. Can someone tell me? Also, do these bars sit high enough to let the sunroof open fully?
Brad D
Awesome Racks
Familiarity:

I've put it through the wringer
Bought Whispbar racks for my Toyota Prius. Tried them out for about a week before adding anything to them. They were so quiet I could not tell they were even on the car. Added the RocketBox 12 and took a trip from San Diego to Canada (2000+ miles). My mileage was about 36 per gallon compared to about 44 or 45 without the RocketBox, which I consider very good.
Mark H.
For an Audi S4 sedan, do I need to order...
For an Audi S4 sedan, do I need to order 2 of these? (WHISPBAR FLUSH BAR S5 #8050123 specified). In addition, I noticed that the required (WHISPBAR FIT KIT K390 #8051390) is out of stock. here at backcountry. Please advise thank you! Happy Father's day to all the Dad's out there!
Jonathan
Hey Jonathan,

It look slike we only have the Half for the S5, which means that it only comes with 1 bar, so if you want to get them from Backcountry you will need 2 of those. As for the K390 fit kit we currently don't have any on order from Yakima. Sorry about the inconvenience.
Travis Tzioumis
do I need to order the fit kit with this...
do I need to order the fit kit with this package or is it included?
yourDisplayName
Great question. Can someone please answer this question?


Laura
It depends on your vehicle, whether you have factory installed rails or a naked roof. It is always best to check with Yakima's Fit Guide first or asking one of our gearhead's with your make, model, year and roof fittings before purchasing. Most likely you will need one of these fit kits.



http://www.backcountry.com/yakima-whispbar-fitting-kit?ti=U2VhcmNoIFJlc3VsdHM6eWFraW1hIGZpdCBraXQ6MToxOnlha2ltYSBmaXQga2l0&skid=YAK0316-ONECOL-K00A
Travis Tzioumis
Can this work on the Prius V wagon?
Can this work on the Prius V wagon?
Steven L.
Amber H
"Half kit lets you replace a damaged crossbar or add another bar to an existing rack to help distribute a load on your roof

Aerodynamic, silver crossbar is sleek, highly functional and extremely quiet."
Alyssa Forrest
Perfect Gear Addition
Familiarity:

I've used it once or twice and have initial impressions
Installed on '12 Mazdaspeed3; fixed-point roof.



Installation took about an hour using nothing more than an allen wrench and a tape measure. I couldn't noticed a difference in noise level with or without the base bars.



This has a rubber gasket that fills a t-slot, which holds attachments to the bars. When you want to put something on the bars; remove the covers, slide out the gaskets, slide in the attachment, then put the gaskets back in using your fingers to get them under the attachment points and needle-nose pliers to pull it through the last couple inches. If you don't install the gasket, the rack will whistle like crazy at anything above 30mph. With the gasket, it didn't make a sound, even with skis and a snowboard.



Definitely worth the investment, and I'll be picking up some bike tray come spring.
Jon
Need the whisper bar s6... Tell someone...
Need the whisper bar s6... Tell someone to place the order with yakima. It takes them a little time to ship and we want to get up there as soon as the snow flys...
Chabidiah
We have the S6 available above and ship pretty quickly. Just add it to your cart and proceed to checkout to find out what your delivery options would be.
Artur D.