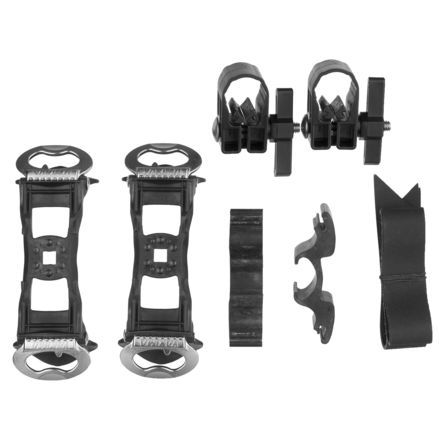 Colors
Multimounts make sure the oars, masts and paddles get there too.
The Yakima Multimounts 1 pair provide excellent protection with tough, molded nylon, and eliminates the need for ropes, lines or knots.
Nice little gadget. Make carrying paddles much easier, especially on my Jeep Liberty. I don't have to shoehorn the paddle in the back!
Steven P.
I use my MultiMounts with a 4" diameter PVC tube for fishing rods. Numerous 12 hr trips to Canada and back and no problems. Never had a strap loosen, always very secure. Use the Yakima Accessory Lock Housing ( http://www.backcountry.com/yakima-accessory-lock-housing) to make sure nobody steals your mounts in the parking lot.
These mounts have opened up a lot of space inside the cab of my truck. Its hard to transport 7ft fishing rods and four people with all their Boundary Waters gear inside an SUV, but the Multimounts solved that problem.
brett fritzler
Unanswered Question
Will this go onto 4runner sport factor...
Will this go onto 4runner sport factor racks? or the lengthwise round bars?
Summit
Can I used this Yakima Multimounts for a...
Can I used this Yakima Multimounts for a shovels & Axes and they hold securely?
Lien N.
I wouldn't do it. The straps don't grip very tight. Why it is good for kayak paddles is that there are wide paddle blades on either end that won't pass through the small 5" opening. If you had an axe with a single head on it, what would keep it from sliding on through? Perhaps you could get the straps tight enough, but would it be worth the risk of an axe flying down the Interstate if you had to apply the brakes hard?
Chase Crowson
Not necessary, but totally worth it!
These really opened up a lot of space for passengers and gear in my car. I used to carry kayak paddles and other long objects in the car which was pretty awkward, and it required the back seat(s) to be folded down. They're also way more secure than just lashing things to the rack.
Maximus Gradient
The Multimounts were an addition to my rack to hold paddles and fishing poles. I use the mounts all the time and have been really happy with them; they are a great way to get long, bothersome items out of the inside of my vehicle. Although they do work well, I've had a little problem with the strap not holding smaller items as tightly as I would like them to.
JenColvin
Fast shipping. will use this company again. Multimount good also.
roberwil