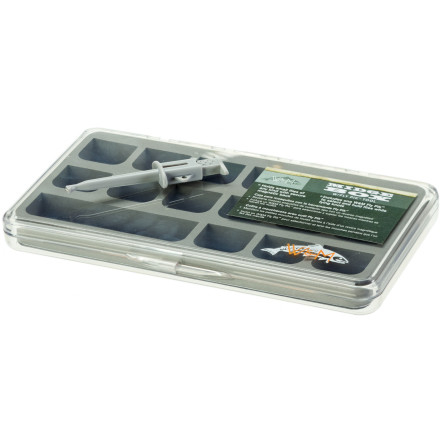 Colors
Grab the right fly every time with the Wright & McGill Co. Midge Box with Fly Pik Tool. The boxes magnetic backing keeps flies in place, while the Fly Pik ensures you snatch the fly you need in a pinch.
Magnetic back securely holds small flies
Included Fly Pik allows you to select and hold flies while tying knots
Fly Pik also makes a great hackle plier
love it
Familiarity:

I've put it through the wringer
magnet works great and holds all my midges and nymphs.
I even dropped mine and it open up when it hit the ground, and most of them stayed put on the magnet.
Ryan
I use this for all my small flies and it's pretty great. as mentioned before, the Fly Pik is sort of worthless. I would just rather use that space for something else. The magnet works fine. I put all my flies in and shook it upside down and none fell out.
Rich F
This box is unreal for your little flies. I keep all my midge dries in one, midge nymphs in another, and then most of my pmd and bwo nymphs in another. For those little flies I like the magnet compartment box more than trying to stick size 20 flies in and out of foam. Also these boxes are so slim they are not a burden to carry. Now I pretty much always have my midge with me because they take up no room in my pack. I have had a number of magnetic boxes in the past and one thing I really like about this one it the foam is high enough so that when the top is closed there is no gap between the foam and the plastic lid - therefore your flies can't just compartments and get disorganized while hiking. This box is awesome but the fly pic it comes with is pretty much worthless though. Picking up the flies in the deep compartments can be a little tricky at first. To pick up the flies, I normally just lick my finger and the flies stick to it.
Brandon Collett
Great fly box with easy to see compartments and the magnets keep all those little flies nice and secure. A few things I dont like.

The holes where the flies go are fairly deep. THis would be ok if the fly pik was functional, but from what ive seen it seems more a gimmic than anything. But hey! its a $10 magnetic fly box. I like it
Chris jenney