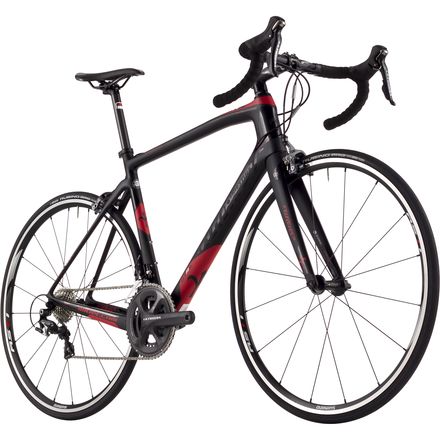 Colors

Detail Images
Our desert island bike.
If we had one critique of Wilier's GTR Team frame, it's that the lower grade carbon used in its construction bumps the claimed weight up above the 1,100g mark. That's pretty petty, we know, especially when the half-endurance/half-race geometry makes it such a pure joy to ride. Wilier addresses this petty concern with the GTR SL Ultegra Complete Road Bike, which combines a full Shimano Ultegra drivetrain — even the crankset, which is often where specs take a miserly turn — with a lightweight frame that comes within 200g of the Zero.7 super bike. If we were stuck on a desert island with a 50-mile tarmac circuit that included a crosswind-riddled coastal stretch, a long, sweeping descent, and a CAT 1 climb, this may be the bike we'd want with us.
We're aware that there are some potential pitfalls anytime we designate a frame's geometry as "endurance." It conjures images of upright, boardwalk cruising or weekend charity sportives punctuated with frequent stops for trail mix and under-ripe banana halves in volunteer-staffed rest areas. The GTR SL is happy to dabble in those passive pastimes, but its take on "endurance" geometry actually falls between the comfort-focused machines produced by most manufacturers and the Euro-slammed race bikes populating criteriums the world over. The GTR geometry manages to feel at home in everything from circuit races to hill climbs to coffee shop loops. It may not be the capital-B Best at any one discipline, but few of the endurance frames we've ridden over the past several years do so well in so many applications.
When compared with the GTR Team, the GTR SL frame at the bike's heart loses about 200g of claimed weight by bumping the Mitsubishi carbon up from 46/30t to a truly high-modulus 60/40t mix. Those impressive numbers let Wilier hit its targets for stiffness-to-weight ratio with much less material. There is a corresponding increase in price, but — given the weight savings — we think it's worth it to spring for the SL.
In a signature Wilier design move, the GTR SL's head tube is built up with a squared shape for greater resistance to flex under hard torque and impeccable handling during fast, sweeping descents. Wilier calls the design Easy Drive, an appropriate title considering that the GTR SL practically feels like it's on auto-pilot while descending, sticking to lines through corners with an almost intuitive hand as though it's the one doing the driving. That precise front end is paired with a surface-smoothing rear triangle, which manages to eat road noise and reduce rider fatigue while still boasting an oversized bottom bracket and chainstays for responsive power transfer.

An all-purpose road bike that brings dreams within reach
Versatile geometry blends endurance and race elements
Mitsubishi carbon provides an uncompromising platform for watts
Reinforced head tube keeps tracking on point through fast corners
200g lighter than standard GTR frameset
Ultegra drivetrain rounds out a build that's ready for training, charity centuries, and racing alike
Quick and comfy
Familiarity:

I've used it once or twice and have initial impressions
Switched from Cento1 SuperLeggera - needed more relaxed positioning - and love it so far. Same fast, tight, responsive feel as Cento1, but just easier on neck and shoulders. Switched wheels, though. The RS11s are meh.
Todd F.
So stiff and fast
Familiarity:

I've used it several times
Upgrading from a Chinese frame and I love this bike. So smooth and stylish. Flat handlebars, stiff crank and LOVE that it is 100% ultegra. I upgraded my wheels and know that this baby will be my ride for many years and many feet of elevation!
Ben F.
Unanswered Question
So would you swap out the crankset for a mid compact? Thank you Tim
Tim D.
Is the 6800 rear derailleur on this Wilier GTR SL Ultegra Complete Road Bike - 2016 the long cage model, GS?
Nobby Kealey
No, this will have the standard short cage derailleur.
Greg Celentano
Can the Rear Derailleur accommodate an 11-32 cassette?

Thanks, JL Johnson
JL J.
No, this will have the standard short cage derailleur.
Greg Celentano
The Maserati of Cycling
Familiarity:

I've used it several times
Overstated elegance, style, comfort, sportiness and performance with a long and glorious heritage. Yes, the Grand Turismo looks like a rolling billboard but, what is lacks in subtlety, it makes up for in comfort and performance -- think of an exotic sports sedan. There seems to be a trend toward frames that inspire riders to pedal long distances; for this you'll want a supple stead (it can take up to a 28mm tyre to absorb any road cabbage) that is fun to ride. The Wilier GTR SL does this exceptionally well. The bike's handling and acceleration is superb (granted, not on par with a full-on race machine); truly a pleasure to ride. While I'm not a huge fan of the frame's graphics, it does have a very sporty look and feel; unlike some "grandpa bikes" that compete in this category.
Anonymous
Is it possible to custom configure this bike from a frameset? Specifically, Campy Chorus groupo (11-29 and mid-compact crank), Campy or Zipp carbon wheels, and different saddle and tires? Thanks.
Dustin L.
Best Answer
Hey Dustin, what changes are you wanting to make from the stock build? Feel free to contact me directly and I can help you out.



Thanks!
Brennan K