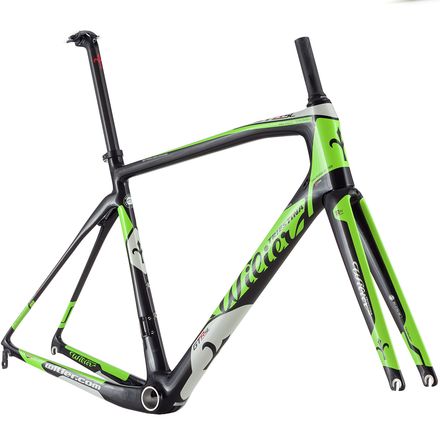 Colors

Detail Images
A jack of all trades.
The 2017 Wilier GTR SL Road Frameset flies against current trends in ever more specialized function. Its versatile endurance geometry and wider tire clearance collaborate with lightweight carbon construction to create a bike that may not be the best at any one thing, but boats the versatility to try everything from crosswind-riddled coastal roads to mountain climbs and prairie flats alike. For those of us who pride long-mile comfort and the ability to use one bike across many applications over race-bred, marginal gains aggression, the GTR SL is poised to be the bike you'll want to take along for the ride.
We're aware that there's potential for negative assumptions anytime we designate a frame's geometry as "endurance." It conjures images of upright boardwalk cruisers or weekend charity fondos punctuated with frequent stops for peanut butter sandwich quarters and tiny cups of candy-coated chocolates in volunteer-staffed rest areas. The GTR SL is happy to dabble in those passive pastimes, but its take on "endurance" geometry actually falls between the comfort-focused machines produced by most manufacturers and the Euro-slammed race bikes populating criteriums the world over. The GTR geometry manages to feel at home in everything from circuit races to hill climbs to coffee shop loops. It may not be the capital-B Best at any one discipline, but few of the endurance frames we've ridden over the past several years do so well in so many applications.
When compared to the GTR Team, the GTR SL frame loses about 200g of claimed weight by bumping the Mitsubishi carbon up from 46/30t to a truly high-modulus 60/46t mix. Those impressive numbers let Wilier hit its targets for stiffness-to-weight ratio with much less material. There is a corresponding increase in price, but — given the weight savings — we think it's worth it to spring for the SL.
In a signature Wilier design move, the GTR SL's head tube is built up with a squared shape for greater resistance to flex under hard torque and impeccable handling during fast, sweeping descents. Wilier calls the design Easy Drive, an appropriate title considering that the GTR SL practically feels like it's on auto-pilot while descending, sticking to lines through corners with an almost intuitive hand as though it's the one doing the driving. That precise front end is paired with a surface-smoothing rear triangle, which manages to eat road noise and reduce rider fatigue while still boasting an oversized bottom bracket and chainstays for responsive power transfer.
A versatile endurance road bike
Endurance geometry for comfort over long miles
Carbon construction blends light weight, stiffness, and comfort
Beefy BB86 bottom bracket shell for efficient power transfer
Tire clearance accommodates up to 28mm tire width
Compatible with mechanical and electronic drivetrains