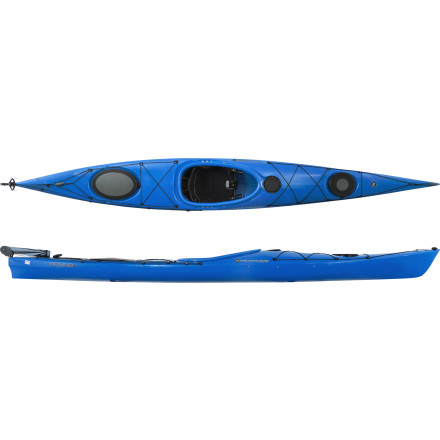 Colors
A totally new take on a performance touring kayak.
Fifteen feet of sleek, streamlined plastic at your beck and call, and your boss actually expects you to hone in on line 138458 of the world's most boring spreadsheet—ever. You could stay and struggle through line after line of sheer torture, or you could slip out during lunch, pop the Wilderness Systems Focus 150 Ruddered Kayak on top of your car, and drive to the nearest body of water.

The Focus' plastic hull sensuously molds into a shallow V keel and then seamlessly slips into rounded chines—that's the kind of shape that provides magical maeuvering and gets your heart a-thumping whether you're hitting a quick 30-minute arm-burner or paddling into the wind to reach a previously undiscovered island on the lake. Curves turn the Focus 150 into a screaming speed machine when you put power in your paddling. If straight lines make you hot to trot, drop the BTS rudder and find a fan—and fast. The cockpit bears the same dimensions as the Focus 145, but an extra six inches of boating heaven gives your lithe limbs a little extra stretching space.
Adjustable hip pads and padded thigh braces redefine pleasure paddling. Bow and stern hatches serve several purposes: their volume buoys the boat, they safely store dry bags full of adventure-bound gear, and they minimize the amount of water that enters your boat. The deck rigging design puts your rain shell at your fingertips when the forecast for sun seems to be mistaken and lets you store an extra (2-piece) paddle and pump behind you.
Polyethylene
Hull shape: rounded chines, shallow V
Phase 3 AirPro XP seat
Adjustable thigh pads
BTS rudder
Bow and stern hatches, domed rubber covers
Bungee deck rigging