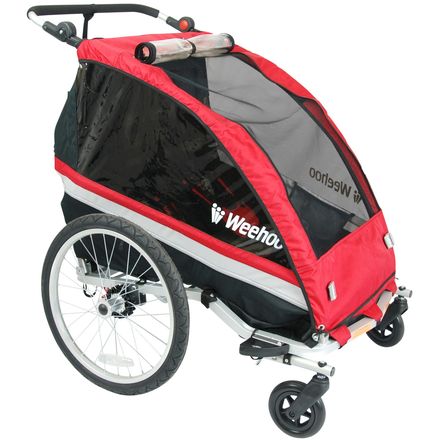 Family-friendly training.
When you're out with your child in the Weehoo WeeGo Buggy Bicycle Trailer and Jogger, either riding around the lake or jogging through the park, passersby may be inclined to note your remarkable dedication as a parent. What they don't know is that, come race day, the extra weight and drag of the WeeGo won't be behind your rear wheel. While your kids are eating cereal out of sandwich bags, you'll be crushing base miles and intervals with the added benefits of resistance training while practicing bike-to-run transitions.
The WeeGo is adjustable for single or double occupancy, and the option of a mesh front panel or a fully sealed, anti-element plastic windscreen means your passengers will enjoy their toasted oat cereal in comfort, regardless of weather conditions.
High quality, design, style and value
Familiarity:

I've used it several times
This kids trailer is extremely well designed and constructed. Very light weight, versatile and strong. Excellent seating compartment and restraints which can be quickly reconfigured between one in the middle or two side-by-side. I like everything about this unit and I'm a very satisfied customer. Not sure if its better than the Burley Bee, but I can't see how you ask for anything more that the Weehoo. Quality of wheels and tires: A+. I had to purchase a custom 12x142 thru-axle from the Robert Axle Project. https://robertaxleproject.com/ It fit my bike and the trailer perfectly though it was a bit pricey at $65 w/ shipping. I am towing this unit behind a Lynskey Ridgeline 29er with a 1000W Bafang kit. 30 MPH no problem. Fun fun fun!
Clifford B.
Weehoo Weego
Familiarity:

I've put it through the wringer
It was shipped fast and everything came in the box exactly as described and was easy to put together. No tools needed. The people at backcountry were quick to help with any questions. It felt very intimate, like someone was there to help me the entire time just like if i were to physically shop at a sports store. I was pleased with the purchase and the service and the product. I even got an amazing deal. The product was on sale for 100 dollars off the retail price. I'm pleased. Very very pleased and will come to backcountry for my sports shopping needs. I love my Weehoo Weego buggy!!!
Craig L.
Weehoo weego
Familiarity:

I've put it through the wringer
My boy looks so comfortable when riding the harness / straps so comfy easy to set up
Victor E.
Best 2 in 1
Familiarity:

I've put it through the wringer
I'm a new cyclists and runner. I initially purchased a cheap biking trailer and after 2 rides I knew it wouldn't be the long term solution. After much research and comparisons I decided on this Cadillac. I received the first package with some missing items (due to poor handling during shipping) but Backcountry rectified that immediately.
After set up I took it for a test run and ride. When the weekend rolled around I completed a 30+ mile bike ride on Saturday and half marathon on mixed terrain on Sunday with my toddler without complaint. Actually there was a complaint...
Taneika D
Kiddo bike trailer
Familiarity:

I've used it once or twice and have initial impressions
We've only used it once, but so far it's been good. I like that we were able to move the harness to the middle when our only child is riding, but can also fit two kids when we have friends along for the ride. The plastic cover piece on the front stroller wheel did get scratched really easily (just from rubbing on the concrete during assembly).
Dawn S.
Gave this as a baby shower gift, to an active couple. They where ecstatic! It was a ease to put together and fun to handle.
Katie Stewart
My daughter loves her trailer.
Familiarity:

I've put it through the wringer
My wife and I looked at all the bike trailers Backcountry and competitive cyclist carry. The Burleys, and the chariots. But the price won us over on the Weehoo. It is light weight and easy to pull behind our bikes. Weehoo's also has a great customer service dept. if you ever need to order a replacement part like I did (not their fault, lost the hitch when we moved). My daughter can only say a couple words clearly, but one of her favorite words is Ride. She loves going for rides in the trailer, and the wife likes the fact we are out of the house, and the pounds I'm losing pulling her around. I would recommend this trailer to all my friends that are looking at getting a bike trailer. It was nice that it came with the jogging kit just in case, but we still have yet used it.
Nick N.
Unanswered Question
Hi, I am just wondering how long postage is on an item like this to Australia?
Libby
Libby Teki
Best Trailer/Jogger and Customer Service
Familiarity:

I've put it through the wringer
This is hands down the best trailer/jogger I have owned. I have bought jogging strollers and bike trailers for my bike in the past and more than once over the last 21 years (my children are 24, 21 and 2) but this one is the best ever! I wish I would have started with this one when she was younger. The WeeGo arrived and was VERY easy to put together even with the "help" of a 2 year old! We had this put together and the harness adjusted to a one child trailer and out the door in less than 20 minutes! This also adjusts back to a 2 child trailer quickly for when her friend comes over and they want to go out for a ride. This has enough room for toys and books when running or riding with your little one. My daughter is as tall as most 4 year old's and there is plenty of room! The customer service with this product has been the best experience ever and even if I could would rate it even higher than a 5. I only had to explain what was needed and they had the parts on the way to the house (NOT because of issues with their product ALL user issues!) The people I contacted were great and they have even been nice enough not to laugh over the last incident. This will not be our only Weehoo product and will graduate the trailer type as she ages and gets older.
Beth
Awesome Customer Service and Product
Familiarity:

I've used it several times
First off I would like to say ordering it was such an easy thing to do. Also when I ordered my Wee Hoo the first time there were some minor defects (occurred from shipping), but Backcountry took care of it and was an easy process. I ordered the weehoo weego. I needed something that I could use for my 4 year old who is 2 years behind due to medical reasons. However I didn't want a wheelchair yet. The material is great and the smoothness of pushing is amazing and it turns on a dime. My son is 43 inches tall and loves it. He still has at least 2 1/2-3 inches head room to grow I have been asked my several people already where I have gotten this. The wt limit is 100. So if you have two big pre schoolers it may be a little snug but it should work. Excellent storage space.You can somewhat easily adjust it for a single rider. I have not tried it on my bike at this point. The few things.I would change is the location of the brakes and folding it up. The two side tires pop on and off it does fold down somewhat easily. It does take up some room when storing it. Overall the the quality and the price it is totally worth it. Thank you Backcountry and Weehoo for this awesome experience.
Kristina M.
Great trailer even better value
Familiarity:

I've used it several times
We looked a several trailers in the $400 -$550 price range and this trailer had all the bells and whistles for half the price.
Sure you can spend more, but this gives you everything you need for jogging, walking, or bike riding.

Christopher
Great trailer/stroller/jogger!
Familiarity:

I've used it once or twice and have initial impressions
At $239 this is the best stroller for the price, even at full retail it would still be a great deal! The seats and straps are padded and quite cushy, and the fact that a stroller wheel and bike hitch are included is a great value. There is generous storage behind the seats and overall this looks like a very well-made piece.

I chose this trailer for the price and accessories that were included and I feel I chose well. The stroller wheel was the key selling point for me. It included with purchase whereas most bike trailers charge $70 for the stroller kit. But it's a large swivel wheel which makes it great for jogging and strolling. Most other trailers you would have to buy the stroller kit AND the jogger kit separately!

I live in Steamboat Springs, CO where it snows a LOT and the nights are chilly year round. I intend to use this as a bike trailer in the summer, and enclosed stroller in the winter. The large front tire is key for me because the paths are often snow-packed in the winter.

If you're on the fence about buying this and feel the price is too good to be true, it's not. Thank you weehoo, for designing a great product at a great value.
Jessica B.
Bang for your buck
Familiarity:

I've used it several times
I was considering burley trailers because they are light, easy to fold but many entry models, you have to buy separate accessories to turn it into stroller or jogger. However, WeeGo bike trailer solves this problem in one package. With currently marked down price, this is definitely a best buy when it comes to getting the most value out. I have hauled almost 5 and almost 8 yr old together, they combine ~90lbs. The height of the trailer is pretty high, easily accommodating tall kids. The trailer is pretty light.

Pros:
1. Light.
2. Far more affordable than other competitors products with similar quality.
3. Rides smoothly and well (riding at 20mph was no problem)
4. 2 breaks
5. Comes with a detachable front swivel wheel that can convert the trailer into jogger or stroller.
6. Very spacious. both passenger and cargo space.
7. Kids love it!

A few drawbacks:
1. breaks can make rattling noisy when pulling as a trailer on a bumpy road.
2. It's not difficult but it's not as easy as to fold like trailers from Burley. But much much cheaper.
3. In order to convert from 2 seater harness configuration to 1 seater harness config, you have to take both out and install 1 in the middle, which can be a bit annoying and time consuming.
H L