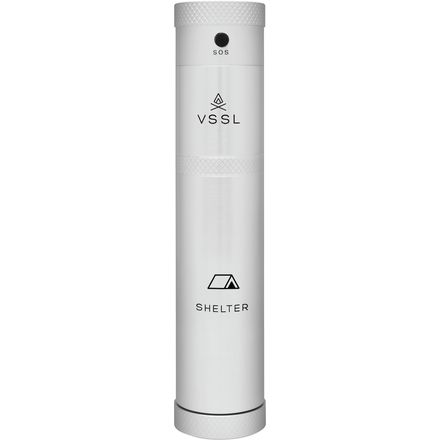 Never without refuge.
From time to time, things go awry on the trail or on the road, which is why the folks over at VSSL created the Shelter Cache: to ensure you're never without refuge or warmth. The anodized aluminum exterior is durable and weather-resistant, while the cache itself features an integrated flashlight. This flashlight touts two modes: SOS and static, which allows you to signal for help should you need it. Now, the most important part is the emergency shelter, which is designed to accommodate two people or doubles as an emergency blanket to prevent hypothermia. Additionally, the tent's reflective surface offers high visibility, furthering its tactical appeal. The shelter is equipped with 20-feet of rope and two anodized eye screws so you're able to set up shop relatively easy. Not to mention, the Shelter Cache hosts an oil-filled compass for navigational purposes.
A flashlight with included emergency shelter
20-feet of rope and anodized eye screws secure shelter
Compass offers emergency navigation
Flashlight features dual-mode: SOS and static
Batteries are included
Gimme Shelter
Familiarity:

I've used it once or twice and have initial impressions
To quote the Rolling Stones:

Oh, a storm is threat'ning
My very life today
If I don't get some shelter
Oh yeah, I'm gonna fade away

Being prepared for emergencies is never a bad thing, and there are many essential items for anyone who enjoys getting out in the wilderness.

A good emergency shelter kit is one of those items.

This Shelter Cache comes with a compass on one end, a 3 LED flashlight on the other, which has 2 different settings (full, SOS), along with 20' of paracord, an emergency tarp, and eyescrews to use as needed to string up the cord.

Only quibble: the canister is not particularly light. I haven't thrown it on the scale yet to weigh it, but it feels like it weighs at least a pound if not more.

Of course, that "heavy" canister is far more durable than the plastic bags that many other emergency survival kits come in, and both the removable compass and flashlight have O-rings to help seal the canister when threaded on.


Steven Sheffield