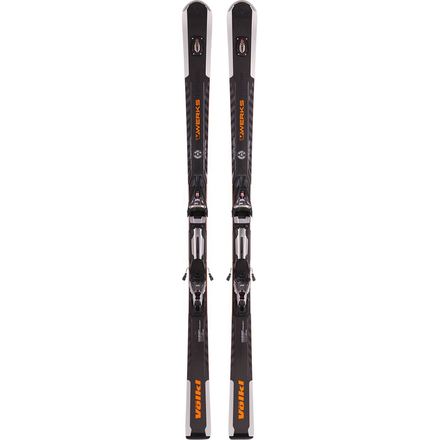 Colors
If you didn't have principles, you'd be a snowboarder.
To ski a ski with less power and precision than the Volkl V-Werks Code UVO Ski would be a direct infringement on the strict code you ski by. You believe in skiing the best of the best, and that is why you rely on the hard-charging reputation of Volkl to keep you carving down the mountain at cheek-flapping speeds with complete confidence in the skis on your feet.
Volkl didn't hold back on this one. Instead, Volkl threw in just about all of its ground-breaking technologies, resulting in a ski that's powerful, yet confidence inspiring on the frontside. Being a member of the V-Werks line, the Code sports 3D.Ridge technology, a full carbon jacket, and 3D Profile sidewalls underfoot, which all come together to give the ski a ridiculously lightweight feel, serious power, and the ability to hold an edge on the most knee-jarring boilerplate you encounter. The nimble 75mm waist will instinctively move from edge to edge, requiring very little effort on your part, while the tip and tail rocker only ease turn initiation. It wouldn't be a frontside ski if it didn't have a good amount of camber to link up turns, and in this regard, the Code does not disappoint. Camber underfoot keep the skis hugging tight to the snow, so you can keep your turns tighter than a pair of briefs, while the Sensorwood core gives the ski a responsive and predictable flex, so you can anticipate how the skis will react when you throw them on edge and rail turns like a bullet train.
Tip and tail rocker, camber underfoot
3D.Ridge technology (sidewalls underfoot)
MOE Carbon Hybrid construction
V-Werks technology
Sensorwood core
75mm waist width
rMotion 12.0 D V-Werks binding included