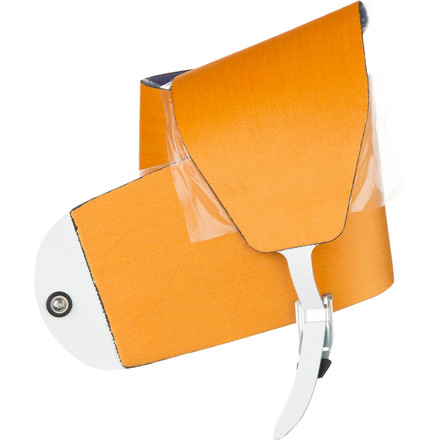 Colors
Say no to glue.
Volkl's revolutionary new skin design eliminates the mess and inconvenience of tacky skin glue through their unique and effective vacuum technology. Through the use of their skin pin system, the skins hold tight to the base of the ski through an adhesive base layer that produces a vacuum when fitted to the ski. This technology eliminates the need for traditional skin glues, skin savers, and drastically increases the life of the skin. These skins are pre-cut to match Volkl's V-Werks BMT 122 Ski.
Nylon, mohair blend with flourocarbon treatment
Glue-less vacuum adhesive surface
Skin Pin system
Pre-cut to fit Volkl V-Werks BMT 122 Ski
Does not stick, tails fall off...
Went into the BC of Sugarbowl with these. The tails constantly fall off, and the strap won't stay tight ( perhaps this can be fixed) The skins themselves don't stick very well compared to normal skins, and not sure you can trust these.

On top of it all they are expensive.




Tom Grant
Really. Avoid These Skins.
My experience has been similar to others here. These skins don't stick well to the bases. Yesterday, my skin came off on a climb in a really steep spot. This is a serious safety issue.
Michael C.
My Skins
Familiarity:

I've put it through the wringer
I am pretty surprised whenever I begin to talk about these skins because no one has the same opinion as me. I have used these skins for two season and I have had no issues. I love how I don't have to worry about not sticking the skins together. I think it's very convenient that I can take my skins off and put them together (glue-side) and pull them apart again.

However, after reading the other review on this site I am not surprised because everyone else I have talked to about these skins seem to have the same negative opinion. But honestly, I have had no issues. Full disclosure I do not go for long all-day tours. My tours are usually for a pow lap or max 3 hours.

Therefore, if you are looking for a low-maintenance or starter skins for your Volkl BMTs, these are the ones!
Grete Eliassen
Avoid these skins
Familiarity:

I've put it through the wringer
I love my v werks skis. I was willing to give the new vacuum sealed technology a try. After the better part of 2 seasons, I finally gave up on these skins and bought G3s. What I like: the tip connection and weight are sweet. What I don't like: the tail does not stay connected well and the skins just don't stick on long days. After reading more about this skin, I think the chemistry of the glue is different, a silicone base that is not as sticky as others (similar to the old Gecko skins). I've had them flat out fail and not be able to reapply them in super cold conditions. Just about every outing, even mellow tours, requires reattaching the tails a few times. Most recently, I found snow becoming lodged between skin and ski base along the sides from icy ascents requiring edge purchase. Luckily there was enough ski surface area up front that the skin didn't come off, but not so for the tail. I've taken excellent care of these skins: avoiding warm temps, keeping them clean, and re-reading the attachment and care instructions multiple times to make sure I wasn't missing anything. I think if you're in for a short tour, not requiring reapplication, this skin may be ok. But if you're going to hit it and don't want to stop multiple times to put your skins in your jacket or do the heavy breathing trick to thaw them before reapplying on the skin track, I would steer clear.
Brett Z.