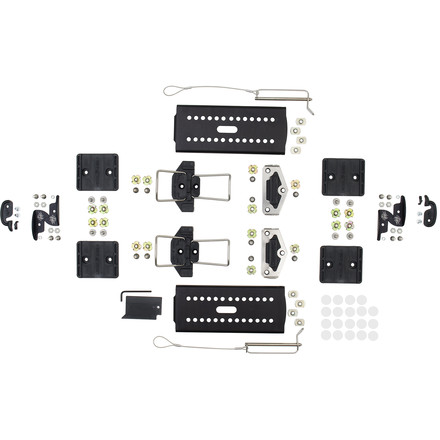 Colors
The Voile Split Kit is the economical splitboard remedy for the do-it-yourself backcountry nut.
If you don't have the dinero to throw towards a factory-assembled splitboard and you have confidence in your carpentry skills, the Do-It-Yourself Voile Split Kit is for you. Turn any snowboard into a backcountry gem with the Voile Split Kit. This package includes all the hardware, Universal Slider Tracks and Slider Pins, and step by step instructions to safely split your board—you provide the saw, cajones, and ingenuity. The Split Kit works with nearly any binding and board combination. Enough of boot packing and snowshoes. Get up to speed with the Voile Split Decision Kit.
Really good DIY kit for the price!!
Familiarity:

I've used it several times
Just saw one of my old powder board and did a split board with the DIY split kit and It was really easy, an "idiot proof" kit. Just follow the instructions that are really clear ( specially with the stickers to drill your holes ) and there you go :) Really don't need to be a pro tech, just follow the instruction and everything should be fine. The regular bindings mounted on the plates ( on the picture) are a little heavy so I bought backcountry bindings instead. A really good kit if you have the time to do it and don't have 2000$ to buy a splitboard :)


Jonathan L.
Great Kit For Entry Splitboarding
Familiarity:

I've used it several times
Converted my Burton Barracuda into a splitboard using Voile kit. Fairly easy conversion and works great. I would definitely recommend buying splitboard bindings instead of using the clunky plates included. The YouTube video was a great tool to follow along. I would recommend this kit to someone just looking to get into splitboarding for the first time. I'll most likely upgrade to a newer, quicker system in the next season or two.
Kurt Johnson
Didn't need
Familiarity:

I returned this product before using it
I didn't need all the extra parts in the box for the job. So returned it and bought just the things I needed
Patrick Waddell
Fun Project
Familiarity:

I've put it through the wringer
Last winter I split an old Lib Tech deck in half and used the Voile split kit (DIY) to turn that former solid into a backcountry machine. If you plan on doing your own DIY split or looking at a split set up and have questions about what kit or parts to get, contact me with your questions.

For this kit, I used all the parts except for the binding plates and brackets as I used the Voile Light Rail bindings instead.

When you get your bits, definitely get a high quality bit for the t-nut holes. I used a fairly cheap one and wasn't a fan of the quality of each hole.

For cutting I taped the board on the base and top sheet with 2" wide painters tape and created by center line. Then I did things the good ole fashion way and cut that sucker with a hand saw. Couldn't have been happier with how straight the cut turned out.

If you've got any questions about what kit to get or splitboard set ups at all, definitely let me know.

Jared D.
Expert Gearhead
801.736.4336
jdowns@backcountry.com
Jared Downs
Stood up to the test
Familiarity:

I've used it several times
Put this kit to the test in April. Worked like a charm. Very easy to use and the multi height touring mode is awesome. Only downfall is that it's a bit heavy(which is expected) and one of the pins bent slightly on an ascent and it was near impossible to get it in at the top. Otherwise, no complaints.

For a more detailed account check out my blog post on the Launch Snowboards site: http://www.launchsnowboards.com/blogs/bulletin-board/34180997-a-first-timers-take-on-splitboarding
Mateusz P.
Unanswered Question
Is there a limitation about the size of the board I should use? I want to craft a splitboard for my 11 years old son.



Thanks
yourDisplayName
Does this kit come with the templates?
Jesse C.
Jesse,



This kit does come with templates.



Those templates are for ensuring there is alignment with the pucks and that the toe piece is aligned to each board properly.



Lastly there are templates for mounting the chinese hooks and the voile plastic tip/tail clips.



Shoot me an email anytime you have questions!



Jared D.

Expert Gearhead

801.736.4336

jdowns@backcountry.com
Jared Downs
Closet boards.
Familiarity:

I've used it several times
I've been thinking about getting my boots in some deep untouched pow for awhile now to see what all the hype is about in the back woods, but didn't want to drop the chedda to get a set up. That was my UT state of mind and what made me spring for this Tim the tool man DIY kit. It's pretty damn cool and a hell of allot cheaper than diving head first into one of those factory split boards after all if you been riding around for years like me we all have some skeletons in the closet collecting dust why not split them? The instructions are easy to follow and everything was there to get me side ways in some fluff but I recommend to have your buddy or an Al on hand as it's allot easier to do with two sets of hands.
Christopher H
I want to purchase the Rome Double agent...
I want to purchase the Rome Double agent split board off your website, how much of this kit do i need in addition to purchasing the board?
JeanKenney
Best Answer
Hey JeanKenney,

If you are buying a factory made splitboard, then you do not need this kit. This is for do it yourself splitboards only. Some of the pieces are the same but it comes with extra parts that you wont need, and the pucks are meant to be permanently mounted and not moved.

For that board you will need the Voile Universal Splitboard Interface.



http://www.backcountry.com/voile-universal-splitboard-interface



We are currently sold out of it, however.
Travis Tzioumis
Jean, Travis is right.

Its fairly easy to piece together the kit. Especially now that there are other binding options out there.

If you're going to be using regular snowboard bindings mounted to slider plates, You'll need the Puck kit, dual heel risers and touring brackets. And climbing skins.

This time of year they can be hard to find all in one retailer.

You can upgrade to the karakoram binding system which comes with all their parts.

Regardless, splitboarding opens up doors for you. Have fun!!


Reid Pitman
Super easy kit. I bought a split board setup, but just needed the connectors for the bindings and such. Nice to have some extra hardware in case I lose or break a clip. :)
Sans Soucie
Stoked to Split my Favorite Board!!
Familiarity:

I've used it once or twice and have initial impressions
These Kits are so great. I love being able to save a lil Cash by doing it myself & even better I get to split my most Fav Pow board of all time, My 61 Charlie Slasher! The kit works so well & touring is way more fun than I origonally thought it would be. If you're scared to cut your own board, theres a lot of shops and tech's out there that will gladly do it for you. I went with the G3/BC.Com Skins since they had the rear attachments for snowboards. Everybody should have a Splitboard in their Quiver!!
Flip
I have a board that is towards the end of...
I have a board that is towards the end of its lifespan, and would like to split it. My question is: If I use this kit and the board eventually dies, can I transfer it over to another board? Or are components permanently attached to the board on installation?
Alex Arneson
Best Answer
It is totally possible to get the hardwear out after a board has finally seen its last day. Just keep in mind that you may have to do some decent harm to the board to get the gear out safely.
Mike D Hilverda
Do some reasearch!!
Familiarity:

I've used it once or twice and have initial impressions
Hey I did a K2 Happy Hour 157.

1st suggestion would be to try use a board with minimal graphic on the bottom, as each peice can be pulled out the edge.

2nd try to find what your core has in it. mine had honey comb stringers where i screwed into which after the first one wasn't the worst but the counter sink ripped up the honey comb if i didn't easy up after I got through the base.

3rd the counter sink they sugguest is perfect size for the t bolt. I demand haha that you use one size bigger. For 2 reasons that the teeth on the T-bolt will grab the base of your board and warp your base, with it being bigger now it has more for the appoxy to bite onto. I suggest J&B weld for the T bolts as J&B will penetrate the metal on the T bolts. Use a poly urethane on the cut edge. do 3-4 coats and sand inbetween.
Braden Price
Buyer Beware
Familiarity:

I've put it through the wringer
I picked these up two seasons ago and built my own split board out of a Burton Burden EST. Yes, EST works as a split. This product delivers everything asked of it, however I would like to warn people that patience and a good knowledge of working with boards is needed. The modifications you will make to your board will require you fix portions of your base and drill precise holes. You don't want to make a mistake and notice it at 7000ft. Also, be aware that if you have 2012 light rails they WILL NOT fit the touring mount and pins that come in this kit. The proper mount and pins should have come with your light rails, however that is not always the case so be aware. This is a great product and is worth it to not spend $1000 on a new board. Enjoy and be precise.
Spencer Mckay
Voile and Backcountry do not disappoint!
Familiarity:

I've put it through the wringer
Bought this from BC last year while it was on sale. Chopped up my '08 Skate Banana and have already put in a few days this season. If you are familiar with ski/snowboard maintenance, the process will be quick and painless. If you are not as familiar, but would like to give it a shot, don't worry the templates are very straightforward and there are a ton of helpful resources if you hop on Google. I replaced a few of the T-Nuts with Quiver Killers so I didn't have to put extra holes in my already torn up base. The DIY kit is definitely the fastest and cheapest way to get skinning. You can upgrade to universal pucks or split-specific bindings at your own pace and within your own budget. I'm still not entirely sure how to pronounce the name though. . . V O I L E
Joe Newman
Split and mount your favorite board!
Familiarity:

I've used it once or twice and have initial impressions
I split and mounted my Signal Rocker Snowboard and it was easy and fun to do with the very informative How To Video located on this page! You can also go to YouTube and type in Voile Split Kit and the Instructional video comes right up! You will need a lot of tools to do this so dig into your dad's garage full of tools and get splitting! The mounts are super easy to put on with the sticker templates that tell you exactly where to drill. Can't wait to try out my newly split board out in the mountains of PC, BCC, and LCC in Utah!
Jeff Guest
Tricky Instructions, Cool product
Familiarity:

I've used it several times
I loved this kit because I got to pick the best board for the conditions and then make it myself rather than settle for the premade splitboards. The instructions were not clear but you can figure it out if you have some basic knowledge of how a splitboard set up works. I used get rot (a marine wood treatment) instead of spar urethane because it seeps into the wood and is much much more water proof. I also used a mill to cut my board so that it fit together perfectly. I would highly recommend watching the you tube videos on how to use this split kit. Also the setup was much heavier than my normal setup and it felt different when riding so I had to take the first run to get used to everything. I wish I would have tried my board out at a resort a bit so I could get the feel of it because it was tricky to ride a pretty difficult run, after hiking, on a foreign setup.
Nadia Bigney
Got an old board? Rip it in half
Familiarity:

I've put it through the wringer
This kit killed it. If you have some basic skills with tools and an old board you can make yourself a split. It's pretty easy to figure out especially with the videos below. It took me about a week start to finish until I was skinning up on this thing. I cut an old Burton board with a 3 hole system with a Diablo Demo circular blade. Make sure you know exactly where you want to mount your bindings, because once you drill the holes to mount the pucks thats where they will need to go. Take the time to measure everything a couple times, you'll be grateful you did when it's done. The plates to mount your bindings are great for riding any 4x4 binding you have but they add a lot of weight and lift your binders off the board. Not a huge deal. Feel free to contact me if you have any questions or want to talk about DIY.
Travis Tzioumis