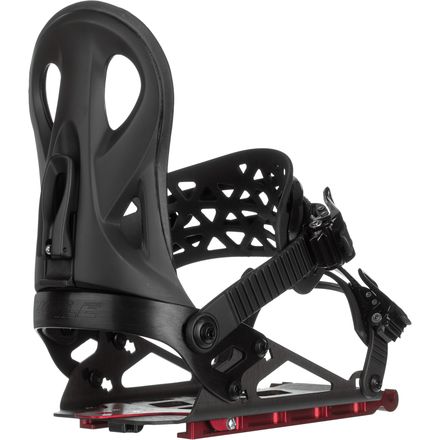 Colors

Detail Images

Community Images
Pesky pins no more.
Forget about messing with slider pins by switching to the Voile Speed Rail Splitboard Binding's intuitive hook-to-axle interface. Freshly launched for the '16/'17 season, the Speed Rail ditches slider pins for an upward-facing hook that attaches to a solid axle, allowing for free-pivoting action in tour mode. When it's time to ride, simply pop off the binding, slide it front-to-back onto your Voile pucks, and snap down the rear locking latch. You're now ready to ride steeps, springtime corn, or dreamy powder lines. Best of all, this ingenious system ditches pesky pins and clips for good.
The straps have been upgraded from the Speed Rail model, offering increased comfort and security when you're slashing across open bowls and ripping down chutes. The baseplate remains the same bomber 6061-T6 aluminum for long-lasting use. Also, the aluminum heelcup is fully adjustable like on the Light Rail, customizing the fit to your boot size (check bullets for sizing details).
New Speed Rail Splitboard Binding without slider pin
Upward-facing hooks attach to axle with free-pivoting action
Slides onto pucks from front-to-back, with locking rear latch
6061-T6 aluminum base plate with adjustable heelcup
Cored-out ankle strap for security and comfort
Nylon highback with tool-less forward lean
Sizing: small 4 to 7.5, medium 8 to 10.5, large 11+
Proudly made in Salt Lake City, Utah
Fast and Light
Familiarity:

I've put it through the wringer
These Speed Rails are, as everyone has said, a huge update from the Light Rails. If you are looking for a great, reliable touring binding with no pins and no frills, this is the binding for you. Just slightly heavier than the comparable Karakoram models, the Speed Rails are guaranteed to get you up the mountain without breaking the bank.

I rode the Light Rail for one season and transitioned to these midway through last season and couldn't have been happier. The bindings are plenty stiff with updated straps that are much less prone to snapping, making you feel safer on your long treks.

I've put about 40 days into the bindings so far with no issues whatsoever.

Please feel free to reach out directly to me with questions on these or any other split board related gear!

Boot Size: 11
Binding Size: Large
Daniel Goodman
Bye Bye Slider Pins
Familiarity:

I've put it through the wringer
Last year as I was investing in my split set up I wasn't able to afford new bindings so I went with the plate set up and tested out the Light Rail bindings a couple times. After using these bindings on one tour I am a changed splitboarder. Say goodbye to pins and say hello to the ease of popping in and out of touring mode. My transition time went from 10 minutes (I'm a goon that gets cold hands quicky) to 2. I was back in downhill mode before my friends had their AT skis ready to head downhill!

These bindings are far superior to the Light Rail and the plate set up. No chance of lost pins and 4x faster! The weight you lose the and the responsiveness you gain with this set up is well worth the cost.

Updates for 2017:
Heel Lock Down - No more Tele Turns (check out #telemarksplitboarding on instagram)
Upgraded touring bracket - the original version of these bindings had an affinity to snap under too much pressure in the cold. Voile virtually eliminated this problem by upgrading the plastic in the touring bracket to a Nylon material.

Feel free to give me a ring if you have any questions on splitboarding set ups! 801 204 4694 or shoot me an email at kswistak@backcountry.com
Koly Swistak
Unanswered Question
I'm thinking about switching from my Spark Blaze bindings to the Voile Speed Rail. My question is will the Mr Chomps crampons I have work with these bindings or will I need to get ones specific for the speed rail?

Thanks,
John
John Karas
Great Touring binding
Familiarity:

I've used it several times
I really like these. They are light, yet stiff enough for good stability. I would to love to see touring bindings that could offer a stiffer ride in the future. The puck adjustability is nice along with transitions getting faster and easier as good overall improvements.
Matt Haberstock
Rad!
Familiarity:

I've used it several times
Voile really crushed it on this one. I've ridden all types of bindings and I have to say that this one is at the top of the list. Their light, easy to work with, designed with practicality in mind and totally comfortable. I've always struggled to find a binding that feels great going up and down and this binding has it going on! Highly recommended.
Kody Gubler
Great bindings!
Familiarity:

I've used it several times
Happy with these so far. They feel stiff and tight, so have a good response. I did have some problems with the straps popping loose, but I think it was caused by the optional avalanche pull cord getting in the way of the ratchet. I originally tied the knot of the cord on the underside of the ratchet, which I think was interfering with the notches. Retying it so the knot is visible on top of the ratchet seemed to fix the issue, so definitely try that if you're having that same issue!

If you have any specific questions about these, I'd love to help out and pair them with boots or a board! Just shoot me an email at mwarren@backcountry.com or a call at 801-523-4067.
Melissa Warren
Pros and Cons
Familiarity:

I've used it several times
I dig these things, a step in the right direction coming from their old pin system which was a total pain in the butt. That being said, with all of the pros that come with these puppies you can find the same pros, plus more, in the Spark R&D collab with Burton on top of a better attachment system.

Overall, these are great, but there are better options out there for the price.
Nicholas Hammond
Voile is catching up
Familiarity:

I've used it once or twice and have initial impressions
Over the past few years Voile had fallen behind competitors using the ancient pin system. Friends that that time is over. Voile released this new speed rail binding taking back their share in the splitboard market. This budget friendly option is a complete overhaul of the old binding.
- They use upward facing hooks that attach to an axle instead of having to use the pin. This allows you to quickly attach and detatch your binding without taking off your gloves.
-locking rear latch instead of slamming your binding forward onto the board. Now you can pull the heel cup to slide onto the voile pucks effortlessly
-New updated straps keep you comfortable all day long
-Lightweight aluminum body
These bad boys have all the features anyone from beginner to expert would want. When you are on the hill you want a binding that will be reliable, but also affordable. This binding combines everything you would want in a binding lightweight, dependable, easy to use, and budget friendly. I had the opportunity to take this on a trip to the Tetons with their revelator board and i can attest this system is a game changer for voile. It makes the whole system easier to use and brings the weight of the voile system down to an acceptable weight. Getting the right gear is key so please feel free to reach out to my contact information below if you have any questions or hesitations getting your set up this season.

Think snow!


Justin Morgan
Voile Hit a Home Run
Familiarity:

I've put it through the wringer
If you've got any Voile, Speed Rail, splitboard set up or any other gear questions, hit me up. Best way to contact me would be to email (please include the best phone number to call you at).

If you want some assistance building a splitboarding set up, drop me a line and I'll be able to assist with picking everything out and getting you into the proper touring set up (and we can chat avy gear too!).

Speed Rails:
These are the best binding you'll be able to get at this price for a splitboard specific binding. The updated attachment method for going between ride mode and tour mode is definitely a huge improvement over the pin system on the Light Rails. The big benefit is when you're fingers are freezing and you're transitioning on a ridge line, you now don't have to fumble around with the pin and getting it to slight in and then lock in place. Now it's just the ease of rotating the bindings and sliding them into the touring bracket.

Sizing/Compatibility:
Shoot me an email or call me and we can size up the bindings for you and get the rest of the parts you'll need.

Contact:
Shoot me an email anytime you have questions about these bindings or if you'd like to compare splitboard bindings options or work on a full splitboard set up! Best way to contact me would be to email (please include the best phone number to call you at).
Jared Downs