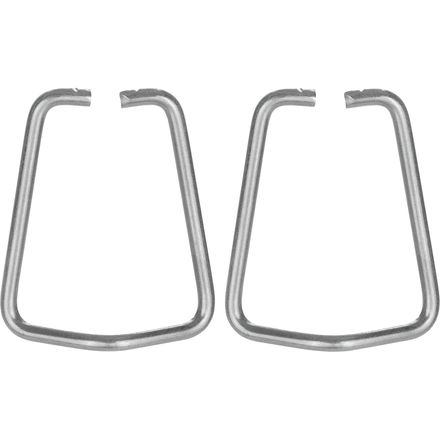 Colors
Voile Climbing Bars make backcountry telemark travel a walk in the park.
Backcountry travel is far easier with Climbing Bars attached to your Voile telemark bindings. When you're traveling up steep terrain, flip up the Climbing Bars to raise your heel and reduce calf fatigue. When it's time to point 'em down hill, just flip the bars flat, peel your skins, and enjoy the fluff.
Unanswered Question
How much does each riser size (58mm, 72mm) weigh, individually, and how long is each, individually (its not clear to me if the length choice refers to the length of the wires, or the height of how far off the deck it displaces your heel)?
Brian L
Does what its supposed to
Familiarity:

I've put it through the wringer
Pretty sweet, goes under your feet, gives your calves a treat.
Craig L
Solid bars
Familiarity:

I've used it several times
These bars fit in quick and easy and do the job! Definitely go for the longer sizes if you're doing anything on slopes steeper than 25 degrees, I'd say.
Jack Fullmer
Use the tall with the Voile Hardwire (has the taller riser/launchpad) and have the short and standard duel setup on a splitboard, all fit perfect. Easy to lift into action, seem very solid after a season of use.
Christopher Christopherson
Since Becca did not get a satisfactory...
Since Becca did not get a satisfactory answer to her question, I'll ask it again:
How do you determine what size of bars to get? I live in UT, I'm 5'5"...what are the factors that go into choosing the best size of climbing bars?
amy
I have been wondering the same. I found on the voile website that the short and standard sizes are designed for the 8.5 mm heel pads that are with the 3-pin bindings. The tall (72mm) wires are for the taller 20 and 30 mm risers that come with the hardwire binding models. Beyond that I have heard that smaller boot sizes can complicate things by needing a shorter wire, but I have never heard what qualifies as a smaller boot. hope that helps some and maybe someone else might be able to give more info.
A_Brew
how do i decide to go for "standard" or...
how do i decide to go for "standard" or "short"? does my boot size matter? i think my boots are 24.5 or 25thanks, becca
becca
In the "select options" pulldown menu, just right of the picture. And your boot size doesn't matter.
Angus Bohanon
If you are going to be skinning up steeper terrain, then the tall climbing bail is what you want. If you are skinning up lower angle slopes, then then short bail would be fine. The standard bail is somewhere in between.
Remember, the reason for climbing bars is to keep your foot level, even though your skis are pointed up. The bails also keep your legs from stretching too much, and wearing you out. The standard bails should be good enough for most terrain, but if I prefer taller bails for the steeper slopes.
Boot size does not affect compatibility, but since you are a fairly small boot, the tall ones will seem taller than they would for a larger footed person.
Jack Wizo
skinned back into mayflower basin behind Breck last weekend - bars were nice for the last 600 feet of climb
m_l2520235
Uhhh...they make climbing A LOT easier
'Nuff said.
Maximus Gradient
Got a set of these for my crb 3 pin hard wires and they fit great and snap into place nicely. I found difficult to install so i guess that means it would be difficult to loose them.
john gilchrist