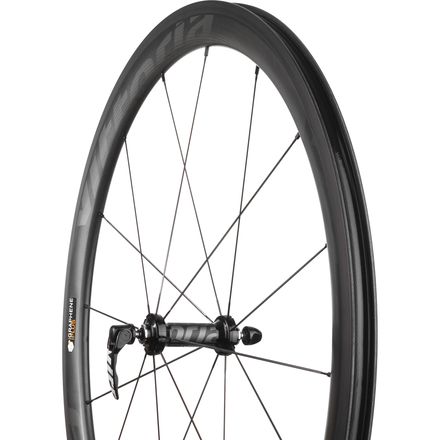 Colors

Detail Images
A new take on carbon.
In a carbon fiber wheel market saturated with a seemingly endless stream of near copycat designs and construction, it's refreshing to see Vittoria stepping up with an innovative approach bent on changing the way we look at carbon fiber layup. The Qurano 46c Carbon Road Tubeless Wheelset incorporates Vittoria's proprietary Graphene+ (G+) technology into the resin that binds the carbon fibers together for a wheelset that claims advantages in almost every category we care about: stiffness, braking, reliability, and comfort.
The inclusion of G+ addresses what's proven to be the Achilles heel of carbon rim technology to date: heat buildup. Resin infused with G+ increases heat dissipation by a claimed 10%, which leads to more consistent braking power over time and less chance of heat-related catastrophic failures such as blown out tires and delaminated braking surfaces. The specter of Beloki tends to always be in the backs of our minds during long, twisty descents on carbon rims, so this added bit of reassurance goes a long way toward keeping our minds off of imminent calamity and on the road ahead.
In addition to its heat dissipating prowess, G+ boasts a high mechanical strength for durability over rough roads and long miles. It also entails massive claims of a 50% increase in lateral stiffness compared to other compounds, which means lightning fast responsiveness during punchy efforts and razor sharp handling while testing your own limits on sweeping descents. And while most super stiff wheels come at the expense of comfort, G+ also increases radial flexibility to soak up road vibrations and provide a comfortable ride without sacrificing power transfer or that snappy feel.
Vittoria fashions the Qurano 46c with a 42 and 46mm rim-depth combo, which is arguably the ideal dish for all-around riding and racing. It's deep enough to offer a marked aerodynamic advantage, shallow enough to snap up to speed off the line, and light enough to climb with the mountain goats without being so feathery as to inhibit momentum in flats and descents.
Along the edge of the rim, Vittoria utilizes its Speedlock rim hook design, which is a post-machined, hooked bead designed to interface with both standard and tubeless ready clinchers. Its strategic shaping holds the tire bead securely and discourages it from separating from the rim in the event of a flat. While this was envisioned specifically with tubeless systems in mind, the ability to safely ride a high-speed flat as you slow down to a stop without worrying about the tire coming off in the process is peace of mind no matter the setup.
At the center sits Vittoria's SwitchIT hubset, most notable for its tool-free freehub removal, making swapping a cinch. The freehub can also be removed while still holding a cassette, which means one could potentially keep frequently used cassettes on their own freehubs for easier gearing changes and hassle-free swaps. Finally, and though the rim does a fine job of maintaining stiffness on its own, the exaggerated rear drive-side flange helps compensate for the freehub body spacing by effectively improving the spoke bracing angle and helping to maintain efficiency.
Each Vittoria Qurano 46c Carbon Road Tubeless Wheelset. is packaged with brake pads, valve extenders, a foldable tool, and a wheel bag for safe storage and transportation. For tubeless use, Vittoria's tubeless valves are sold separately.
Unanswered Question
I really like the specs of these wheels, but so far, 3 different reviews I've read have stated that the front hub developed lateral play and it could not be corrected because the hubs are sealed. (Not that they felt was dangerous but that they noticed). If I were to buy a pair of these and encounter this problem, is this truly something my local bike shop cannot just fix? And if so, it is possible to just have someone re-build the front wheel with a different hub?
Joseph O.
I am a pretty big guy at 6'1" and 240 lbs (108 kg). Can these carbon wheels support me safely?
Alexander Ortiz
Hey Alex,



These wheels do not have a rider weight limit. From their introduction page: " For example, the ISO-determined communications regarding rider weight limits do not apply to the new Qurano carbon clincher range. The UCI regulations are mainly designed for rider safety and Vittoria wheel products qualify effortlessly for these requirements (UCI is most concerned about the potential harmfulness of broken parts of a wheel in case of an impact)."



If you're interested in a set, shoot me an email! I can talk a bit more about the wheels and get an order set up for you if they're the right fit.
Zane Dordai
Decided to go with a ENVE SES 3.4 Disc Wheelset instead. Impressed with their design philosophy and build quality. Unlike Zipp their is no rider weight limit.
Alexander Ortiz
Great performance
Familiarity:

I've used it several times
This new Vittoria's wheels are much greater than my Zipp 404, they are liter smoother and quicker. Very satisfied, strongly believe they are worthy. Price is jus right for what you are getting.
newton jiminian
Can these be used with Campagnolo cassettes?
Stephan D.
You would need to purchase a Campagnolo specific freehub body (separately), but then you could definitely run them with your current setup.
Virginia Dickinson