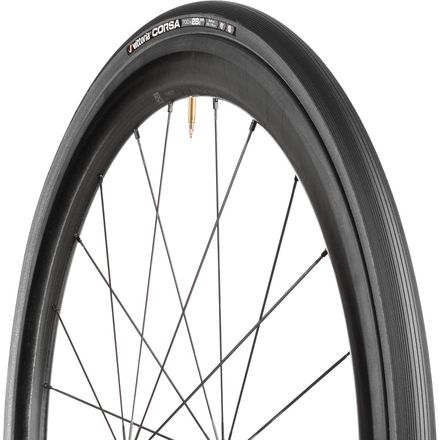 Colors
Believe the hype.
Anyone with a passing interest in cycling tech has probably been exposed to the hype surrounding Vittoria's new quadruple compound design, the heart of which is a thin, nearly transparent layer of carbon called graphene. The claims made for this material have been impressive, but we weren't sure what to think until we got our hands on Vittoria's Corsa G Plus Clincher Tires. Vittoria blends four rubber compounds with the inclusion of graphene for the Corsa G, and, without throwing any hyperbole around, we'd say the difference is very noticeable.
The tires' 4C ISOtech construction, which allows for separate base and surface compounds to be strategically placed throughout the tire, made cornering feel smooth and consistent while the fast-rolling center reduces the atrophy of watts on straightaways. Vittoria claims that the elasticity and carbon construction of graphene creates an incredibly durable tire, but for even more reassurance, it adds KEVLAR to further reinforce the core spun K casing. With multiple cotton fibers twisted together to create one yarn, core spun casings are significantly stronger than typical casings, and they don't add additional weight to the tire.
The Corsa G's luxurious 320 TPI is a final element that sets it apart from other tires. TPI measures the number of threads per inch in a tire's casing, with higher counts equating to a lighter tire with a suppler ride. Whether it's due to the high TPI, the claimed benefits of graphene, or a combination of both, we can attest to the Corsa G's supple road feel and ability to smooth chattering chip seal surfaces. In the clincher version, each Corsa G Plus will add between 235g and 265g to your frame, depending on size, and the tires' classic, gum-wall aesthetic makes them an eye-catching addition to your frame.
A superlative cycling race tire
4C ISOtech construction blends multiple compounds
Graphene reinforces without compromising road feel
320 TPI core spun casing is race-day supple
Classic style of gum walls
I was skeptical
Familiarity:

I've put it through the wringer
I was very skeptical with these tires for the roads I ride on which contain plenty of pot holes, chip and seal and your occasional gravel. These roll extremely well and "knock on wood" haven't punctured yet.
Quintin B.
Awesome Road feel
Familiarity:

I've used it several times
with Latex tube, the road feel is great. But the cons are you have to fill up the air pretty much everytime you go out for a ride. But the feeling is smooth as silk and soft as cheesecake.
Daniel Park
Great Tire
Familiarity:

I've put it through the wringer
The high TPI gives a supple ride and you can't go wrong with the skinwall color. Definitely provides a lot of grip
Andrew Dickinson
Dream ride, average durability.
Familiarity:

I've put it through the wringer
After 3 sets of open corsa cx III's I went for the G+... It's very handsome tan sidewall. Really looks great on the bike exceeding my expectation in that respect. The tire is grooved, and only occasional gravel bits got stuck, but not really an issue. These tires roll like a dream with latex tubes, but after 500 miles, I got a pretty deep cut to the rear tire which I mended with duct tape and liquid rubber and rotated to the front. I was then able to stretch these out to about 2040 miles since 2/8/2018. Decided to retire them when I changed my chain and noticed yet another buldge/cut on the rear. Upgrading my review to a 4 star... they look cool for one, and they did outperform the Open Corsa III's by a longshot. Compared to Conti 4000's the size 25's are bit plumper on my DA C40 wheel-set. Would I buy the again?....you bet. I'll be running the G+ Control version in the winter and run these afterwards.
Pax
Fast and comfortable tires
Familiarity:

I've put it through the wringer
The Corsa Open is now my go-to tire. Very supple for added comfort and they really make the handling of my bike more predictable. I mounted the 25c on both HED Ardennes Black and SL Plus rims with no issues. As a bonus, the tread wear has been better than expected. Not as good as Conti's 4000s but very respectable.
John D.
Ride quality, grip is amazing. NO complaints. A bit hard to put on my C50 wheels but man......what a great set of clinchers. Best I've owned thus far.
Patrick L
This tire is built like a tub without the tube liner sewn in. As a result, they have a flat shape which I found almost impossible to mount, with a tube, on Campagnolo Bora Ultra clincher wheels. Never had this problem before with other clinchers. If I had to change a flat on the road with these tires, it would be more hassle than they're worth. I gave them away. Not the best tire choice, in my opinion, if you roll on Campagnolo Bora's.
GL
Tommy Liao
Fast, smooth, look great
Familiarity:

I've put it through the wringer
Have used these tires for the last few years as my summer/race tires (I use conti 4 seasons for the winter). As far as i'm concerned, these are the fastest clincher tires you can buy. Fast, smooth, easy to put on your wheels (I have Mavic SYS SLR), and look awesome with the tan sidewall. Noticeably faster than other tires I've used.
Duncan Logie
Vittoria Corsa G+ Clincher
Familiarity:

I've used it several times
I am or have been a Continental S4000 person. I recently tried the Vittoria G+ Corsa Clincher and it is a game changer. The tires feel great on the road. I never rode tubular but my guess bet is the G+ simulates that feel on a clincher. The biggest attribute to this tire is the confidence I feel descending. I am not sure if it is psychological but I feel and hear the tires gripping as I go into the turns. This gives me the confidence in my local Road Races.
The only thing that is still in question is the wear and durability. I have not owned the tires long enough for that comment. I will follow-up. that is what I do like about the Conti's S4000.
Bob B.
My last set of tires were Vittoria Open Pave EVO CG III in 27mm and I gave a glowing review of them. However, the Corsa G+ in 28mm is my new favorite.

I can't emphasize what a difference there is in tire volume for only a millimeter more. And the ride is to die for. On top of that, the classic gummy sidewall is beyond good looking.

So far I have several hundred miles on them and they still look brand new. I have them mounted on some Enve 4.5 rims and will probably order a pair in 25mm for them (Enve claims the rim is optimized for use with 25mm tires).

I couldn't be happier with the tires.

mjs
Michael S.
new favorite
Familiarity:

I've put it through the wringer
I can't get over the highly communicative feel and classic look of these tires. Being a somewhat heavier rider, I'm generally pretty prone to flats no matter the tire, but I've had really good luck with these so far.

My favorite all-around tire used to be the venerable Conti GP 4000S II, but that is not longer the case. The high thread count and corresponding supple feel, stylish sidewalls, and increased durability from the graphene material make this my new go-to tire.
Zach B
fast - until you flat
Familiarity:

I've put it through the wringer
I swerve out of the way every time there's a patch of debris on the side of the road, in an intersection, or on a sidewalk because these tires do NOT like anything sharp. I've run through at least a dozen tubes with these tires in less than a season. sure, they look great on my bike. so great I'm tempted to buy another set. considering price v. performance: I'd rather ride more and worry less. especially in the mountains.
Bryan Cardo
Great feel & fast Durability not so good
Familiarity:

I've put it through the wringer
These tires in the 25's on Zipp rims are great. I really like these because they are fast and feel very smooth. I put the first pair on and they lasted about 2500 mi. I started getting flats on every ride. The tire does get cut easily, small 2-3 mm cuts from glass, but never really had a flat issue until the 2500 mile mark. I put on a new pair of Conti GP 4000s II. There is a difference will probably try them again, but they do not last as long as Conti's.
Albert T.
What sort of mileage could one expect to get out of these tires? More or less than the Conti GP 4000S? A lot more or less?
Russ N.
Best Answer
I have 1400 miles and they look good.
CJ
Fast Tires
Familiarity:

I've used it several times
Great tires all around. Super fast, good rolling tires, if you can fit them spring for the 25's as the weight penalty between 23-25 is minimal, but ride quality on the 25's is amazing. Awesome all-around high performing tire. Soft, supple, and fast.
Todd
Great Rolling and Sweet looking tire!
I bought these with some reservation, but im glad i did. These have been great and looks great on my Argon 18, with the Vision Metron wheel set. If they had more i will buy another set.
Alejandro R.
Another great Vittoria Tire!
I've been using the Vittoria Open Corsa CX since 2011. They are truly great riding tires. These new Corsa G+ feel just as great. I run 23mm on Zipp 30s and the Vittoria latex tubes. I really don't know why so many folks are complaining about flats. These shoot rocks out of the way like bullets and flats have never been an issue with me. I'm a big guy and I've run the rear as high as 135psi. Dependable, strong, and fast. I don't use any other tire. They are the best i've used.
Alexander Ortiz
Sold on the 25mm but..
Familiarity:

I've used it once or twice and have initial impressions
So 1st thing 1st.. I got a flat 2.23 miles on my first ride on these. The piece of glass looked like something I've ridden over a million times with my GP4000. In defense of the tire I will point out the following:
It happened on century ride and I saw two other riders with flats before me early that morning. So I wasn't alone.
It happened with an old butyl tube. I blew up one of the latex tubes on install the night before. The latex tube/Corsa combo had no issues.
The rest of the 98 miles with the Corsa/new tube was great, no issues.

I'm ridden too long to fall for a fad or be talked into believing something, but I'm here to tell you, these 25mm Corsa's are awesome. Fast & comfortable, I couldn't believe it, the hype is real. I'm going to change out all my road bikes to 25mm Corsas, because if I don't I won't want to ride those bikes, it makes that much of a difference. Take a chance, I did and I'm glad I did.

I will look out for durability issues but I'm willing to trade less mileage for a better ride. My Contis will last forever but ride like a semi truck. Maybe a tire liner will help but might defeat the purpose, so I'll just ride like this and take my chances, it's worth the ride quality.

Antonio D.
Open Pave Replacement?
Familiarity:

I've used it several times
For context, 80% of the time I'm riding cotton tires, be they the sadly discontinued and extreeeeeemely hard to get on the rim Vittoira Open Corsa SC/CX, Speshy Turbo or my favorite Veloflex Master (25mm only). When this new tire was released from our beloved Vittoria couldn't wait to jump on them. A few other early-adopter homies acquired them the day they were released and suffered some first-batch woes. A few flats, but nothing catastrophic. Since then they've seemed to stand up to their claims of low rolling resistance and durability.

After spending some time with the inGamba crew last month and hearing their mechanics swear by them for a few minutes I decided I needed to drop in. My personal first pair were stretched around some HED Belgiums last week and thus far I have a few hundred winter miles on them over sanded and salted roads. Ride quality is bananas (even at 28°f outside temp across frozen asphalt) and grip is supes nice. My report on puncture resistance will be submitted after i've spent more time on them. For now, five stars.
Mark VV