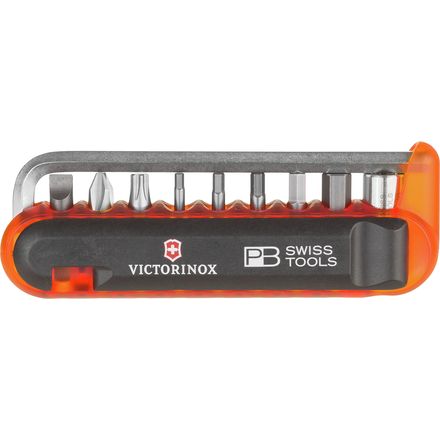 Colors
Be prepared -- in dependable Swiss style.
Swiss precision moves beyond your timepiece and trusty folding blade. With the Victorinox Bike tool, you've got a new riding companion that will make sure you're prepared for all your roadside assistance needs.
Victorinox built its new compact Bike Tool around a durable, impact-proof plastic case. This translucent orange holder neatly stores the set's eight bits, stainless steel adapter, two tire levers, and L-wrench. When the set is put together it weighs a mere 3.5 ounces, meaning it won't add unnecessary weight to your repair kit.
Add Victorinox's latest edition of the Swiss Army Knife collection to your riding ensemble, and ride on in prepared European fashion.
The Victorinox Bike Tool is available in one size and in the Translucent Orange color.