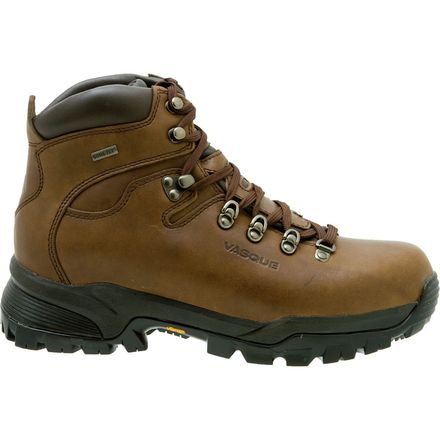 Colors

Detail Images
Head for the peak with this tough boot.
If your next backpacking trip includes rugged terrain, long days, and inclement weather, head out with the durable support of the Vasque Men's Summit GTX Hiking Boot. Thanks to a full-grain leather upper backed by a Gore-Tex waterproof breathable membrane, you're feet will carry you to camp in bone-dry comfort. The nylon knit lining helps wick moisture, and Vasque added DryTech footbeds and molded polyurethane shock pads to cushion and protect your dogs on rough trails. When the weather rolls in and the path gets ugly, the Summit's lugged Vibram sole grips even the slickest of surfaces.
Gorgeous and reliable! Just like me! LOL
Familiarity:

I've used it several times

Fit:

True to size
I love that they're all leather - and its good quality thick stuff, too. They came with a little sample piece of the leather so I'd know for sure just how thick it is! I love the way they look. The soles are MUCH stiffer than my last pair of worn out old hiking boots - so they provide a lot more support when walking on rocks and hopping from boulder to boulder. But I was super pleasantly surprised by how easily the sole flexes when I'm walking. It was honestly much better than what I was expecting. I got a bit of blistering on my left heel after the first couple of times I went for more than mile or two - but that fixed itself pretty quickly after the got a little broken in. The ankle support is fantastic - also much better than my last pair of boots.
Steve S.
Height:
6'0"
Weight:
190lbs
From the trailhead to the jobsite these boots can do a lot of different things. They are a bit more of a traditional hiking boot which means a full grain leather upper, heavier due to thicker soles and a shank in the boot, and a few other details that add weight but also maintain the durability over time.

If you need a simple, sturdy pair of boots that have an easy fit system, bring the value of high end boots without the high end price check these out.
Nicholas Dey
Height:
5'5"
Weight:
150lbs
Vasque Summit GTX
Familiarity:

I've put it through the wringer

Fit:

True to size

Size Bought:

12
I have owned a pair of these boots for about the last 7 years. I dont hike much, but when I have severe wanderlust I grab these boots and go. This pair probably has a little over 100 miles on them and the leather has degraded a bit around the toe from scree and boulder hopping. I think the leather upper is made from Red Wings leather (great american made boots and shoes) so i use their products to condition the boot every season. I haven't had any problems with the laces or the eyelets. in fact, I hold all of my other boots with eyelets to the standard set by the Vasque Summit GTX. Super solid, quick, lace up. there's also a great steel toe that makes these boots feel indestructible.
hudson L.
Height:
6'3"
Weight:
190lbs
Best boots I ever bought!
I was a little leery about shelling out the big bucks for these boots, but they are so worth it! They have great grip in all terrain, and are the most comfortable boots I own. Plus, they are fairly stylish, so I can wear them out if I want too. I've had mine for a few years now, and they are holding up great. Still waterproof, and comfortable. My feet never get too hot or cold, and they stay dry through all the mud, snow, streams, and puddles I take them through. If you are on the fence about getting these, just get them. You won't be disappointed.
Jason M.
most frustrating boot ever
Familiarity:

I've put it through the wringer
After years of hearing from hikers how great the Vasque boot is I purchased my first pair, I wanted a rugged backpacker so I purchased the gtx summit, within 2 weeks the first pair of laces severed from the eyelets......to date I have gone through so many laces I've lost count....a pair every three weeks. I use to buy from backcountry due to the rock solid guarantee but it looks like things have changed. Lesson learned...no more vasque boots for this wanderer.
Daniel C.
great !!
Familiarity:

I've put it through the wringer

Fit:

True to size
this boot is awesome super water proof great in snow as well

I got a 10 but normally wear a 10.5 and it fit perfectly so might run a little big in my opinion. great look and sturdy
Turner Jensen
Great Boots!
Familiarity:

I've put it through the wringer

Fit:

True to size
As soon as I put these boats on, I knew that they were going to be comfortable! And after wearing them for about a week, I got them good and worn in and they are super comfy now!



I go hiking out in a pine forest that gets a lot of rain and these boats have held up great! They keep your feet dry and are super comfortable.



I make sure to polish and wax them regularly to make sure the water proofing stays good and it helps with making sure they don't dry out at all.



All around great boats!
Lance D.
One stiff boot
Familiarity:

I've put it through the wringer

Fit:

True to size
I purchased the boot for use when I am carrying a pack but I also use the boot when traveling light if I suspect the terrain will be rocky. I have about 100 miles on the boots, lots of rain, creek crossings and mud without any problems or signs of appreciable wear or leakage. The boot is very stiff so careful break in is required. I found the cuffs bruised me just above the ankles for the first 25 miles or so. Careful fitment of the tongue inside the cuff when lacing is required. I wear a 11 1/2 E and the wide version fits very well on the foot although the cuff is a bit big. Heavy socks help. The boot is comfortable and protects against the sharp rocks very well. I suspect I will get many years use out of this pair. During initial use I felt the lacing system was too restrictive and would not let the boot compress around my foot. However after break in I can easily get the boot to fit to my preference.
Peter P.
Solid
Familiarity:

I've put it through the wringer

Fit:

True to size
Yeah I put 'em through the wringer. Georgia to central PA. No doubt they would have lasted all the way to Katahdin, but as I hiked out of winter they were just too hot and I started getting blisters. Soles still have lots of tread left. The bumper guard on the toe was starting to delam a little. Returned them to Vasque and they were replaced in a few weeks. I hiked the last 900 miles in a lighter Salewa boot but they were falling apart after 400. The Summit is what it is. A heavy, durable, waterproof boot.
SPARK
Blisters and bruised foot bone
Familiarity:

I've put it through the wringer

Fit:

True to size
I've been hiking with Wasatch GTX boots for years and always loved how they felt on my feet, but I stopped wearing them because the vibram soles kept splitting in half after about the time the started feeling the best. I went to the Summit because of the heavier sole. Bad idea. You can't break these boots in, but you can break your feet. Even after wearing for snowshoeing and to work to break in 6 months prior to major use. I used these on a 60 mile CDT hike and I was hobbled and miserable for the entire hike. I was able to get through the hike by doubling up on socks after a good layer of duck tape underneath. By that point I was only able to walk flat footed as any attempt to flex this boot caused much resistance and pain. With daily first aid treatments I was able to keep infection at bay, even though I was worn to bare flesh in a few areas. It's been 5 days since my return and I am still only able to wear flip flops. I may as well have worn wooden shoes... One positive: My feet stayed dry.
Brandon M.
Only one year warranty for a reason
Familiarity:

I've used it several times

Fit:

True to size
Ever hear of an outdoor company not offer a lifetime warranty? Either had I until I bought these boots. Luckily the eyelet popped out, like many other users have experienced, after only one week of gently breaking them in while in my office. Pretty sad that the Vasque name is being attached to such poor quality these days.
Kevin S.
love these boots, I am still breaking in
I think these will last me for the rest of my life. They will take some breaking though. true to size, If your ankle bone sticks out, may not be your boot as they are high, not cut down around your ankle.
hkh
does the summit gtx come in a narrow...
does the summit gtx come in a narrow width?
len forrest
Guy Geva
For a while I've been looking for a good solid leather walking boot. Nothing fancy just a good leather boot that's going to last a long time. It seems they are getting harder to find in Australia with all the synthetic 'this an that' on the market today. The Gortex lining on this boot was an added bonus for me rather than a requirement.

Buying online from Oz was a bit of a risk for me but the reviews were good and the ones that weren't suggested they wern't for wide feet. Well I've got narrow size 13's so I hoped they would fit fine.

Well they fit like a glove. They're solid and very supportive yet super supple since they've been walked-in. I've now snow-sealed them and they're ready for the hikes and trails which I'm yet to do.

So I'm very impressed after wearing them for 3 weeks straight. I'll comment back once I've done my first big walk/hike in them.
Marty
just ordered my third pair of these boots. i work in construction in new york and i wear my boots 12 to 16 hrs a day i also hike on weekends . i would highly recommend them for every day use . best price at backcountry.com
peter power
I am looking to purchase a good, long...
I am looking to purchase a good, long lasting, reliable hiking boot that can handle all sorts of terrain. Admittedly, I am a beginner, yet as I spent several years in the service, I know the importance of good footwear.

Would you rate the Vasque Summit GTX Backpacking Boot as a good selection ? Previously, I had tried on the Sundowners and were excited about them until I read all the poor reviews about the current "Chinese-made" ones. Where are the Summits made? I do sincerely believe that if I am going to part with a significant amount, I want quality workmanship as would anyone else - beginner or expert.

Your advice will be greatly appreciated.
Thank you.
N Christodoulou
Best Answer
If you are looking for a traditional hiking and backpacking boot, these are quite well made. On top of the Vasque warranty, you also have the standard Backcountry.com warranty so if you ever decide that they didn't live up to expectations, send them back and get your money back. We don't sell things if we aren't convinced that you'll feel good about them for the long run.

The only consideration here is that this is a very heavy duty boot. You might check out some lighter weight boots if you're not going to be carrying big loads, as they will break in faster and give you more range of motion on the trail. The only time I wear a big heavy boot like this is if I'm carrying 50+ pounds, otherwise I'll hike in a lightweight boot, shoe or hiking sandal. If you are mostly planning to hike without a big pack, I'd check out the boots listed in the 'men's hiking boots' category under men's footwear here. Those are still highly supportive boots, but a bit less cumbersome for long walks when you don't need a tank on your foot. And, of course, you'd still have the Backcountry guarantee on anything in there.
Mark Parrett
Incredible fit, right out of the box. Plenty of toe room, snug fit from the ball of my foot back, with a perfect heel fit. Ankle was properly supported without binding. Laces were exactly the correct length. My foot felt as if it was inserted into a form fitting cast. Toes wiggled and the rest of my foot was held in place without binding. Shifting weight from foot to foot you can feel the insole adsorb the pressure, perfect shape and support. Color was Coffee Bean, not the lighter shade shown in the picture. Somewhat concerned about the absence of a toe protection cap, but we will see how that works over time. Meanwhile, the lack of toe cap makes the boots useable in many more casual settings.
Larry G.
Does anyone know which is wider at the...
Does anyone know which is wider at the toe: the Asolo TPS in WIDE or the Vasque Summit in MEDIUM?
Drew
Both are pretty narrow. The Asolo in wide opens up the heel and midfoot and adds volume, but in general, isn't wide in the toes. The Vasque summit is a high volume boot with a high instep and is wide throughout except in the toebox, which tapers sharply (though less than the Asolo). If you're looking for toe width, neither boot is good.
Cheffy
Unanswered Question
I have a question, when I buy nike shoes...
I have a question, when I buy nike shoes the label says 10 U.S. 28 CM, I live in Mexico but in the Backcountry table measures the extent not inches ... that number should I buy these boots
pedro.silv658840
I ordered these boots back in July and wore them a few times to break them in for a course that I was instructing during the month of September. During the break in period that had no issues and performed great. That was not the case during the course. During 3 weeks in September I wore them while traversing the Talkeetna Mountains in AK and I went through 3 sets of laces (the last two of which were p-cord). The factory laces lasted about 5 days and the other two sets lasted about the same amount of time. All the eyelets except for the two lowest ones might as well be razor blades because they shred laces. I was very disappointed as I have been a faithful vasque boot wearer until now. Other than that problem, which was fairly significant, they were great. Easy break-ins, no blisters and very comfy, but all that was overshadowed by me constantly having to fix the laces.
Jeff