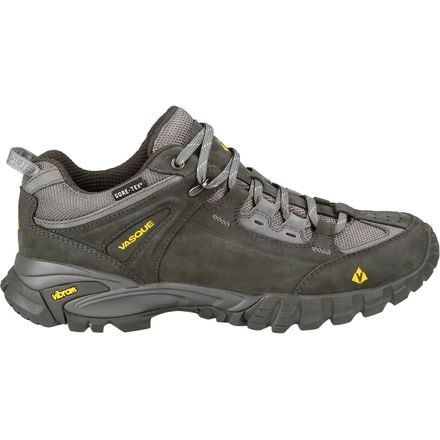 Colors

Detail Images
New styling and tech on a classic template.
As the next generation of a proven model, the Vasque Mantra 2.0 GTX Hiking Shoe brings all the quality of its predecessor in addition to some extras. Built with a Gore-Tex membrane, this low-profile and highly mobile shoe sheds all moisture while maintaining breathability and comfort even on your harshest mountain play date.
Super-grippy Vibram sole that helps you navigate even the most treacherous class IV scramble
Abrasion-resistant mesh and nubuck leather comprise a rugged upper
A molded PU midsole provides cushioning to proven pressure points underfoot
Worth stocking up on
Familiarity:

I gave it as a gift but have feedback to share

Fit:

True to size
For a long time, my husband has worn hiking shoes just about all the time (whenever he isn't forced to wear dress shoes). For years he wore a particular Merrell shoe until it was discontinued; he found another model that he liked but it was discontinued, too. The next pair of Merrells just didn't cut it, so when those fell apart he moved on to Salomons. He liked the first pair well enough, but wasn't too disappointed when those were discontinued. The next model he tried fell apart in less than a year, so it was time to move on, to these shoes.
It's been a year since he bought his first pair, and he loves them so much he just bought two more, in case they end up being discontinued! (I know, a little strange, but he REALLY likes them.)
He finds the fit and support are far superior to the other shoes he's had, but where they really shine is durability. He's really hard on his footwear but I have to say they still look great after a year of constant wear. The fit is true to size but a bit narrow; he found he had to wear them around for a few weeks before his custom orthotics would fit in there, but once they were broken in, they fit like a glove.
All in all, a great product, one worth stocking up on!!

Update six months later ... the second pair is still sitting in its box on the shelf -- first pair still going strong! Setting records here!
Catherine Greenwald
Wicked awesome hiking shoe
Familiarity:

I've put it through the wringer

Fit:

True to size
I've hiked all through the High Peaks region in the Adirondacks in NY and the best footwear I ever used were a pair of old running shoes from high school, and the worst was a clunky pair of hiking boots. So I figured I'd try the middle of the road and give these a chance. Right out of the box they are extremely comfortable and provide excellent support. The break it period was practically non existent because less than a week after I opened the box, I was in Rocky Mountain National Park - hiking roughly 10 miles the first day without any foot issues. The tread did seem to be a bit slick on some of the rocks, and other wet parts of the trail (which was expected) The gore tex is always a nice touch on footwear as well. My only issue so far with these hiking shoes is that the rubber has started to pull away from the tip of the toes on both shoes, and on the right shoe (outer side) where it flexes when walking. But thats nothing a little glue can't fix especially because I beat the snot out of them trekking in the rockies. All in all a great purchase for anyone that's sick of clunky old hiking boots that give them hot spots and blisters and I definitely recommend them to anyone. I now have a new favorite "go-to" pair of hiking shoes.
Tom Stoddard
I'm pretty pleased.
Familiarity:

I've put it through the wringer

Fit:

True to size

Size Bought:

US Sz. 9
I bought these shoes a few years ago looking for something I could work in, hike in, walk around town in, etc. I can say they aren't very great as a hiking shoe. The leather didn't stay water resistant for very long, making them a no-go for the Winds.. Rubbing in a solid layer of NikWax would help that problem. But I chop wood in these, wear them to the bar, run errands in them.. And In that aspect I'm pleased. Would I buy them again? Probably not.

Despite building pools in these shoes, the soles and leather have held up quite well. No gripes on durability. The grip is adequate for anything short of climbing. Shoe laces don't show any signs of wearing out anytime soon, which I think is impressive considering what they're made of. The Goretex on the toes isn't adequate enough to provide of ton of breatheability, but breathes a bit nonetheless. Fits true to size.

I would recommend these shoes as a summer day hiking shoe and casual around-town shoe. But Vasque makes a good product, 4/5.
Davis Meschke
great shoe
Familiarity:

I've put it through the wringer

Fit:

True to size
I bought this pair about 6 months ago from a Red Wing store. These are the best shoes by far that I have ever owned
doug
Great looking and comfy
Familiarity:

I've used it several times

Fit:

True to size
So far so good, just holding this shoe you can see the quality, stitching, material sole all great! Water proof seems great. Shoe has now seen snow and slush my feet stayed dry traction is great, have done some local hiking before snow came and shoes performed perfectly good grip on damp branches/ logs, loose gravel and a few good scrambles. Don't hesitate on buying this one it's worth price plus. Another big plus is these look good enough to wear to casual dinner and are super comfy!
Keith G.
I've had these for about 2 years now and they've held up greatly. I've hiked Mt. Si (both big and little) in WA, along with huge sections of Mt. Rainer, Mailbox Peak, and Hoh Rainforest trail. Recently I trekked up through Arches National Park and logged some serious miles along the Southern Rim of the GC. Bottom line, it's a great hiking shoe that not only is comfortable and performs, but also looks great. I would and have recommended these shoes to others who enjoy hiking serious terrain. I haven't tried on their mid but am considering it. Definitely worth the money.
Danny
First 50 miles: very good shoe
I bought the Gore-Tex version of the Mantra 2 from Backcountry and the ordinary version from another vendor. Neither one is quite perfect but I find myself reaching for each of them often and have no complaints at all about either show when they're in action. The comfort is excellent, the grip is excellent, and the fact that they are mostly leather means they fend of the perils of desert-type terrain much better than nylon, meshy shoes/boots. I've had trouble with nylon and mesh collecting tiny bits of cactus spine that my hands may later pick up. There is a very important difference in construction that I could later come to regret but so far has posed no problem. The tongue on the non-Gore-Tex version is not attached to the shoe which makes me wonder if sand or other grit would get into the shoe. So far, that hasn't happened and most of my use is in sandy, gritty, gravelly terrain. My guess is that if hiking in finer, deeper sand, it might get into the shoe, but I haven't used the shoes in those conditions yet. The non-Gore-Tex version (with the unclosed tongue) is a perfect fit from heel to toe. The Gore-Tex version seems to be just a tiny bit bigger in the toe box, but it's not a problem. I have walked several times in rain with the Gore-Tex version and my feet stayed completely dry. Several walks have been up/down fairly steep trails with a lot of rocks and gravel. Both models really handle the surfaces well.
Steven M.
Great Shoe
Familiarity:

I've used it several times

Fit:

Runs small
Really nice shoe but I wish they made it in wide width. I can't see why company's don't make shoes in wide width. I wear a size 12 wide and ordered a 12. Had to return them for a 13. The 13 fits great but a tad bit long. I'm still happy overall with them. They are very comfy and I love the The fact that they have Gore-tex. Getting harder and harder to find shoes with gore-tex.
Scott S.
Unanswered Question
Need shoes in 12 wide and black. do you...
Need shoes in 12 wide and black. do you have?
Ronald Adams
Dry and supportive
Familiarity:

I've used it several times

Fit:

True to size
So far so good. Everything I wanted in a trail hiking shoe. I also have worn to work and they pass the test for casual days.
Gary Balster
Soft but comfy
Familiarity:

I've used it once or twice and have initial impressions

Fit:

True to size
I'm in the need for a new pair of shoes that transition well between the hills and the office. I've been using a pair of Merrell Chameleon's for about 2 years now and they're finally starting to fall apart (there's a nice split in the side and the laces/eyelets are destroyed). So I bought these to compare against the newest Merrell Chameleon 5's.



These seem like a great pair of shoes if you're looking for a flexible shoe with some aggressive traction. I'm usually a 10.5 or 11 depending on the brand and the 10.5's were perfect for me. I wore them around for a day and it doesn't seem like there's much of a break-in period. Ultimately I decided to stick with the Merrell's and here's why.



Because I've been in the Merrell's for so long my feet have gotten used to the stiffer sole in the Chameleon's so walking around in the Mantra felt a little loosey goosey. Plus I like the added protection that the Merrell's offer with their nylon shank. Another issue I ran into is the lacing on the Mantra's tends to pull pretty tight on the top of my foot right below my ankle. I've had this problem with other shoes but the Merrell's have always fit my feet well and never caused an issue with this. So what I'm left with is either having my feet fall asleep if I sit down for more than 5 minutes or I have to wear them without the laces tightened all the way and the shoes feel like they're going to fall off all the time.



I really wanted these to work because I've never owned a pair of Vasque's but I found that they just don't suit my feet well. Otherwise, seems like a great shoe.
zak harris
Regarding the NON GORE-TEX Mantra 2.0,...
Regarding the NON GORE-TEX Mantra 2.0, does anyone know if they run large? both in length and width. In general, I'm between a 12 and 13, and usually get wide-width running shoes, (like in a Brooks, when I can find them). General experience whether to size up if in between sizes.
Jim Gray
Best Answer
Jim, Backcountry does carry this shoe in wide. Go to Mantra GTX wide instead of Mantra GTX.
Test
Great hiking shoes
Familiarity:

I've used it once or twice and have initial impressions

Fit:

True to size
no nonsense, very comfortable hiking shoes.
Gowda Lingappa
Awesome Hiking Shoe
Familiarity:

I've put it through the wringer

Fit:

True to size
This is the 2nd pair of Vasques I've owned. I put the first pair through the wringer during a 280 day backpacking trip around the world and they held up amazingly w/ comfort, durability and waterproofing.



These have been no different and are shoes I would highly recommend for anyone looking for a solid, waterproof pair of hiking shoes that are bomb-proof but also look half-way decent. They're super comfortable, plenty stiff and supportive enough for me and my really high arches.



I chose these over the Patagonias and have been super stoked with my choice! In the rain, snow or mud you'll have really dry, comfy feet.
Cameron Yates
Not enough sole support
Familiarity:

I've used it several times

Fit:

Runs large
I tried these boots out on a couple day hikes ... and they weren't what I was looking for. After about half a day, my feet were getting very tired/sore, which is a sign that the soles aren't stiff enough for me. (Meaning, when walking on uneven terrain, the sole isn't providing enough support, so my foot muscles make up the difference, which makes them get fatigued.)



I've had this problem with other hiking boots in the past, the best luck I've had is with a pair of Solomons that I've had for 6-7 years now. (They're about ready to be replaced, thus my purchase of these Vasques.)



For regular walkabout use, they're probably fine (they look great! Although in certain lighting (overcast mostly) they look purple rather than grey), although they never quite fit my feet right. (I've got very wide feet, so that's a fairly common issue for me. Your mileage may vary.)



The Gore-Tex waterproofing worked great though, and the traction was just fine. Other than fit and beefiness, I don't have any issues with these.



One other note - I had to buy a half size smaller than I usually wear, they seemed to run pretty large.
David F.
Do you carry any hiking shoes in wide...
Do you carry any hiking shoes in wide sizes? I am a 10.5 EE.
Joe Poplawski
Hi Joe,



Unfortunately we typically don't carry wide sizes unless otherwise specified on the drop down menu. I apologize about that!
Lexi Dowdall
Vasque Mantra 2.0 GTX Hiking Shoe
Backcountry Video
This is my second pair of Vasque hiking shoes. I chased down this pair in local retailers and research here on backcountry. My local retailer was willing to match the online price but they did'nt have my size. I love this hiking shoe. It's perfect for wintry mix mid-atlantic winters. It's an urban casual shoe during the week at work and great in the woods on the weekend. Like other have wrote. It must be cold. But your feet stay warm and dry in any sock you choose. Buy them now. You won't regret it.
Gerald A.
Do these vasque mantra shoes come in a...
Do these vasque mantra shoes come in a wide size??
Robert Winebrenner
Hello Robert. The mantra 2.0 non Gore-Tex version comes in a wide width. But good luck finding them. Although, as the first week of Feb. 2014, some etailers are restocking the wide width. Just depends. Jim Gray
Jim Gray
NIce Wet Cold Weather Shoe
This is my go to shoe for running around town, hiking, or general outdoor use. But it needs to be cold. Leaving int he south if I try to use this shoe in the middle of summer at 95% humidity and 95 deg they will just be sweat buckets. But when it gets cold there is nothing better to keep you feet warm and dry. I do like to add a low profile gaiter with them if I am in shorts to help keep water from running down my legs and in to the shoe. I bought these shoes for my self but I do review and test products for gore sometimes through the Mountaintech program.
John Pruitt