HOVR DS Ridge TR Running Shoe
---
HOVR DS Ridge TR Running Shoe
Built to run better on the toughest terrain, we used a Vibram LiteBase outsole for a super-durable, flexible feel and high-traction lugs to grip any surface.
Upper Material

thermoplastic polyurethane mesh

Closure

lace

Footbed

removable Ortholite

Midsole

HOVR

Sole

vibram MegaGrip

Support Type

neutral

Heel / Forefoot Height

32 / 20mm

Drop

8mm

Claimed Weight

9.27oz (263g)

Manufacturer Warranty

limited lifetime

Activity

trail running
Reviews
Q&A
Overall Rating
3 based on 18 ratings
View
Selecting an option will reload the available reviews on the page
1 out of 5 stars
May 18, 2023
Poor quality
Within a few months of wearing them, they started falling apart. I have been wearing them mainly at work (I work in a lab) so nothing that would explain their fast deterioration. Very disappointing and they are not cheap. I would not recommend.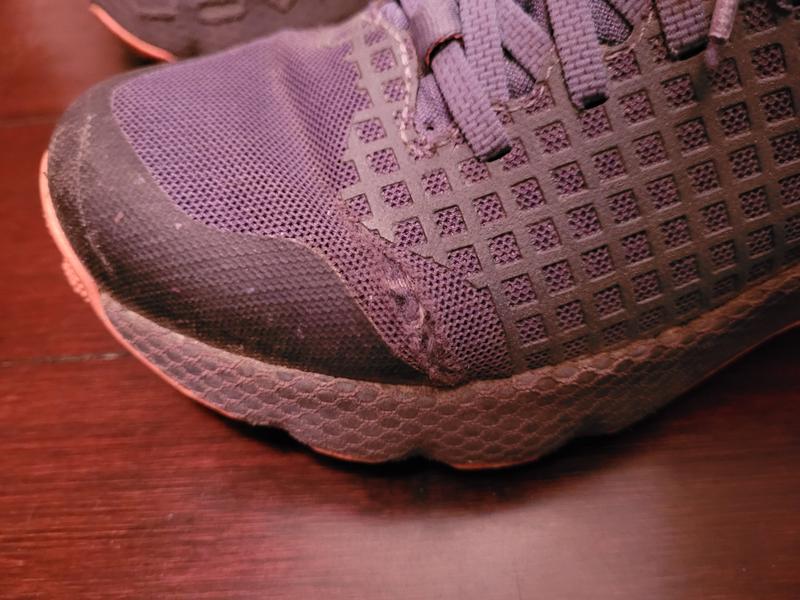 Originally reviewed on Under Armour
2 out of 5 stars
May 16, 2023
Comfy shoes, NOT trail runners
These are super comfy. Half of the UA shoes I buy run small....so basically half of them are sitting there collecting dust. This pair is super comfy and true to the size. These are, however, not trail runners. People will get hurt trying using them as trail runners. These shoes provide no lateral support at all. UA, please try again. You can't just slap on vibram bottoms and call them trail runners. Trail runners need to have lateral support like cross trainers, vibram bottoms and toe protection like hiking shoes and cushioning somewhere between crosstrainers and running shoes. With that said, these aren't completely useless. They are extremely comfy so I can use them as running or walking shoes.

Originally reviewed on Under Armour
2 out of 5 stars
April 26, 2023
Poor quality
Poor quality! after two month of wearing, both pair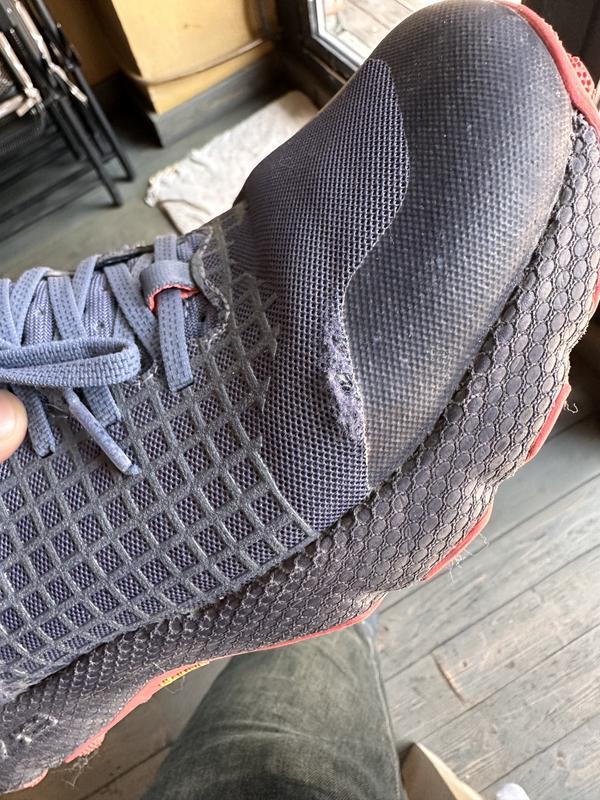 Originally reviewed on Under Armour
5 out of 5 stars
March 15, 2023
These shoes are sick
I'm very particular when it comes to the shoes I use on the disc golf course. I always look for good traction, comfortable sole and looks stylish. The Ridge has all of that. The Vibram sole is sweet and the shoe itself it so comfortable. It can handle the torque of my throw and my feet aren't killing me after the 3 hour round.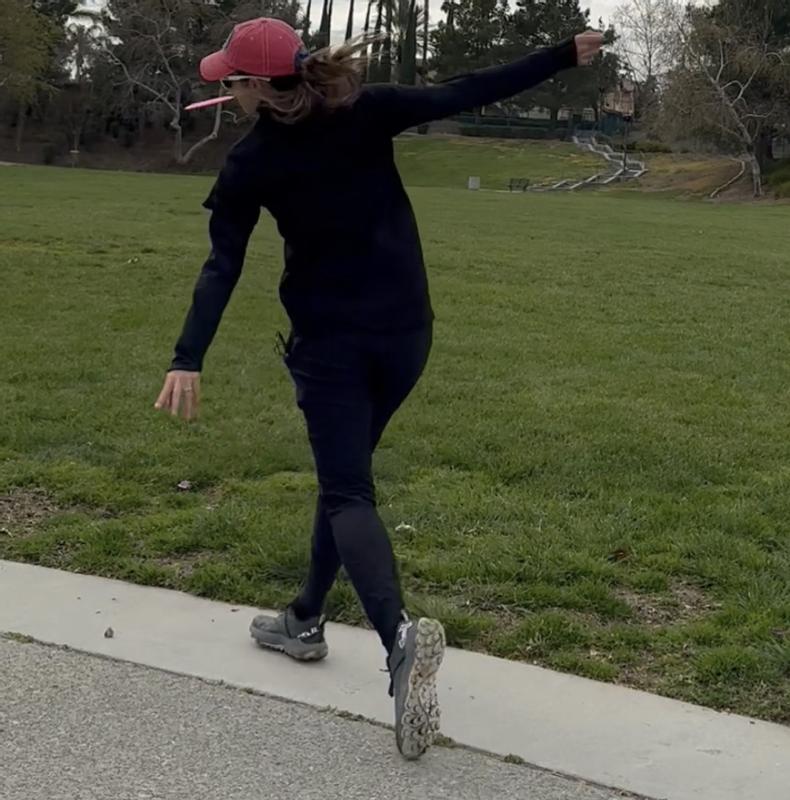 Originally reviewed on Under Armour
5 out of 5 stars
March 15, 2023
Most comfortable hiking shoes I own. Great grip, durable, great for long distances. And love the bright orange colour.

Originally reviewed on Under Armour
5 out of 5 stars
March 15, 2023
Great grip with the Vibram bottoms.
I really enjoy the HOVR midsole and the Vibram bottoms that these shoes offer! The grip is extremely good, almost too good sometimes. The style is really clean looking and they are really comfortable and breathable. I have been loving these on the Disc Golf Course.

Originally reviewed on Under Armour
1 out of 5 stars
March 9, 2023
Deceiving look and feel
I bought this trainer because I loved the color and shape in the photo. It turned out to be an orange yellowish trainer. Cheap looking and uncomfortable. UA must be accurate when displaying product photos. It is called brand integrity.

Originally reviewed on Under Armour
2 out of 5 stars
February 17, 2023
Great shoe with a fatal flaw for me
This shoe is SO close to being just right for me. Decent cushioning, good heel lock, unbelievable grippy lugs, but there is one issue that is making me return them. The 3D overlays are a little too constrictive in the forefoot. If the overlay ended slightly back of the ball of the foot, these would give just enough in the forefoot to have the midfoot lockdown with the room in the forefoot. But they went too far forward with the overlay and it is just too tight right where you want a little give. It's so sad because I love the look and feel of these shoes except for this. If UA had just not been overly aggressive trying to lock the foot down, they would have a real contender for me.

Originally reviewed on Under Armour
3 out of 5 stars
January 22, 2023
Comfortable but
Ordered these on line. Shoes are very comfortable. The colors are alot lighter than the picture. The red is more of a coral/pinkish color. The rest of the shoe looks more like a dark lavender.

Originally reviewed on Under Armour
4 out of 5 stars
January 14, 2023
Actual color differs from page photo
This is for Orange Ice shoes. I am aware that monitors may display colors differently. However, there is a major difference in the colors between actual and ad. The ad shows the upper with a brownish color. Actual is all orange (see my photo). This all-orange color cheapens the appearance. Additionally, the tongue pull tab is shorter on actual shoes, whereas the heel pull tab is longer on actual shoes. Also, the grid pattern on forefoot and honeycomb pattern on midsole differ on actual shoes. The good part is that they are cushioned and comfortable. I can barely feel stones or gravel as I pass over them. The grip is very good as well. Ther is an arch support. The shoes do show speckles of recycling material. True to size.

Originally reviewed on Under Armour