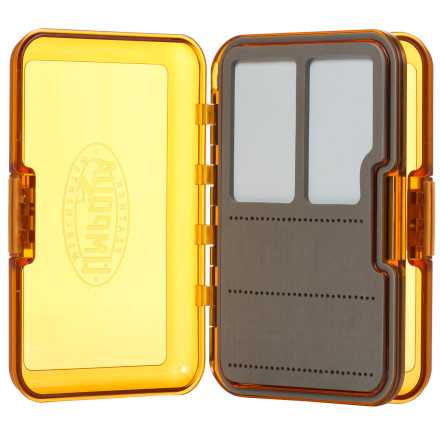 Colors
Don't let the little ones get away.
Tying a size 22 midge is no easy feat, so keep your delicate midge patterns organized and secure with Umpqua's UPG Medium Midge Fly Box. Built with magnetized compartments and micro-slit foam, this fly box securely organizes flies and provides a wide area to stash flies on those days you're constantly switching out patterns to find what fly the fish are keying on.
A fly box for small midge patterns
Magnetized compartments secures small hooks
Micro-slit foam holds tiny flies securely
Perfect Size
Familiarity:

I've used it several times
This box is the perfect size if you're planning on leaving the pack behind. I like it for when I fish small streams and don't need much. It fits well in wader pockets and also doesn't take up too much room if you pack multiple boxes in a lumbar pack. The magnets are perfect for storing small flies in a hurry. Nothing is worse than trying to fiddle with nymphs in your box while staring at hungry fish!
Kevin R
Like this box a lot, but I thought it would have magnet on both sides, and it only has it on the side pictured. Besides that, its a great box. I like the longer slits in the foam under the magnets because you can mix a few streamers or large flies in easily or line up your small nymphs all in a row. Turned this box into a small stream box with a little bit of everything so I don't have to carry all my boxes on smaller waters.
Brandon Collett