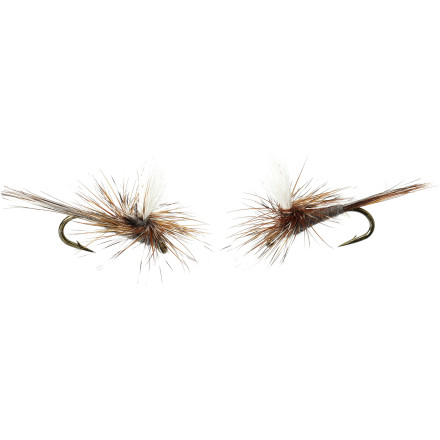 Perfect Dry Fly Imitations
Familiarity:

I've put it through the wringer
These are the best dry fly imitations you can buy. Size 10s and 12s are perfect for big drake and March Brown hatches and the white parachute provides high visibility in flat light conditions. While smaller 18s to 22s, you can fish almost any Winter and late Summer hatch of smaller flies.

The hackles take dry shake or dry paste floatant well so these are a necessary staple for any fly box as you get ready to fish this year. Double up the flies with a second tied on in a trailing dry fly rig in a big hatch and you can create your own hatch.
Tom J
This is one of the most needed flies for anyones box. If they are feeding on any type of mayfly/caddis use this pattern in a similar size.
Eric Nelson
A+
Familiarity:

I've put it through the wringer
Umpqua makes some fantastic flies. I have been fishing Umpqua flies for over 20 years, and they are the best quality flies I have purchased. the quality is unmatched as is the selection.
Buy Umpqua and slay the trout.
Ryan
Catch after catch
Familiarity:

I've put it through the wringer
this fly in the grey/adams color is lights out on western rivers. any time of day, any hatch, it seems to produce strikes. I try to always have about 15 of these of various sizes in my box at any given time.
Perry Hall
Can never have too many
Familiarity:

I've put it through the wringer
Can never go wrong with a parachute adams, they can work on every river anytime of year.



I've used Umpqua dry flies quite often and they always work great. They are high quality and allow you to keep hooking fish with the same fly over and over again, they don't just fall apart after one or two fish. They also stay on top of the water like a dry fly should.
William Roberts
Go-To
Familiarity:

I've put it through the wringer
High Uinta lakes, to lower rivers, this is a go to fly, I buy a few every few weeks, go through em like hotcakes!
Perry Hall
Best Dry Fly in the Game
Familiarity:

I've put it through the wringer
Hands down best fly in my box. Throw it every trip to the eastern sierras and kill it. I wont go up there without multiple parachute adams
TG
Needed more of these today!
Familiarity:

I've put it through the wringer
I had to retire the last of these flies today. From fish lips to my bush/branch catching the thing had been through the ringer and more. That said, it held up great during that time! For such a small fly it did its job well. Need to snag some more. This is great for the colder months to mimic the lil guys on the water, recommended fly!
Alyssa Forrest
Another trout necessity
Familiarity:

I've put it through the wringer
Just like the regular Adams, if you want to hook-up, as opposed to just fish, you will need this fly more sooner than later. You will need this fly from desert streams to high mountain lakes. You will need this fly because it represents a hatching Mayfly well and when Mayflies are hatching, fish can become very selective. Hatching Mayflies (at least most of them) sit on top of the water for a minute or so depending on the temperature to dry their new wings before they can fly away and do their thing. The Parachute Adams looks just like a hatching Mayfly (as opposed to an ovipositing Mayfly when you need the regular Adams) sitting on the surface drying its wings to a fish. Often, a regular Adams just won't do during a hatch. I have been fishing with my dad when he has used a Parachute Adams during a hatch and I have used a regular Adams--I either did not hook-up at all, or he hooked-up ten times as often as I. I have also thrown every other fly in my box at the fish during a Mayfly hatch, flies that worked well a half hour earlier, before the hatch, while my dad used the Parachute Adams and outscored me 50 to none. You will need this fly. You will need this fly in all sizes. Some Mayflies can be big and the micros can represent some midges. You will especially need this fly in #18 during a Blue Winged Olive Mayfly hatch.
Andy and Brad Mellotte
This is one of my go-to dries. when nothing else is working, the parachute adams gets em.
Michaelsoft_
Trout food
Familiarity:

I've used it several times
I have had great luck with these flies. My go to fly for sure.
Heidi L.
The fish didn't know any better
Familiarity:

I've used it several times
If you interviewed the local trout about this fly they would say something like "I really had no idea. I thought that a fly had landed on the water, so I ate it. Next thing I knew this guy in strange pants was pulling me out of the water with an evil grin on his face. While I was impressed with his trickery, it made me very late for a meeting at work so I was rather upset. As a fish I would not endorse this product, it is cruel and dishonest."
Vinny Mauro